By Gary Wien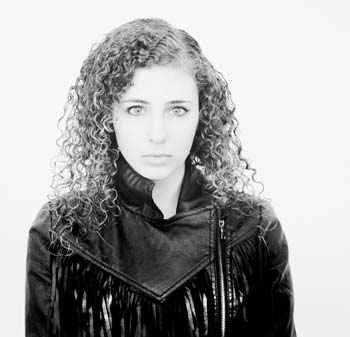 Imagine being asked to write a new song in a matter of minutes now imagine that the song has to be centered around a ridiculous title and you're not only asked to perform it but to do so on live television with millions of people watching. That's the scenario Xenia Sky found herself in last March when she was one of three artists on the Jimmy Fallon Show in a segment entitled, "Battle of the Instant Songwriter". Her mission? To write a song based on the title, "Turtle Sunrise".

That was Xenia's first appearance on national television, but chances are it won't be the last. Xenia (pronounced Zen-ya), is a singer-songwriter from New Jersey that is currently living in New York. She's in the middle of a crazy month that includes releasing a new EP, graduating from college at The New School, and seeing where the road takes her.

The new EP is called "Ghost of Jupiter" and will officially be released on April 15. Production was entirely paid for by a crowd funding campaign at PledgeMusic.com. The campaign was nothing short of a success, raising 150% of its initial goal! Funds raised went into the costs of recording, hiring studio musicians, mixing, and mastering the record.

Seeking a professionally sounding release, Xenia sought out the services of producer Jon Ashley (Band of Horses, Dawes, Azure Rey) because she had been a fan of many of his previous projects. The record was recorded with Ashley at Echo Mountain Recording Studio in Nashville a wonderful studio created in a former church and at Lakehouse Music Studios in Asbury Park, NJ.

"I was so nervous about doing the PledgeMusic campaign," says Xenia. "Doing a campaign is sort of nerve-wracking. It's directly asking people to contribute to what you're doing instead of going through a middle man like a label or distribution. I was really excited that I made it; people were so supportive."

One of those supporters earned the right to hold a house concert from their pledge incentive. Learning they had access to a barn in Shrewsbury, they held the show there. The lineup included two musicians from Xenia's early days as part of the Red Bank songwriting scene - Eric Ginsberg and Lance Scott Greene.

"That scene was very important for me when I was younger," recalls Xenia. "My first performance ever was during an open mic at the Internet Cafe in Red Bank when I was 14. I kept coming back and eventually got a show there."

Xenia remains part of the Jersey Shore music scene despite living in New York. Her connection to the Shore allows her to maintain a following at clubs like The Saint and The Stone Pony, and coffeehouses like Espresso Joe's. The two scenes are so important to her that she made sure to hold a CD release party in each area. On April 4, she held a release party at Rockwood Music Hall (NYC) and on April 11 she's holding one at The Saint (NJ).

While the crowd funding campaign paid for the production, Xenia is on her own with regards to marketing the record and booking shows. She laughs when she thinks of the timing of releasing an EP in the final weeks before graduation. "Good time to release an album, huh," she says. "Right now things are really time consuming, but there's nothing I'd rather be spending my time doing."

And she's definitely working it. She's been doing radio interviews on stations like WBJB and WRSU and was a guest on Danny Coleman's "Rock On Radio show". She's been featured on several blogs and is finding her way into music newspapers. Meanwhile, she's extremely active on social media, often conversing with fans on Twitter throughout the day.

Her songs on the EP showcase an artist willing to experiment. Her poetry background (she's majoring in Literary Studies with a concentration in poetry) is apparent from her lyrics. There are hints of a spiritual outlook and words that seem built upon personal experience. The music is layered with instruments such as pedal steel, rhodes, and cello alongside the more traditional guitar, bass, drums, and synths. The effect is rather ethereal as if you're listening to a dream. Fans of Tori Amos or Kate Bush should definitely check her music out.

She's currently working on getting on a tour with another artist to support the EP, but is already looking forward to the future.

"Hopefully, I'll be recording again soon," she says. "It's really exciting to finish something and then just keep recording, keep writing."

For more information on Xenia, visit http://www.xeniasky.com or follow her on twitter @xeniasky.
---
CD RELEASE PARTY
The Saint
601 Main Street, Asbury Park, NJ
Friday, April 11, 2014
9pm $10 Cover
http://www.thesaintnj.com

---
---
Gary Wien has been covering the arts since 2001 and has had work published with Jersey Arts, Elmore Magazine, Princeton Magazine, Backstreets and other publications. He is a three-time winner of the Asbury Music Award for Top Music Journalist and the author of Beyond the Palace (the first book on the history of rock and roll in Asbury Park) and Are You Listening? The Top 100 Albums of 2001-2010 by New Jersey Artists. In addition, he runs New Jersey Stage and the online radio station The Penguin Rocks. He can be contacted at gary@newjerseystage.com.
---