By Gary Wien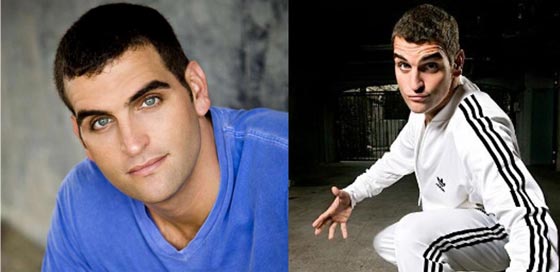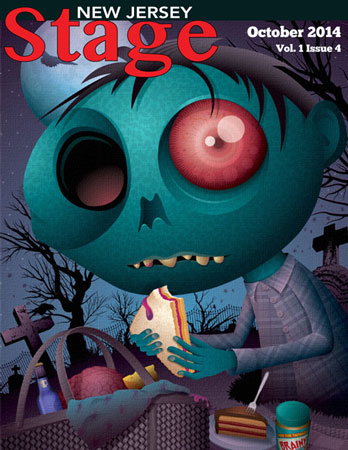 This article was originally designed to be read in the October 2014 issue of
New Jersey Stage magazine. To read it in its original format, click here
Growing up in New Jersey, comedian Bret Ernst moved around an awful lot as a kid. He estimates he attended about 15 different schools before moving to Florida for high school. As anyone who was ever the new kid knows, it can be a little rough; but, it also helped him find his calling.
"When you're the new kid, you use your sense of humor to meet people," explained Ernst. "And when you're standing in front of the classroom that much, you sort of get used to that feeling of being uncomfortable."
Ernst admits to regularly being the class clown and a trouble maker in school. He played sports all of his life (even going on to play football in college and try out for an arena football team once) and says he was that guy in the locker room cracking jokes. He always knew he wanted to be a comedian, he just didn't know how to actually enter comedy. So, he developed his own method. He went to karaoke nights and hijacked the microphone to do comedy bits and talk to the audience.
"I had no idea what open mics were," said Ernst. "When I moved back to Florida after college, I was trying to figure out what I wanted to do. I was thinking of doing comedy because I had done college radio and was always writing jokes and stuff. The one day I ran into someone that said they were a comic. I said how do you do that? They told me to just go to open mics. I was just about to do it when I got a letter in the mail from a kid I knew. He was in New York and he said I should really try standup comedy. It was someone I was friends with, but not best friends with. For him to write me, I took it as an omen and from that point on I haven't stopped."
His biggest break to date was being one of four comedians featured in Vince Vaughn's Wild West Comedy Show: 30 Days & 30 Nights - Hollywood to the Heartland. Ernst was in the show along with Ahmed Ahmed, John Caparulo, and Sebastian Maniscalco. That tour took him from playing clubs with 250 people to venues filled with 3,000 and was filmed as a documentary every step of the way and released across the country.
"The beautiful thing about the show was that all of the comics really brought it," he recalled. "The way Vince designed it, he set everybody up to win."
Unfortunately, the movie was released just before a writers' strike hit. The cast had all sorts of press lined up that they weren't able to do. Ernst told the crew that it was his fault, he's always got bad luck. An example of his bad luck was the first time he was shown on national television. At the time he was delivering pizzas for a living and wasn't able to get off work. A delivery led him to an apartment building where he caught the last few seconds of his tv appearance where he said "good night!". Ernst still remembers the guy who ordered that pizza.
"The look on the guy's face was almost like 'Wow, this is cool and fuckin' depressing!'" he said. "I didn't know what to say, so I had said, 'Yeah, I'm fast!' I was trying to make light of it and he kept asking me questions. I'm like 'Come on dude, just give me the cash and let me get the fuck out of here, this is embarrassing enough!'"
Another example was when he got a phone call from Jimmy Fallon's people that they needed him to headline a show in Nashville. Basically, Jimmy was starting a new tour but he hadn't been on stage in a while, so he wanted to come in as an unadvertised special guest. The show was billed as "Bret Ernst and Special Guest". The problem was when Ernst showed up to the club, the place was packed and there were TV cameras and equipment. "I thought you didn't want me to advertise Fallon was going to be here," he asked the owner, trying to figure out what was going on." The owner replied, "They're not here for Fallon."
It turns out that the real surprise of the night was that CBS was filming a new TV show called, "Secret Talents Of The Stars" in which people were supposed to perform in a manner different than what they were famous for. In this case, Clint Black, the famous country singer, was supposed to do stand-up comedy.
"So, the whole room is packed and the emcee goes up and greets the crowd," recalls Ernst. "I know some of you may be wondering what's going on because the network brought people and this was supposed to be a surprise, but ladies and gentlemen we have a special surprise for you - Mister Clint Black! The dude comes out and, being in Nashville, you'd have thought Jesus came down. The place just lost it! And like all country singers he starts out, "Hi, I'm Clint Black." It's like we know who you are, there's no need to say your first and last name. People were just going crazy and he did 10 minutes strong."
After Clint's set people started to get up to leave, but the emcee returned to the stage. "You guys want to stay seated, we have another special guest," said the emcee. "Mister Jimmy Fallon! And the guy does an awesome 25 minutes. He kills. When he's done the emcee is like 'Are you ready for your headliner? You may have been one of the dozen people to see him in a recent documentary...' "
If you can't remember that show, you're not alone. It was cancelled after just one broadcast. Since then, Ernst's been building his name in comedy and hoping to get his own tv show. He had a tv pilot last season that didn't get picked up and another the year before.
One of these days his luck is sure to turn. He may be living in Los Angeles these days, but he's got too much Jersey in him. We're all used to being kicked around, but we keep getting back up.
---
Don't miss Bret Ernst at Uncle Vinnie's Comedy Club in Point Pleasant October 22-25
---
---
Gary Wien has been covering the arts since 2001 and has had work published with Jersey Arts, Elmore Magazine, Princeton Magazine, Backstreets and other publications. He is a three-time winner of the Asbury Music Award for Top Music Journalist and the author of Beyond the Palace (the first book on the history of rock and roll in Asbury Park) and Are You Listening? The Top 100 Albums of 2001-2010 by New Jersey Artists. In addition, he runs New Jersey Stage and the online radio station The Penguin Rocks. He can be contacted at gary@newjerseystage.com.
---