---
BIG NEWS! Here's the latest Issue of NJ Stage Magazine -- Click here
---
"A Hoboken Tale" Returns In December
originally published: 12/05/2017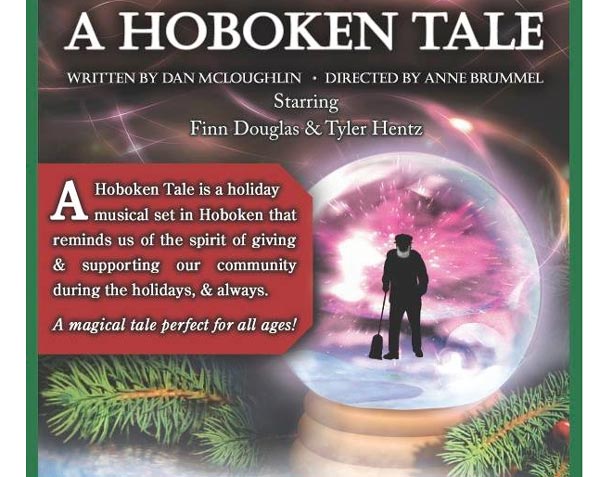 (HOBOKEN, NJ) -- Garden Street School of the Performing Arts announces the 7th Annual Production of the original musical, A Hoboken Tale with a special guest star hosting the show for opening night. Broadway's Ben Cameron will not only kickoff opening night December 15th, but will lead a special question and answer session after the show.

"Every year we do something a little different with this show and this year is no different." says studio owner and show director Annie McLoughlin.  "In addition to having Ben with us for opening night, the cast of Hoboken Tale will perform as special guests at Broadway Sessions December 7th along with Broadway's the Bands Visit at the Laurie Beechman Theatre in NYC." 

This original musical was written by local resident Dan McLoughlin who has lived in Hoboken and has been a business owner in Hoboken for over a decade. All of the characters, songs and story are based on real Hoboken folks, stories and the Christmas Season. It's a show that families love to go see and is part of their holiday tradition.
Members of the professional musical theatre company such as Howard Richman and Florence Pape from the Hudson Theatre Ensemble have been rehearsing under the direction of Broadway's Anne Brummel (Wicked). Leading the cast is Tyler Hentz of the Radio City Christmas Spectacular, as well as Finn Douglas also from The Christmas Spectacular, House of Cards, and The Blacklist.
The complete cast includes Mister Fabrini: Howard Richman; Fiona: Kaitlyn River and Annalise Dominguez; Mister Krubbs: Tyler Hentz; Doris: Florence Pape and Anna Hentz; George: Finn Douglas; Jack: Jack Casey; Bridget: Joanna Barry; Lily: Sophia Duke and Brianna Dominguez; Stacy: Anna Hentz; Emily: Grace Connoly and Bella Rostan; Anya: Valeria Camino; Sarah: Annie McLoughlin; Queen of the Fairies: Tabatha Arocho; and Fairies: Joanna Barry and Annie McLoughlin.
Performances will take place at The Hudson School's Theatre located at 601 Park Avenue in Hoboken on December 15th at 7:00pm, December 16th at 4:30pm and 8:00pm, and December 17th at 2:00pm Tickets are $18.00 online at or $22 at the door with general admission seating.  
A Hoboken Tale is a holiday musical set in Hoboken that reminds us of the spirit of giving and supporting our community during the holidays and always.
---


'Nutcracker' Ballet and 'Snow Day' Brighten Holiday Season at MCCC's Kelsey Theatre
(WEST WINDSOR, NJ) -- Holiday fun is on the schedule at Mercer County Community College's (MCCC's) Kelsey Theatre with two special events in December: Dance Connection's family version of "The Nutcracker" ballet December 14 to 16 and an interactive live radio show, "Snow Day," presented by MPOnstage December 22.
---
NJ Rep To Present World Premiere of "Apple Season" by E.M. Lewis
(LONG BRANCH, NJ) -- New Jersey Repertory Company presents the world premiere of E.M. Lewis' Apple Season from January 10 - February 10, 2019. Twenty years ago, Lissie and Roger fled from their family farm and made themselves disappear. But the family secrets haunt them still.  A funeral and a question from an old friend send the two siblings tumbling down a rabbit hole of memory and grief, as they try to let go of a tangled past that refuses to release them. 
---
NYC Theater To Present "Beltsville/Rockville, Part 1: Rise of The Goatman" by Matt Okin
(NEW YORK, NY) -- The Theater For The New City will produce Beltsville/Rockville, Part 1: Rise of the Goatman, an original play by Englewood resident Matt Okin, from December 27 to January 13. In this pseudo-Southern Gothic dark comedy, a vibrant group of teens from two very different suburban neighborhoods clash over class differences, drugs, and sex - and the existence of the legendary 'Goatman' in 1986. Cut to 2013, and the adolescent kids of those very same teens are struggling to make sense of their family histories - and the same "mythological" creature - that could be holding them back in life.
---
New Feathers Productions Announces Full Cast for "Naked Call"
(NEW HOPE, PA) -- Immediately following a near sold-out performance from their December 6th show, New Feathers Productions now announces complete casting of Naked Call, a featured, full-length premiere by award-winning playwright, Ken Kaissar with direction by Amy Kaissar.  Premiering on stage at the James A. Michener Art Museum December 20th, with a fully clothed cast, actor Michael Gamache reunites with Ken Kaissar after performing in the East Coast tour of Kaissar's play A Modest Suggestion as well as Humility at Philly's Painted Bride Arts Center in which he appeared in the nude.
---
New Feathers Productions To Present "Naked Call" by Ken Kaissar
(NEW HOPE, PA) -- New Feathers Productions will present the featured, full-length, new works reading of Naked Call by award-winning, playwright Ken Kaissar on Thursday, December 20th.  Naked Call will be professionally produced and presented for one night only and is the featured reading as the successful season concludes at the James A. Michener Art Museum.  Tickets include a museum pass with access to the latest exhibitions and the ever-popular, pre-show wine gathering with the creatives at 6:15pm, Naked Call starts promptly at 7:00pm and runs approximately 75 minutes.   
---


PHOTOS from "The Winter's Tale" at Shakespeare Theatre of New Jersey
(MADISON, NJ) -- The Shakespeare Theatre of New Jersey's concludes its 56th season with its sixth and final Main Stage production, The Winter's Tale. Last seen at The Shakespeare Theatre in 2008, Artistic Director Bonnie J. Monte directs this production of Shakespeare's tragicomedic romance. Veteran company members Jacqueline Antaramian, Jon Barker, Erin Partin, John Keabler, Raphael Nash Thompson,Seamus Mulcahy, Patrick Toon, and Ames Adamson are among a cast of 20 actors. Performances run now through December 30. 
---
REVIEW: "It's A Wonderful Life" At Mile Square Theatre
Nestled in a corner of Hoboken, on the second floor, lies the studios of radio station WMST.  It's a wonderful art deco studio, replete with fine wooden walls, embedded with colorful lights an applause sign.  On stage, we've got a few chairs, several microphones and a whole corner wedged with all the necessary props – piano, men's shoes, sheet metal – to create the audio effects for the production of "It's a Wonderful Life."
---
Betsy Aidem Puts A Woman's Touch On George Street Playhouse's "A Doll's House, Part 2"
Betsy Aidem is a veteran actress you might have seen on Broadway. Or maybe on an episode of "Law & Order: SVU." Or maybe on the big screen last year in "The Greatest Showman." But over the next few weeks in New Brunswick, Aidem is adding a brand-new section to her résumé — by helming a sequel (of sorts) to a classic play that's more than 100 years old.
---
REVIEW: "Irving Berlin's Holiday Inn" at Paper Mill Playhouse
One man's ambition is comfortable yet to another it is anathema.  This is the simplest way to convey the central theme of Irving Berlin's Holiday Inn – now playing at Papermill Playhouse.  The show is a rich, effervescent, beautiful, fun, musical that is well worth booking tickets for.  It enthralled my phone addicted 13 year-old and earned a shout out on Instagram - high praise in and of itself.
---
REVIEW: "A Doll's House, Part 2" at George Street Playhouse
For well over a century the world has been wondering what ever happened to Nora Helmer from Henrik Ibsen's classic play A Doll's House.  Nora was a woman during the 19th century in male dominated Norway when women could not sign contracts without their husband's permission.  She challenged this law, essentially committing forgery.  And, even though she committed a crime for the purpose of saving her husband's life, her actions wound up destroying her marriage when someone tried to blackmail her. 
---
Event calendar
Thursday, Dec 13, 2018
---
MUSIC

---
---
JERRY BLAVAT

@ Lobby Bar at Hard Rock Hotel and Casino Atlantic City, Atlantic City - 12:00pm
---
---
---
---
---
---
THEATRE

---
---
---
---
---
FILM

---
On the Map

@ Pollak Theatre @ Monmouth University, West Long Branch - 7:30pm
---
MISC

---
---
View all events
---