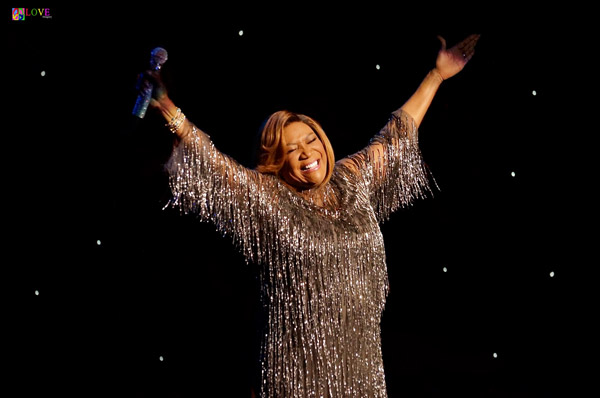 There's electricity in the air this Sunday, April 8, 2018 evening as patrons make their way inside New Brunswick NJ's State Theatre for a live concert appearance by the legendary soul singer, Patti LaBelle!
LaBelle was born on May 24, 1944 in Philadelphia, Pennsylvania. At the age of 10, Patti joined a church choir at the Beulah Baptist Church and performed her first solo when she was 12. While growing up, Patti also spent time listening to and enjoying R&B and jazz music.
When Patti was 15, she won a talent competition at her high school. This success led her to form her first singing group, The Ordettes. In addition to Patti, in 1962, The Ordettes included three other members — Cindy Birdsong, Sarah Dash, and Nona Hendryx.
After changing the group's name to Patti LaBelle and the Bluebelles, the quartet achieved success on the Billboard charts with songs like 1963's "Down the Aisle (The Wedding Song)" and 1964's "You'll Never Walk Alone."
In 1967, Cindy Birdsong left The Bluebelles to join The Supremes. In the early '70s, the remaining members of the trio changed their name to LaBelle and released their iconic disco hit, "Lady Marmalade." LaBelle made pop history in 1974 by becoming the first rock and roll vocal group to perform at New York City's Metropolitan Opera House.
---
The article continues after this ad
---
---
After the trio split up in 1976, Patti LaBelle began her own successful solo career and became a mainstream star in 1984 following the success of singles including "New Attitude."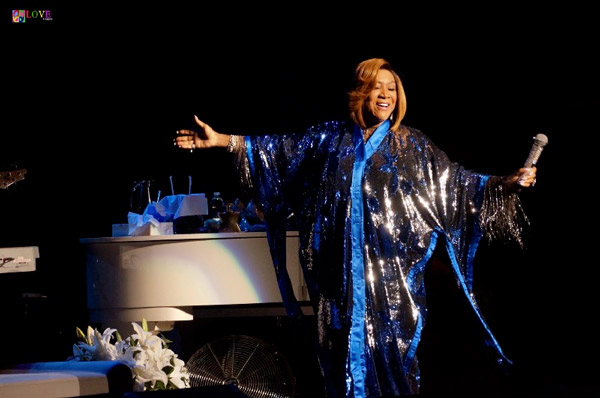 Over the course of her five-decade career, Patti has sold more than 50 million records worldwide. She's been inducted into the Grammy Hall of Fame and the Songwriter's Hall of Fame. In 2005, the World Music Awards recognized her contributions to music by presenting her with their Legend Award. Referred to as the "Godmother of Soul," Patti LaBelle is even included in Rolling Stone magazine's list of the 100 Greatest Singers. With 18 studio albums to her credit, in 2017, she released her latest recording, Bel Hommage — her first jazz album.
Along with her musical accomplishments, Patti LaBelle is a successful entrepreneur with a product line called Patti's Good Life which includes sweet potato pie, peach cobbler, and a variety of sauces and cakes. She also stars in a highly-rated television cooking show, Patti LaBelle's Place, on the Cooking Channel, and she is the author of six books.
Before tonight's show, we chat with several fans who tell us how thrilled they are to be here at the State Theatre to experience Patti LaBelle's performance tonight!
In the lobby, we meet Patti from Woodbridge. Patti calls herself "a lifetime fan" explaining she's been following Patti LaBelle "since the 1960s," but tells us that this evening will be her "first-ever Patti LaBelle concert." According to Patti, her sister bought her tickets as a 60th birthday gift.
In her arms, Patti holds a beautiful bouquet of a dozen yellow roses — "because that's what Patti likes" — she explains, before declaring, "I'm hoping to go onstage and give them to her — I'm very excited to be here!"
When asked why she's been such a long-time fan of LaBelle, Patti replies, "It's that voice — that strong voice!" before adding, "I just love all of her music, but I also like that's she's a family person," noting, "she loved her sister, Jackie, so much that she even adopted her kids when her sister died."
Next, we chat with Terry from South River. Terry — who bears a striking resemblance to Led Zeppelin's Robert Plant — reveals that he's followed Patti Labelle, as he explains, "my whole life — since The Bluebelles, and when she was with her vocal trio, LaBelle."
Having seen Patti LaBelle perform more than eight times, Terry exclaims, "She's an experience — you have to see her perform live! She gives 100% of her spiritual self and everyone rides the wave!"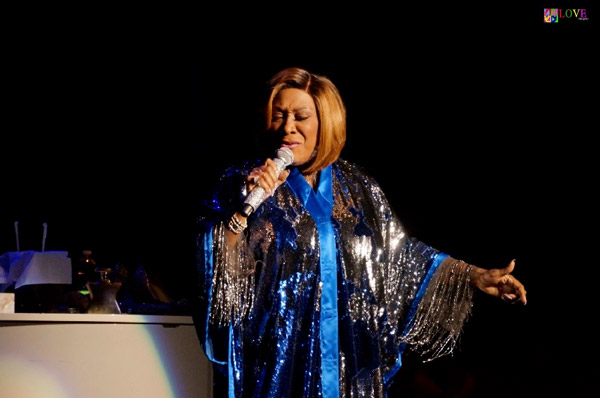 Continuing, "Every time you see her it's a little different. She's more chatty now — she often talks about her peach cobbler and her sweet potato pie — and she even takes her shoes off and throws them in the audience!"
Inside the historic State Theatre auditorium, we meet Lillie from Clark who exclaims, "I love Patti LaBelle! I saw her at BergenPAC nine or ten years ago. She's so genuine. I love how she takes her shoes off during her shows! I also like how she engages with the audience — she makes the whole experience feel very homespun."
Felicia from Orange remarks, "I came tonight to accompany my mom. I'm familiar with Patti LaBelle's music and I've heard about her concerts, so I wanted to experience her live — I've heard great things about her!"
Lastly, we chat with Karen from Englewood who discloses, "I like her music. I saw her in concert at the Meadowlands decades ago — it was my very first concert — and all of a sudden, I found myself standing and screaming! As a result, I'm really looking forward to seeing her again tonight!"
The lights dim and Patti LaBelle's orchestra — an 11-piece unit comprised of a guitarist, a bassist, three keyboardists, a three-piece horn section, and a trio of back-up singers — all take the stage.
Audience members scream at the sight of Miss Patti LaBelle who enters the stage wrapped in a reflective silver and blue robe. Her legendary voice sounding especially clear and full in this live setting, LaBelle opens her show with an electrifying rendition of "New Attitude," her voice soaring into the stratosphere and immediately bringing people to their feet.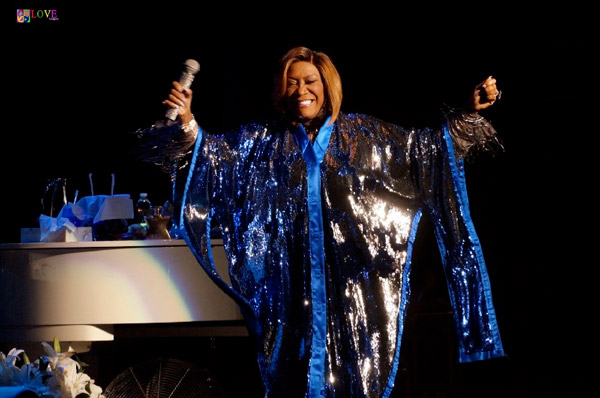 Right from the start, the crowd is clapping and singing along with Patti, and everyone is having a wonderful time!
Following tremendous applause, LaBelle removes her robe to reveal a stunning shimmering silver gown.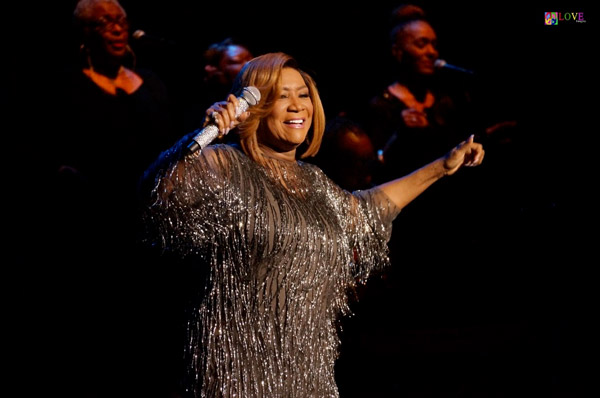 She also waves to her fans exclaiming, "Come on, New Jersey!" before introducing the various members of her orchestra.
LaBelle earnestly thanks the sold-out crowd for coming out tonight, stating, "I don't have a hit record out, so who's gonna buy a ticket?" Audience members respond to her query by yelling and screaming out their presence from their seats!
Giving credit to her friend, Celine Dion, who Patti contends "sings her face off" on this next song, Patti declares, "but I did it first!" Here, she and the band launch into "If You Asked Me To."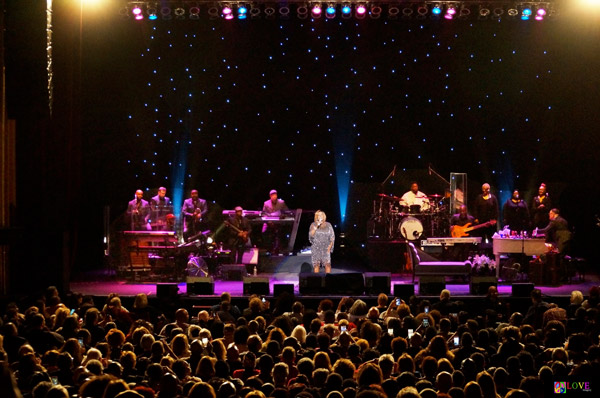 On this performance, LaBelle sings up, down, and around her backup singers and instrumentalists with her signature powerhouse style, elegantly bowing as the audience excitedly cheers.
Taking a moment to chat with two fans in the front row of the theater whom Patti introduces as Charlotte and Mary Ann, LaBelle exclaims, "I love you ladies so much!" explaining to the crowd that these women come to all of her shows and never ask for anything in return — "no tickets, no meet-and-greets, nothing!"
Audience members happily sing along on LaBelle's next number, the catchy, "If Only You Knew," the song's slow, smooth sound punctuated by Patti's distinctive vocal.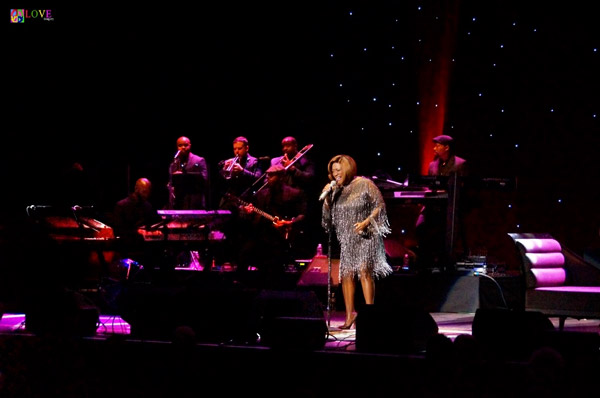 Following a sultry sax solo, Patti expertly hits and holds all the high notes as the crowd goes crazy with appreciation, bringing audience members to their feet in the middle of the song! As the number continues, LaBelle picks up a mirror to check how she looks, and then dances around the stage leading the audience to clap along with her tight band of expert musicians.
Following excited applause, LaBelle catches her breath saying, "I try my best to look gorgeous. I love to dress up and do my hair," to which one excited fan screams out, "You look gorgeous!"
Introducing "a Gamble and Huff song," LaBelle and the orchestra launch into "The Right Kinda Lover."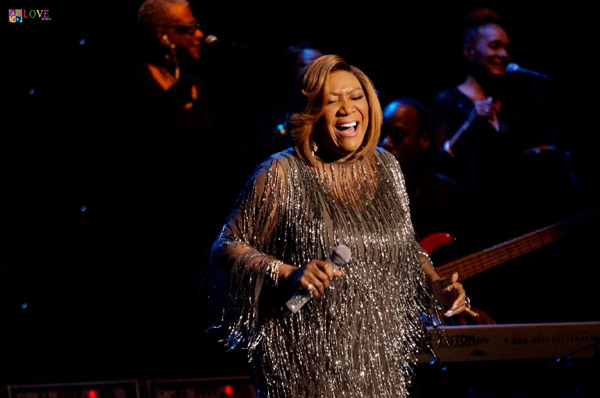 On this rhythmic ditty, Patti vocalizes while her guitarist accurately echoes her vocalization on his guitar. As she sings, an audience member calls out, "I love you, Patti!" before she ends the song on a low note to the great delight of the crowd.
Moving on to a medley of three of her tunes, Patti mentions that the first song is the final number that her trio, LaBelle, ever performed together. Entitled "I'm in Love Again," the back-up vocalists sing their hearts out as Patti croons this soulful ballad.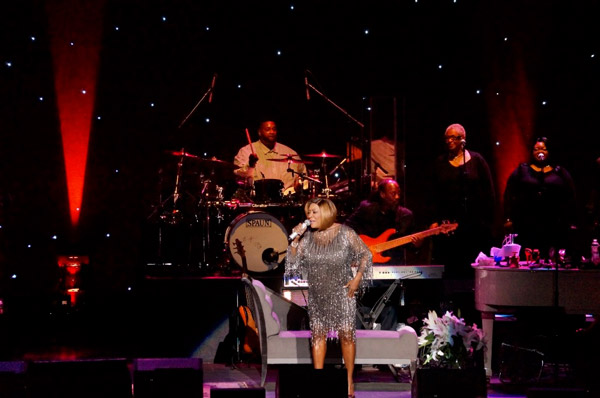 The bass player bounces up and down as he plays and Patti hums and belts out her lead vocal employing dynamics from pianissimo to fortissimo!
Even LaBelle's back-up singers applaud for her powerful rendition of the second tune, "Isn't It a Shame." After singing, "Isn't it a shame?/Sometimes such a love/Isn't it a shame?/Isn't it a shame that such a love must leave," Patti takes her time to take a drink, toast the audience, and blow a kiss to her fans.
Lastly, the medley concludes with "Little Girls," a song which LaBelle explains, "was written for me 40 years ago," and which she dedicates "to my two granddaughters." A beautiful lullaby featuring a grand piano accompaniment, Patti shows off her vocal range as she sings in her lower register, and at the end, pantomimes cradling a baby as she sings, "Tonight I'm just your little girl."
The easy groove of the orchestra and back-up singers support LaBelle as she performs the infectious "Love, Need, and Want You" — her lead vocal up in the stratosphere before landing softly back on stage with Patti fanning herself as she sings, "My soul is on fire."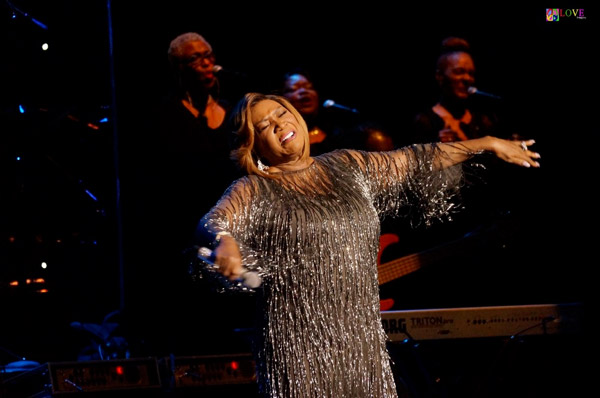 After announcing, "If you feel like standing up and dancing, don't be discouraged," LaBelle performs one of the highlight numbers of the evening, "Let's Talk about Love." The audience sings along to the funk of the bass as Patti croons "Love, love, love," and she dances about with a flower before handing it off to a lucky fan in the front row. The horn section rocks the house in a Tower of Power-like arrangement as LaBelle shakes her groove thing exclaiming, "Somebody put the fan on!"
While LaBelle takes a moment to compose herself, one of her back-up singers, Debbie, comes downstage to dance with Patti and take the microphone, soulfully handling the lead while strutting back and forth. With the energy of a revival meeting, the fans are on their feet and clapping before Debbie passes the microphone to the next very talented back-up singer while Patti and the horn players dance. By the time the third back-up vocalist echo-sings "Love and happiness" with the audience, the house is on fire, everyone having a party, especially Miss LaBelle, who continues to dance as the audience hoots and hollers!
After vigorous applause, LaBelle takes things down a notch when she sings a heartfelt lead on the soul ballad, "Somebody Loves You Baby (You Know Who It Is)," during which the fan we met earlier — Patti from Woodbridge — walks down to the edge of the stage to deliver her yellow roses.
Ms. LaBelle takes time out to chat with Patti from Woodbridge, asking her if this is her first time she's seen the show — to which the lifelong fan replies in the affirmative — before accepting the gift of the flowers, taking a selfie, and stating with a smile, "Thank you, sweetheart."
LaBelle's pianist takes center stage to sing with Patti on the vocal duet, "On My Own." The audience joins in singing on this well-known Patti LaBelle/Michael McDonald number with LaBelle asking to turn up the house lights so she can see everyone singing along with her.
"I recorded this next song at Constitution Hall in DC," announces Patti. "It's by my Philadelphia friends, Harold Melvin and the Blue Notes." Here, she and her on-stage musical colleagues launch into another highlight number of the evening, "If You Don't Know Me By Now," her dynamic, jazzy, and bluesy rendition of the song capturing everyone's heart.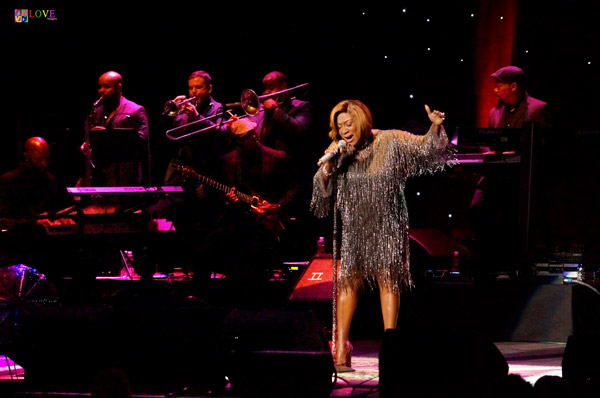 Viscerally communicating her message through her vocal performance, LaBelle shocks many in the crowd by kicking off her shoes and strolling down into the audience. With fans screaming all around her, eventually she returns to the stage, pleading, "If you don't know me by now/You will never never never know me!"
Segueing into a rousing rendition of "Every Praise," audience members are on their feet, joyfully singing and clapping along.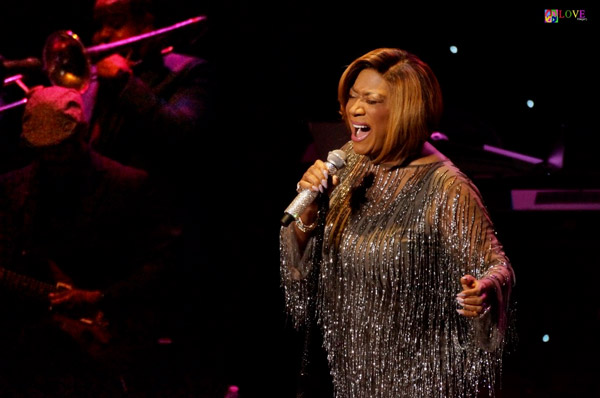 Before the end of the number, a happy fan gives her a beautiful hand fan as a gift.
"For 54 years I've had the blessing of having a diverse audience," announces LaBelle, adding, "Don't be afraid to 'Come as You Are.'"
Here, she and the band perform "Come as You Are," a heartfelt number on which Patti sings to everyone, "Come as you are/I'll be here for you/Come as you are/Let me adore you," inviting her fans to be exactly who they are no matter their race, color, creed, or orientation.
A screen comes down from the ceiling and images of individuals we've lost over time appear — including Ella Fitzgerald, Ray Charles, Nat King Cole, Rosa Parks, Frank Sinatra, Joe Cocker, Laura Nyro, David Bowie, and many more, including members of Patti's own family — as LaBelle sings her poignant signature solo anthem, "You Are My Friend."
Following heartfelt applause, LaBelle and the band perform yet another highlight number of the evening, their live rendition of LaBelle's biggest hit, "Lady Marmalade." After singing a verse and chorus of the well-known dance number, Patti invites the men in the audience to come up on stage and sing and dance with her. A group of over a half dozen men of different ages volunteer and all of them get a chance to sing and strut their stuff as a disco ball shines overhead!
For the final number of the evening, the orchestra starts off slowly on Ms. LaBelle's captivating rendition of "Over the Rainbow." With her powerful voice building in intensity, Patti makes the song her own.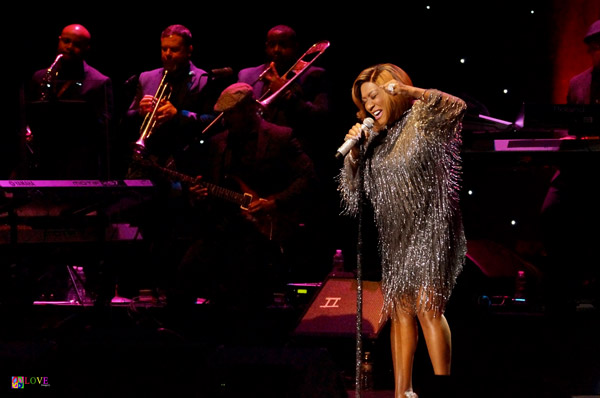 Ultimately she throws down the microphone stand, catches the mic, and continues the song in stride — all while the audience erupts into applause for this legendary performer!
Accepting more flowers from her fans while stating, "I love you!" Patti leaves the stage to a standing ovation, but returns with her pianist to perform an encore number. With just her solo voice and piano accompaniment, LaBelle fills the theater with stellar sound and emotion on "Here's to Life," a number from her new jazz album. Ending the song with class, Patti sings, "Here's to you," before her entire band comes back out on the stage and takes a bow together while Patti waves goodbye.
As audience members happily make their way back out of the auditorium, we chat with several in the crowd who share their opinions about tonight's performance.
States Peggy from Irvington, "Patti LaBelle was awesome — she has a relationship with her audience and she connected with everyone here!"
Likewise, Keisha from Plainfield comments, "I loved this show — this is my second Patti LaBelle concert — and she never disappoints!"
We also chat with Anthony from the Bronx — one of the men called up to the stage to sing and dance on "Lady Marmalade." When asked what motivated him to volunteer to appear on stage, Anthony replies, "I've been a fan of Patti LaBelle for 40 years. I wouldn't have done it when I was younger, but now I have the courage," before acknowledging, "Also, my wife encouraged me to go onstage."
Anthony's wife, Cynthia, is all smiles about her husband's debut performance, exclaiming, "I recorded it, and I'm gonna share it with everyone!"
Additionally, we chat with Shonda from Newark, who declares, "The older Patti gets, the better she gets, and the more eloquent and classy she gets! She can sing for all generations and for all cultures — and that says a lot."
Lastly, we converse with Mike from New Brunswick who, perhaps, sums up the feelings of many tonight when he says, "Patti LaBelle is like no other! With her on-stage persona and that magnificent voice — she's just a force of nature!"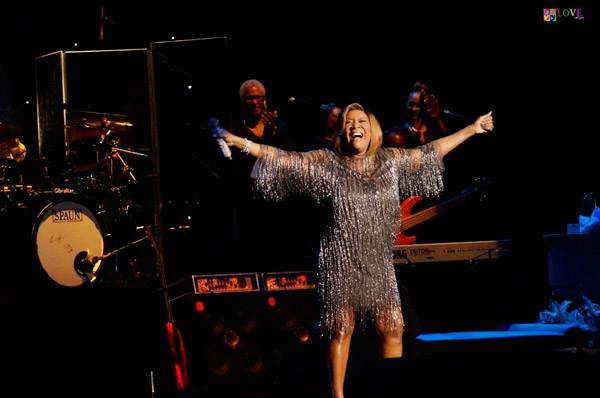 To learn more about Patti LaBelle, please go to pattilabelle.com. For information about upcoming concerts at The State Theatre — including Always and Forever: An Evening of Luther VanDross starring Ruben Studdard on April 26, Kool and the Gang on May 12, and The Temptations and The Four Tops on May 13 — please go to statetheatrenj.org.
Photos by Love Imagery
Spotlight Central. Your source for Jersey entertainment news and reviews
Love Imagery Fine Art Photography. all you need. peace/love/flower/power