By Gary Wien
originally published: 04/21/2016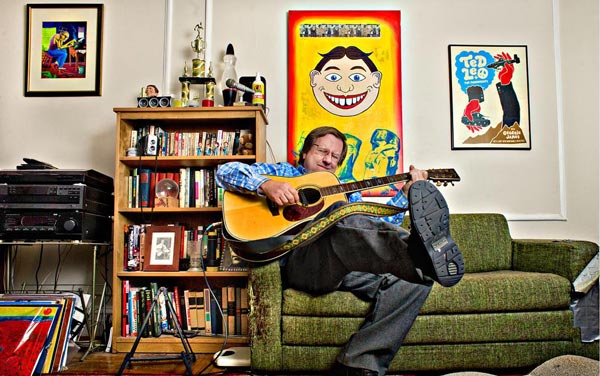 In February, Jim Testa released two records: American Spirits & Artisanal Cheese and Jim Testa For President.  Best known as the creator of Jersey Beat, Testa has been covering rock and roll for decades.  He's so known as a writer that it sometimes surprises people to hear that he's a musician as well.  New Jersey Stage recently spoke with him to learn more about the releases and the history of Jersey Beat.
Tell me about the two records.  American Spirits is definitely a more general release, while Jim Testa For President is great for an election year. The political songs on Jim Testa For President were all inspired by the 2016 presidential campaign and, for the most part, are GarageBand demos I did at home completely by myself. American Spirits & Artisanal Cheese was recorded at Mama Coco's Funky Kitchen, a terrific studio in Brooklyn, with producer Oliver Ignatius, and was meant to be a more all-encompassing release with a more professional sound, showcasing all aspects of my music (satire, social commentary, and a little old-fashioned shmaltz.)  Oliver plays piano and organ on the record, and I had a small cast of musicians from the Mama Coco's collective play on the EP as well, including Chadbourne Oliver (the Graveyard Kids,) Jamie Frey (NO ICE,) Sam Braverman (Logan X,) Jack Tabby (M.H. & His Orchestra,) and Dylan Ettlinger (Ex-Mothers.)
What came first: Jim Testa the writer or Jim Testa the musician? First came Jim Testa the writer.  I went to journalism school at Rutgers, became Managing Editor of the daily newspaper there, wrote for the Aquarian Weekly (doing film and theater pieces,) and had every intention of being a newspaper reporter.  The Ford recession torpedoed that, and then my passion for music writing was ignited by the NYC punk rock scene in the late 70's and the Hoboken pop scene in the early '80's.  I played with some friends briefly in a band called the Love Pushers in the mid-80's but then didn't seriously pursue performing or songwriting again until about 2000, when I got the bug and started doing my singer/songwriter thing.
Even though Jersey Beat covers a lot of different styles of rock and roll, I think it's best known for its punk rock coverage.  Meanwhile, much of your own music often leans more towards folk rock.  Does that surprise your readers? Well, I hope not. If I could play electric guitar better and had a band, the music would probably be more punk rock. But there's only so much you can do with an acoustic. I prefer to call it folk-punk anyway (or, to use a trendier term, Anti-Folk.)  But Jersey Beat's always been about eclecticism; back in the day, it was one of the few fanzines where you could read about Adrenalin OD and Agnostic Front, as well as the Bongos and the dB's.
Your music page mentions a few influences like John Prine, but much of your work reminds me of Loudon Wainwright III and the political tunes hint of an American Billy Bragg.  Were you ever a fan of those two? I am a huge fan of Loudon Wainwright III and have been since his first albums in the early 70's. I also include Tom Lehrer and the great radio humorist Jean Shepherd as two of my biggest influences.  I never really got into Billy Bragg though.
---
The article continues after this ad
---
---
American Spirits has one song that blasts living in New Jersey and another which complains that there's no punk rock in Bushwick.  If you can't live there and don't want to live here... where would you like to live? "Here's To The State of New Jersey" is pretty specifically about Chris Christie, and while it does criticize some things about the state, it's also political satire.  "No Punk Rock In Bushwick" is also satirical and targets a very specific hipster demographic.  Actually I wouldn't live anywhere but New Jersey, and I'm constantly discovering a world of great music being made in Brooklyn.  Hopefully, both places can take a joke and not kick me out.


Some of your work leans a bit towards the protest song genre.  Do protest songs have any power in today's world? Tom Lehrer famously said, "The nice thing about a protest song is that it makes you feel so good."  There's an element of truth in that; protest singers are almost always preaching to the choir.  I don't think I'm going to persuade any Trump or Cruz supporters to change their minds with a song lyric. But at the same time, I think it's important to speak out against injustice and intolerance, and music is my platform to do that. Given the current political morass we're in, I'm surprised we're not hearing more politically-themed music anywhere but in hip hop.
You've been following the industry for decades.  With the state of the  industry — dwindling record and download sales, radio stations replaced by streaming websites — what keeps you recording music? If my only goal was making money, I would have given up on music decades ago. I hope this doesn't sound pretentious, but making art is its own reward.  At a certain point, writing or making music stops being what you do and becomes who you are.  I'm not sure every working stiff will understand that, but every writer and musician will.
I was surprised to learn that you were technically writing for Jersey Beat even before there was a Jersey Beat zine.  Do you miss having a print  version or is digital the world these days? Jersey Beat started as a "scene report column" in a Washington, DC fanzine called Discords (no relation to the label) that was run by one of my best friends from college, Howard Wuelfing. I mostly wrote about what was happening at Maxwell's and places like the Dirt Club and the Showplace (in Dover.) This was around 1980-1982.  When Howard had to cease publishing, I spun off the idea and the name and launched Jersey Beat fanzine, which I published for 25 years (1982-2007.)
It was wonderful and rewarding publishing a print publication, but it was also a tremendous amount of angst and hard labor - and much of it had nothing to do with music.  As you know, there's a lot of behind the scenes grunt work - like selling ads and securing distribution and whatnot - that takes up a lot of time and isn't very rewarding... spiritually or financially. We never did more than barely break even, so Jersey Beat was always my hobby, never my job. Maintaining the website is much less work and barely costs anything, so I can still have a team of very talented writers do reviews and the occasional feature and hopefully still serve the music community.  And I keep busy freelancing as well as writing a weekly column for the Jersey Journal/NJ.com on the Hudson County music scene.
Finally, are you still doing a podcast? If so, how often does it come out and where can people go to hear it? I totally missed it, but The Jersey Beat Podcast just celebrated its 10th anniversary!  Episode #1 went online on April 6, 2006, and I still post one or two episodes a month.  At first, it was basically an online radio show where I'd play new (or old) music that I was digging at the time; in the last few years, I've been mixing in interviews. We've had some really good guests, like Glenn Mercer of the Feelies, Craig Finn of the Hold Steady, Peter Stampfel of the Holy Modal Rounders, and Brian Sella of the Front Bottoms.
All of the episodes can be downloaded or streamed for free at jerseybeatpodcast.blogspot.com, although it's way better if people subscribe to the podcast on iTunes.
All of my music is available at jimtesta.bandcamp.com and of course I hope your readers check in on JerseyBeat.com from time to time and check out our music coverage.
TOP PHOTO BY Dan Bracaglia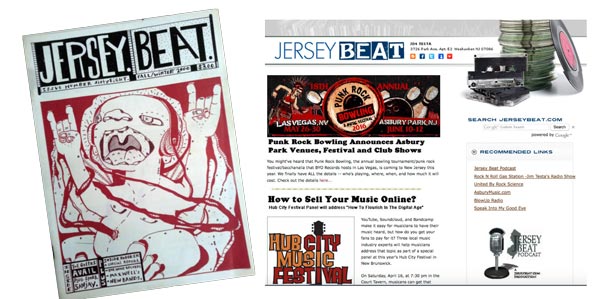 ---
Gary Wien has been covering the arts since 2001 and has had work published with Jersey Arts, Elmore Magazine, Princeton Magazine, Backstreets and other publications. He is a three-time winner of the Asbury Music Award for Top Music Journalist and the author of Beyond the Palace (the first book on the history of rock and roll in Asbury Park) and Are You Listening? The Top 100 Albums of 2001-2010 by New Jersey Artists. In addition, he runs New Jersey Stage and the online radio station The Penguin Rocks. He can be contacted at gary@newjerseystage.com.
---