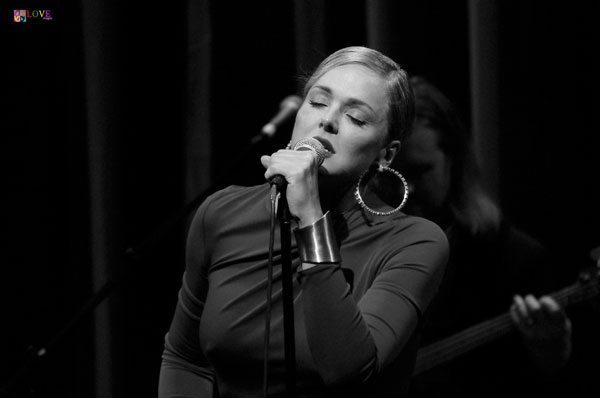 Musician/actor/playwright/author Storm Large shot to national prominence in 2006 as a finalist on the CBS television show, Rock Star: Supernova, where she built a worldwide fan base for her singing ability that follows her to this day.
Along with her vocal proclivities, Storm also possesses an irreverent, quirky, and effervescent sense of humor which makes her a stand-out on the live concert stage, despite — or, perhaps, because of — her predisposition for using outrageous and colorful language!
In 2009, Storm recorded her first album, Crazy Enough, and in 2014, she released her latest recording with her band, Le Bonheur. On this album — also titled Le Bonheur — Large provides unique interpretations of classic tunes from the Great American Songbook in addition to several original compositions.
On October 1, 2017, Large made a rare Jersey Shore appearance at the Grunin Center for the Arts on the campus of Ocean County College in Toms River. Performing with her band, Le Bonheur, Storm put on a show for an audience of adults of all ages.
We arrive at the theater just in time to make our way past the double doors into the cozy Grunin Center auditorium and find our seats.
---
The article continues after this ad
---
---
As the house lights dim, the members of Le Bonheur take their places on the stage, followed by Storm who enters barefoot in a clingy bright red dress that shows off every detail of her body.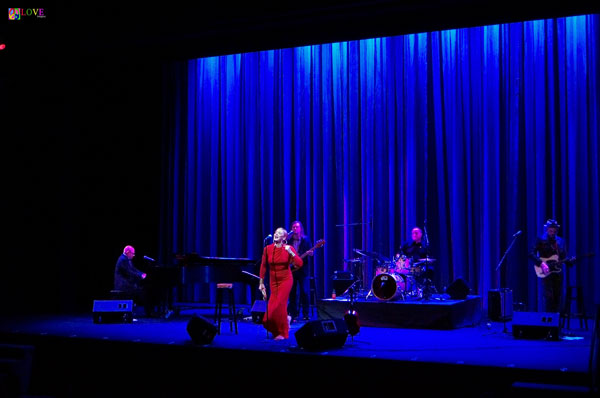 Large greets the small but enthusiastic audience with a huge smile announcing, "Tonight's show will be about love songs, about being in love, and about loving each other."
Going on to add, "You'll find out what's going to happen when you get in the back seat with me!" Large strums a ukulele as she performs her first number, an original composition entitled, "Call Me Crazy."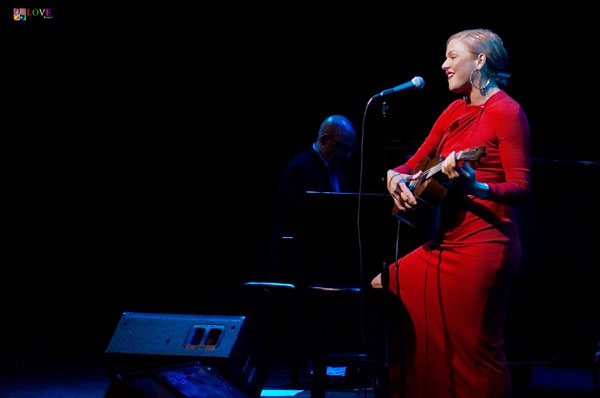 Singing, "Call me psycho/'Cause I am, and also alive/Thank God I'm alive/I make music out of the voices in my mind," Large immediately gets the audience's attention not only with her provocative lyrics, but with the gorgeous sound of her full and resonant voice.
Complimenting composer Cole Porter by calling him "one of our sickest creative minds," Storm launches into an innovative arrangement of Porter's "I've Got You Under My Skin."
Opening with an acoustic piano intro, Large performs a new modal melody to the number accompanied on the piano by a series of updated chord changes. When the bass, drums, and guitar kick in, Storm writhes as she sings to the hard rock beat, showing her sophistication in terms of her top-notch vocal technique as she emotes the song. Singing with her whole body — free and luscious, raw and bluesy — Large draws the listener right into her world.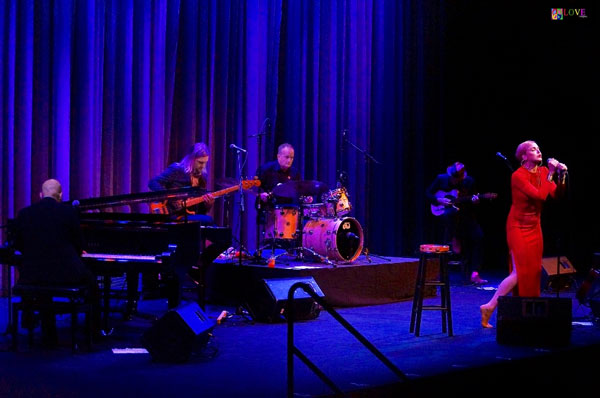 Shaking her tambourine, Storm launches into another Cole Porter tune, "It's All Right With Me." Moving her hips, Large's sultry voice and stage movements propel the song ever forward, her microphone technique enhancing her performance — at times, keeping her powerful voice far away from the mic as an interpretive effect.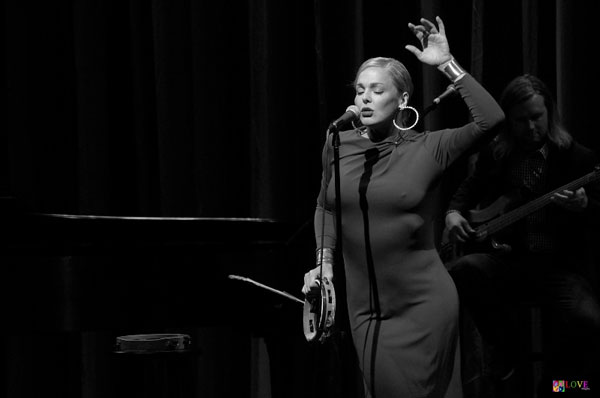 Throwing and catching her tambourine as she plays, Storm impresses the audience in that it's easy for everyone to see that she likes to give her fans everything she's got on every single song.
Opening up to the audience about recent losses she's experienced and sharing her personal feelings about them, Large goes on to perform a tune written by "someone else we've recently lost" — "Nothing Compares 2 U" by Prince.
Vocalizing with her beautiful face and body to captivate the crowd, Large uses her chameleon-like voice — which can be powerful and strong on one song and soft and sultry on the next — to convey different moods and images. On this particular number, Storm's voice is raspy and bluesy and with it, she breathes new life into this classic tune to the pure delight of the crowd.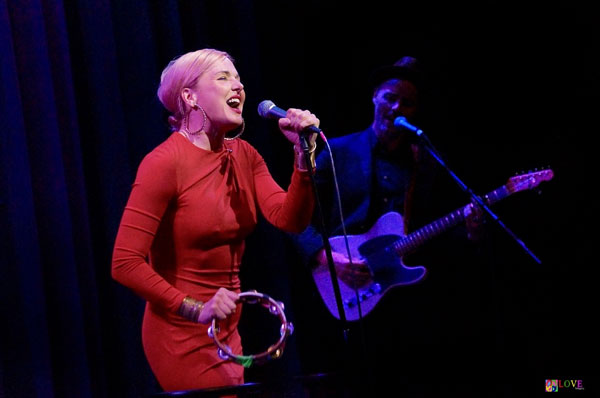 Currently a resident of Portland, Oregon, Storm wryly announces, "Oregon is the Beaver State," adding, "It's the state with the most strip clubs." Describing the strippers as "proud and strong," Storm blatently insists, "They're not whores — they're f*cking amazing strippers."
Continuing, Storm discloses, "I was asked to write a story about a person buried in Lone Fir Cemetery in Portland, and when I heard that the person's name was Charity Lamb, I was sure I'd be writing about a stripper," before lamenting, "It turns out, however, she was a f*cking ax murderer."
Going on to perform her original composition, "Charity Lamb," Storm chants, "Charity, Charidum/ Was a lady alone/And she lived on Asylum Road," informing her listeners how the song's heroine snapped and murdered her abusive husband singing, "I'm damned if I'll suffer/Another long summer/Alone with no lover/ And your brutal hands."
As she vocalizes, Storm's powerful songwriting and performance skills easily conjure up mental images among members of the crowd who reward her at the number's conclusion with avid applause and cheers.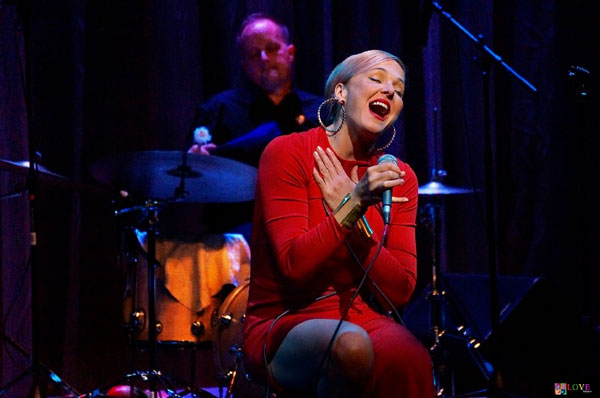 Apologizing to "all of the heterosexual men in the audience," Large performs another original composition, "A Woman's Heart." Using her expressive face, Storm is brave and open, making music her way as she plays her ukulele and sings in her bluesy drawl, "Well you might haunt her every dream/And you might have a name she screams/And you can tear her world apart/ And never know a woman's heart."
Following ardent applause, Large moves on to a cover version of Elton John's "Goodbye Yellow Brick Road," explaining, "There are lots of lyrics in this song that most people just don't know."
Clearly enunciating the words to the song's famous chorus, Storm sings, "So goodbye yellow brick road/Where the dogs of society howl/You can't plant me in your penthouse/I'm going back to my plough/Back to the howling old owl in the woods/Hunting the horny back toad/Oh, I've finally decided my future lies/Beyond the yellow brick road," providing a compelling version of this classic song, deftly accompanied by the Le Bonheur band.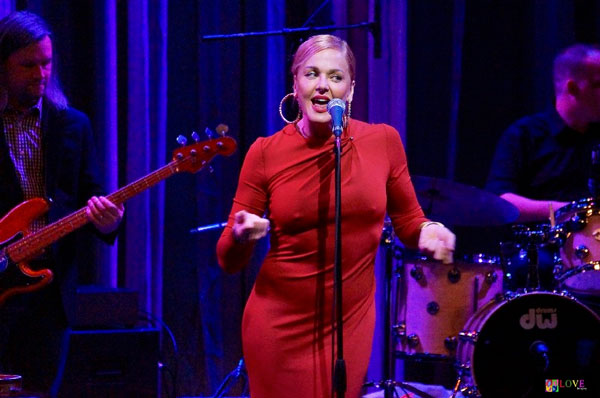 Announcing, "This is a song I wrote with Gregg Eklund in response to how negative and nasty the world is," Large goes on to suggest, "We all have the same feelings, fears, and desires." She then performs "Going Somewhere," accompanied by Ekland who switches over from the drum set to guitar.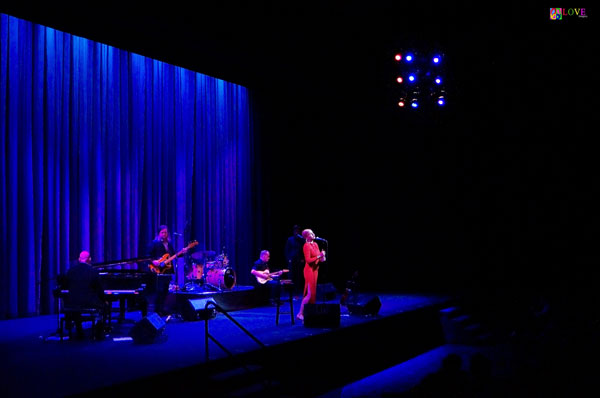 Going on to talk very candidly about a specific part of the female anatomy, Storm elicits nervous giggles followed by loud belly laughs from the adults in the audience when she launches into a rendition of her original composition, "8 Miles Wide." Although her language is raw and unfiltered, her message is clear in this outrageous number when she vocalizes, "Now I am not loose and I'm not a whore/This is a metaphor/For my super vigantastically mystical feminine goddess core." When she continues to sing, "Come on in, the water's fine" (and more), she manages to both shock the audience and endear herself to them at the same time with her wit, honestly, and talent.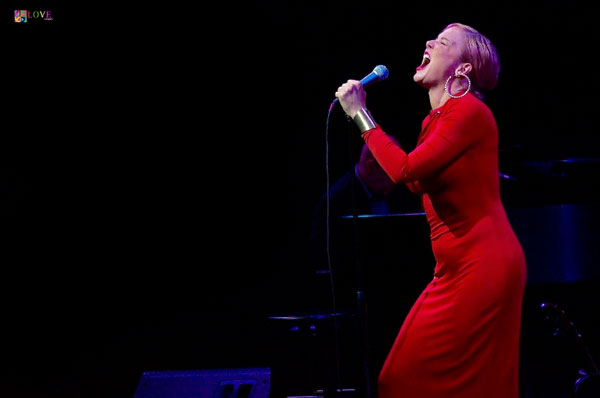 The crowd responds with energetic hoots, hollers, and applause.
"Angels in Gas Stations" is another Large original which she reveals is "all about losing a woman who was like a mother to me" — a person whom Storm refers to as one of her "momstitutes," or substitute moms. Performing from the depths of her soul, Large allows the audience to viscerally comprehend her profound feelings of loss.
Going on to state, "There's some bad sh*t happening in the world these days," Storm suggests to the audience that even though we are all unique individuals, there are some aspects of our humanity which we share — for example, "we all want to feel good and we all want to feel like we belong somewhere." Asking the audience members to take out their cellphones and wave them back and forth, Large launches into her hypnotic rendition of Queen's "Somebody to Love."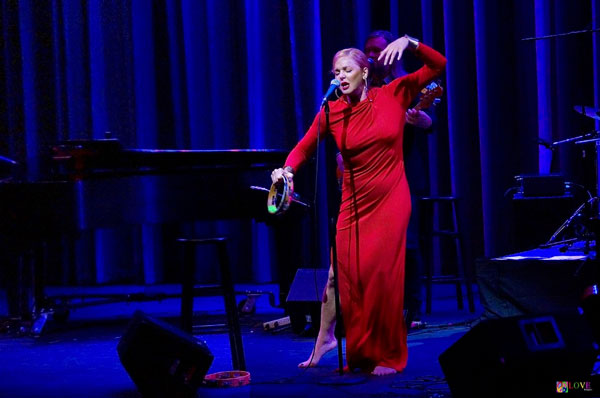 Jumping down off of the stage into the audience, Large conducts a call and response with the crowd, holding the microphone out for them as she and the audience sing responsively, "Somebody," "Somebody," "Somebody," "Somebody" — "Find me somebody to love!"
Following huge applause, the audience makes its way out of the auditorium and into the Grunin Center lobby. There, we talk with several members of the crowd who share their responses to Storm Large's performance tonight.
First, we chat with a group of three friends from Brick.
Says Steve, "Storm was fantastic! She's very profound and not afraid to get out of her comfort zone," before noting, "I especially liked her version of 'I've Got You Under My Skin.'"
Alexis agrees, stating, "This was my first time seeing her — she was excellent! I only wish more people had come to see her."
Concludes John from Brick, "She was there! Everything about her was right out front, from the red dress that didn't hide anything to her very emotional songs."
Carol from Toms River reveals, "I've been a fan of Storm's for several years. She's wonderful in all venues, but I've never seen her as awesome as she was tonight! She was brilliant and fiery — and I loved the way her band played, too."
Carol's friend, Jerry from Toms River, remarks, "She's more than a singer — she's a true entertainer," and Jerry's wife, Maryann, agrees stating, "She was wonderful. I loved her!"
Victoria from Lacey comments, "As a performer, Storm is phenomenal — she has an amazing voice! She has such a resonant sound — a full, rounded tone — but she can be raspy and soulful, too. Plus, she can sing anything and make it her own. Her vocal and lyrical interpretations are unique and fresh, whether she is breathing new life into classic songs or singing her original music and lyrics."

Going on to further note, "And as a person, Storm will say what everyone is thinking — what every woman wants to say, Storm will say," Victoria adds, "Her vocabulary isn't meant to be offensive, it's just who she is," before concluding, "She's just a breath of fresh air!"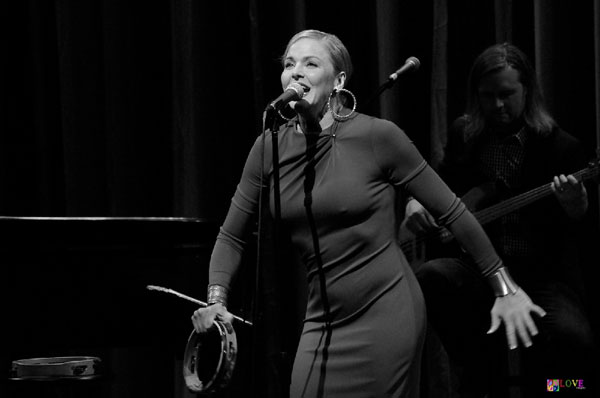 For more on Storm Large, please go to stormlarge.com. To learn more about future performances at Toms River's Grunin Center of the Arts — including Joan Osborne Sings the Songs of Bob Dylan on October 14; Irma Thomas, The Blind Boys of Alabama, and The Preservation Legacy Quintet on November 7; and Arlo Guthrie on November 9 — please click on grunincenter.org.
Photos by Love Imagery
Spotlight Central. Your source for Jersey entertainment news and reviews
Love Imagery Fine Art Photography. all you need. peace/love/flower/power