By Gary Wien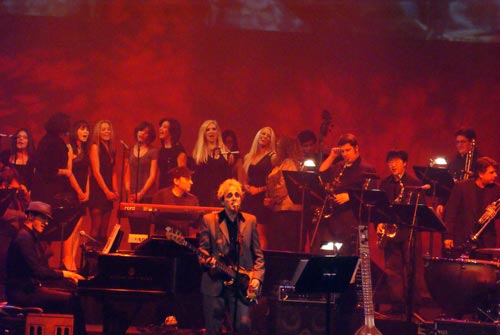 (NEW BRUNSWICK, NJ -- FEBRUARY 19, 2011) -- For the last few years, Glen Burtnik has been organizing shows to pay tribute to the work of the Beatles with friends of his from the music business. The shows went to great lengths to showcase individual albums exactly as the music was originally recorded -- note by note, instrument by instrument; often using dozens of performers to replicate the work of the Fab Four. On Saturday, February 19, Burtnik provided a different sort of tribute to the songs of John Lennon. The show, which ran through Lennon's work from the Beatles to his solo albums, was a bit looser, allowed for creative takes on the songs, and was even a little sloppy at times... in other words, it was probably exactly as John would have wanted it.

Lennon turned 70 last October and this show was a belated birthday celebration of the man and his wonderful career. A packed house filled the State Theatre in New Brunswick, NJ for the event. Regular cast members Bob Burger, John Merjave, and Dusty Micale once again joined Glen on stage. Special guests for the night included Pat DiNizio of the Smithereens, Earl Slick (who recorded with Lennon on Double Fantasy), Mike Stein, James Egan, Joe Nocco, Kim Pulsive, Dave Anthony, Taylor Hope, and Glen's daughter Sally.

In addition, Glen once again brought many of his favorite artists from the Asbury Park music scene to New Brunswick. The list of Jersey Shore artists included Christine Martucci, Lisa Bouchelle, Anjelia, Rick Barry, Emily Grove, Rosemary Conte, Jerzy Jung, and Jo Wymer.

The show opened with nearly 20 voices singing "Because" in unison, an effect which added layers to the song, making it sort of haunting in a good way. It was a beautiful way to kick off the tribute.

"Wait a minute... where are my lyrics?" asked Burtnik after the song. He began playing "In My Life" while he waited for a stage hand to locate the lyric sheet.

Lyric sheets would be incredibly important during the night as Glen and friends would tackle nearly 40 songs throughout the show. Veterans of Glen's Beatle tributes were treated to a dozen songs from John Lennon's solo career, many of which had never been performed at the shows before. In addition, the show featured two songs written about Lennon and plenty of numbers from throughout the Beatles catalog.

Pictures of Lennon throughout his career and videos of John with and without the Beatles were shown above the artists. At times I found myself mesmerized by the images. I realized I could actually watch a slideshow of John for two hours and be happy. I'm sure I wasn't the only one in the theatre to think that.

Highlights of the first set included "Grow Old With Me", one of the last songs written by Lennon. It was originally intended for the Double Fantasy album, but postponed and would appear in an early version on the Milk and Honey follow-up. A lineup of female singers of various ages took turns at lead vocals, giving the song a visual interpretation that was very nice.

Bob Burger once again was a hit with the State Theatre crowd every time he had the opportunity to take lead vocals. My favorites from the night included his brilliant take on "Julia", "Dear Prudence", and the crowd-favorite -- an energetic version of "I Am The Walrus" that closed out the first set to a standing ovation and a roar of approval.

Highlights from Glen included wonderful versions of "Starting Over" and "Jealous Guy" along with "This Boy", a song that Burtnik included in his sets early in his career. Joined by John Merjave and Bob Burger, "This Boy" reminded me back of the day Glen's band performed the song live on the old radio station Y-107 in Long Branch. The three musicians work so well together on these shows it made me wonder how they would sound if they attempted an original band together. Since Burtnik and Burger are regular songwriting partners, it might be worth a shot.

Speaking of John Merjave, the musician who is well known in the Beatles' community for his work with the band Liverpool, was simply incredible on lead vocals with "Nobody Told Me", "Whatever Gets You Thru The Night", and "Watching The Wheels" -- three of my favorites by Lennon.

Other highlights of the first set included a string of guest vocalists; Jo Wymer belted out a great, bluesy version of "Come Together"; Christine Martucci practically owned the stage during a powerful take on "Yer Blues"; Kim Pulsive provided a stellar version of "Working Class Hero" and reminded me of a real-life 'Leather Tuscadero' on guitar; and Pat DiNizio, who took lead for three songs ("I'll Be Back", "I'm A Loser" and "Nowhere Man") with "Nowhere Man" being the best of the three by far.

After a short intermission, Glen and friends returned for a second act that was highlighted by a pair of songs written about Lennon. The first was "Killing The Thing That You Love" which was written by Burtnik and Burger and released by Styx on their Cyclorama album.

"The genius of a generation
Blown away just like a leaf on the wind
And now you're looking for salvation
But you can't forget the places you've been
And you can't erase a lifetime of sin
And you can't escape the answers as you

Look in the mirror
At what you've become
Dredging the river for what you have done
Killing the thing that you love
Like Lennon's assassin
Lennon's assassin"

While the song was played, the images in the slideshow above the artists moved in rapid-fire speed, giving the illusion that John's life was literally passing in front of our eyes. Sadly, the effect also reminded me of rounds of bullets being fired from a gun. I'm not sure if that was intended or not, but as beautiful as the slideshow was during this song, it was just as eerily sad and showed how quickly his life was taken and how much more he surely had to give.

The second was an amazing new song by Dan Reed called "Dear John". It featured lines like, "Dear John, have you heard? We're still singing in your name" that pretty much encompassed everything about the night. Dan's song led right into a great cover of "You've Got To Hide Your Love Away". Dan's appearance was one of the overall highlights of the night.

Other highlights included "The Ballad of John & Yoko" done by Rick Barry (although personally I would have loved to see him attempt something like "I Don't Wanna Be A Soldier" or "Crippled Inside"); Anjelia gave a moving version of "Love" dedicated to her father who passed away earlier in February; "Imagine" -- perhaps the best song sung by Burtnik in the night; a fun romp with "Everybody's Got Something To Hide Except Me And My Monkey"; and the trio of "Strawberry Fields Forever" bleeding into "Revolution" before the set closed with "A Day In The Life".

Glen and the band were brought back for two encores -- "Ticket To Ride" and the very appropriate "A Hard Day's Night". Although a few song titles, most notably "Mind Games", were shouted out throughout the night, nobody in the audience could complain about the setlist. While I would have loved to see the artists dig a bit deeper into Lennon's solo work, Glen and the band gave everyone their money's worth and then some.

Burtnik returns to the songs of the sixties on Saturday, March 12 when he presents "The Summer of Love Concert: A Celebration of the Music of the Woodstock Nation" at the Count Basie Theater in Red Bank. And on July 23, Burtnik will return to the State Theatre with "Jersey Beatles Bash V" -- a note-for-note take on the classic "Revolver" album.


---
Gary Wien has been covering the arts since 2001 and has had work published with Jersey Arts, Elmore Magazine, Princeton Magazine, Backstreets and other publications. He is a three-time winner of the Asbury Music Award for Top Music Journalist and the author of Beyond the Palace (the first book on the history of rock and roll in Asbury Park) and Are You Listening? The Top 100 Albums of 2001-2010 by New Jersey Artists. In addition, he runs New Jersey Stage and the online radio station The Penguin Rocks. He can be contacted at gary@newjerseystage.com.
---