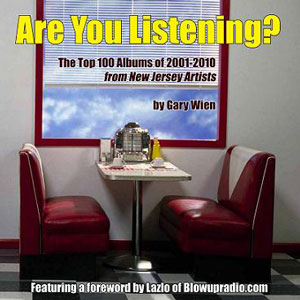 The Gaslight Anthem put a lot of pressure on themselves to make a great album after the breakthrough success of The '59 Sound,  a release that made them practically a household name for rock and roll fans throughout the world. The band was not only up to the task, but crafted an album in American Slang, which solidified their place as one of the hottest rock bands alive.
While The '59 Sound seemed to embrace rock and roll history and highlight the artists that had influenced the band, American Slang was something completely different.  Rather than pay homage to the past and repeat the formula that had worked so well in The '59 Sound, the band sought to make its own history.  They accomplished this by combining their Jersey roots and punk influences.  It's as if Springsteen and The Clash recorded an album together at the height of the punk era.
American Slang also served notice that the band would never forget where it came from.  Lyrics continued to immortalize the streets of New Brunswick just as Springsteen did with the streets of Asbury Park.
Now the lights go low on the avenue

And the cars pass by in the rain

University boys and the girls fill the bars

While I'm just waiting on the light to change

And the steam heat pours

From the bodies on the floor

Down in the basement

Where the Jacknives play

For the hub city girls

In the ribbons and the curls

Who know the meaning of staying out late

They know the meaning of staying out

Very, very late

-- "The Diamond Church Street Choir"
Highlights include "American Slang," "Stay Lucky," "Bring It On," and "The Diamond Church Street Choir."
---
From the book
Are You Listening? The Top 100 Albums of 2001-2010 by New Jersey Artists
by Gary Wien
---
---
| | | |
| --- | --- | --- |
| P!NK Announces 2019 Spring Dates, Tour To End At Madison Square Garden | Shawn Mendes To Perform At Prudential Center | NJPAC Presents Yellowjackets, Jazz Fusion Legends |
| Cher To Perform at Prudential Center | Joan Baez To Perform At McCarter One Final Time In April 2019 | NJPAC Presents Chick Corea Trilogy with Christian McBride & Brian Blade and Special Guest Joey Alexander |