originally published: 06/04/2018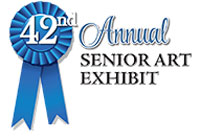 (TOMS RIVER, NJ) -- From June 9 to July 7, the public is invited to view artwork created by talented Ocean County artists at the 42nd Annual Ocean County Senior Art Exhibit at Ocean County College, Grunin Center Gallery, 2nd floor, (Building #11), OCC Main Campus, College Drive, Toms River, NJ.
Gallery hours are Monday to Friday from 8:00am to 10:00pm; Saturdays from 9:00am to noon (when classes are in session); and when there are events at the Grunin Center. Admission is FREE and open to the public.
Professional and nonprofessional artists, 60 years of age or older, who are residents of Ocean County will display their original artwork in one of 11 categories including acrylic painting, craft, digital/computer art, mixed media, oil painting, pastel, print, photography, sculpture, watercolor painting, and works on paper.
Sponsors of the 42nd Annual Ocean County Senior Art Exhibit include Ocean County College, the Senior Art Advisory Committee, Ocean County Board of Chosen Freeholders, Ocean County Office of Senior Services, and the Ocean County Cultural & Heritage Commission.
---