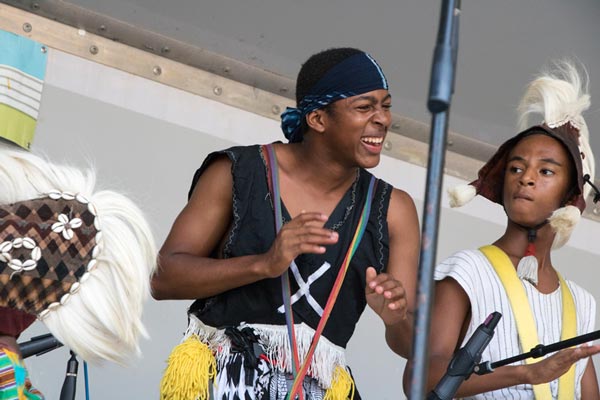 (NEW BRUNSWICK, NJ) -- New Brunswick Cultural Center/ Arts New Brunswick, and Johnson & Johnson present the 2nd annual Caribbean Festival on Saturday, August 26 from 12:00pm-6:00pm at Boyd Park located on Rt. 18 North in New Brunswick. Featuring Caribbean cuisine, music, and dance performances including reggae, soca, and calypso, the Caribbean Festival is free of charge and for all ages.

The Caribbean Festival features performances by ARITA, Jazmine Stewart, Ramya, Universal African Drum & Dance Ensemble, Black Circle Symphony featuring Kendra Granville, Gary Nesta Pine, Socatworkoutfitness, Ras Osagyefo, Susan Kennedy, Maurice Archibald, Diamond Anderson, Haitian All-Stars, and Danzon.

"I have been fortunate enough to witness and help to facilitate the Live Music Movement in New Brunswick for over three decades and am so excited to be a part of the development and evolution of this Hub City Sounds Caribbean Festival," said Carlyle "Ras Ujimma" Parris, one of the pioneers of the Live Music Movement in New Brunswick. "I strongly believe that through our strong efforts of outreach and communication that this event will flourish into one of the best festivals in the tri-state region. We look very forward to welcoming EVERYONE to this festival!"

In addition to live performances, the festival features a kid's zone with a moon castle, face painters, a petting zoo, canvas painting, and more. Festivalgoers are welcome to bring blankets and chairs for lawn seating at the park and streetscape events. Delectable delights will be available for purchase.

"As the Caribbean's leading media and entertainment Company, TEMPO Networks is proud to serve as the Official TV Media partner for the Hub City Caribbean Festival," says Frederick A. Morton, Jr., Founder, Chairman & CEO of Tempo Networks. "We are excited to be a part of the growth of this festival which is another awesome platform for connecting and uniting the Caribbean diaspora around our extraordinary culture in a well-organized and beautiful day of music, cuisine and artistic expression in one of the most beautiful Cities in the state."

"We at CPRLive are so excited to be a part of the growth of this Caribbean festival from its conception, and cannot wait to welcome an inclusive audience of all ages to a fun-filled and palate enticed experience," said Sharon Gordon, Co- Founder of CPRLive.

The Caribbean Festival is a part of Hub City Sounds, a FREE and family welcoming performing, visual and culinary Arts festival series with events for all tastes, reflecting the diverse population of New Brunswick's community and of the region.

For more information on the Hub City Sounds events visit www.NewBrunswickArts.org.

Grant funding has been provided by the Middlesex County Board of Chosen Freeholders through a grant award from the Middlesex County Cultural and Arts Trust Fund.

New Brunswick Cultural Center's mission is to stimulate the cultural development and economic growth of arts and entertainment in New Brunswick through the enhancement, preservation, maintenance and effective administration of existing and future venues that service the primary constituent base of the New Brunswick Cultural Center. And, by nurturing emerging and viable arts, educational and entertainment organizations that reach the diverse communities of New Brunswick, New Brunswick Cultural Center and its Arts Partners thrive to establish New Brunswick as the premier arts and entertainment destination in the region.
---