By Gary Wien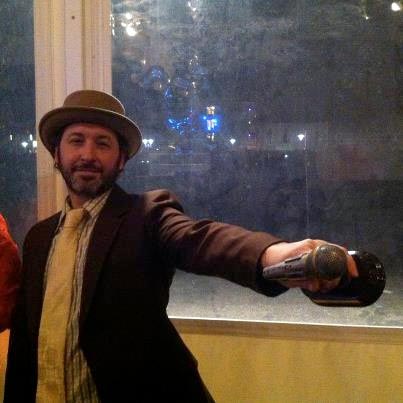 (ASBURY PARK, NJ) -- You may say I'm a dreamer, but I hope I'm not the only one...

The Asbury Music Awards was held for the 20th time on Thursday, December 13th at the Stone Pony, bringing most of the local music scene together for a night of fun music and recognition, but, once again, it could have been so much more. Just one night after the Asbury Park music scene was thrust back into the consciousness of music fans around the world thanks to the 12-12-12 Concert for Sandy Relief, the AMAs followed with one of its sloppiest presentations to date. Instead of showing the world that the Asbury Music scene continues to thrive long after Springsteen and Bon Jovi left the local clubs, the night seemed rather bush league.

Maybe I expect too much, but how many times did the host (Jeff Raspe of WBJB) have to scramble to find the person who was supposed to be presenting an award at that moment in time? How many times did the people on stage struggle to look through the program to find the list of nominees for the category they were presenting? This may be tolerable for an awards show just starting out, but not one entering its third decade. I mean, a certain level of anarchy should be expected, but this was far beyond that level. The AMAs don't have to be a stodgy, black tie event, but isn't there a point somewhere between black tie and amateur night?

Before you totally tune me out and skip to the bottom for the list of winners, think about this for a moment. If the AMAs were taken seriously by the music industry it would help artists attract more fans, help venues sell more tickets, and give the local media a bump as well since their stories and interviews with these artists early in their career would suddenly be more important.

This was the first AMA that I honestly felt the awards took a back seat to the live performances. Since it's no secret that the AMAs are basically a marketing tool to help drive people to the shows, maybe this was the plan all along. It was one of those years in which the categories were filled with new names, so maybe showcasing acts like Lightning Jar, Wreaths, Breathing Blue, Elevator Art, The Amboys, and Tony Tedesco and Full Fathom 5 to a wider audience was the main goal.

It's been said many times, but the AMAs really should consider taking even the most basic steps to upgrade its program. Nominees are still not even contacted, many never know they are even in the running for an award; members of the media are never invited; far too many undeserving people (including myself) are nominees for categories and others are placed in categories that they shouldn't be; there's still confusion over how and why artists are placed in the Beyond Asbury category; and, within a list filled with decent choices, voters somehow continue to pick something that has left town as the Best Thing to Happen in the previous year. That trend is getting kind of embarrassing...

If the goal is truly to showcase and market these artists to a wider audience, why not actually play audio or video clips of the artists up for the major awards? That would truly introduce acts to a wider audience rather than simply letting their names be known.

After 20 years, why can't the entire night be video-taped or broadcast live on cable tv? Or broadcast on a local radio station? This would introduce the artists to people who don't normally come out to the clubs and who knows, maybe it would even lead them to actually attend a show sometime.

Even the Living Legend award is simply announced. An award called Living Legend really shouldn't be a throw away, should it? Ok, so they did point out that John Eddie (who was not in attendance) would be playing the Pony on Saturday, but why not play clips of a few of his tunes or send us back into a time warp by airing the video of his big hit, "Jungle Boy" from the mid-80s. Instead, the crowd (80% of which probably had never heard of John) was left not knowing anything more about JE than when they arrived -- much less have any idea why he's a living legend.

When you really take a close look at the AMAs, it's hard to see if it wants to be just a fun night of networking for locals or aims to be taken serious within the music industry. As someone who has won a bunch of these awards, I still believe that they hold a little weight in the industry, but realize it's mostly a popularity contest. Most awards have gone to a mix of popular vote, industry vote, and votes from previous winners to help the vote be a little more legitimate. I'd love to see the AMAs go that route someday.

The voters did get one thing tremendously right though. Chris Rotolo of Speak Into My Good Eye was finally rewarded (a year late in my opinion) for his hard work on his music website with Top Music Journalist and Top Music Website awards. The Top Music Journalist award has been shared by myself and John Pfeifer for the past decade and we are both extremely pleased to pass the mantle on to Chris.

And Jason Dermer of the Stone Pony put the night truly in perspective when he praised the work of his crew to repair the club from damage occurred from Sandy. The AMAs were originally planned for a few days after Sandy hit, a time period when most of the Jersey Shore was still without power. Props goes out to everyone at the Pony who helped get the club back up and running. As Jeff Raspe pointed out, if the show had been rescheduled to 12/12, nobody would have showed up.

Plus, it was great seeing Charlotte Sometimes (previously known around these parts as Jessie Poland) get a chance to perform after boosting her profile substantially earlier in the year on "The Voice" tv show.

The Asbury Music Awards appear to seek grandeur, but the actions actually reduce its power. It is always a fun night and it's great to see so many artists and music fans together in one place. That alone makes its presence important. Still, the AMAs were the only show in town for a long time, but now face competition with the Hoboken Music Awards and JAM Awards to name just two examples. If the AMAs continue the path they've been on, it's likely one of the other awards will surpass it in terms of being a meaningful, industry award. To me, that's a shame because Asbury Park is and should be the music capital of the state...
---

Here are the 2012 Asbury Music Award Winners

Top female acoustic act: Emily Grove

Top Blues Band: Sandy Mack Band

Top Male Acoustic Act: Thomas Wesley Stern

Top Young Band: The New Royalty

Top News Publication: The Aquarian

Top bassist: Brandon Asraf of Brick & Mortar

Top music website: Speak Into My Good Eye

Top Live Music Venue: The Saint

Top Multi-instrumentalist/other instruments
Stringbean (Stringbean & the Stalkers)

Top Radio Personality: Maria Mar 95.9 The Rat

James McDonald's Lifetime Achievement Award: Tommy Reilly

Top male vocalist: Quincy Mumford

Top female vocalist: Tara Elliott

Top Rock Band: Only Living Boy

Beyond Asbury Record of the Year: Arlan Feiles - "Weeds Kill The Wild Flowers"

Top Club DJ: DJ Jack the Ripper

Top Keyboard Player: Matt Wade

Poet Laureate: Josh "Dogmatic" Matson

Top pop band: Quincy Mumford and the Reason Why

Top live performance: (Presented by Hammell on Trial) goes to River City Extension

Top drummer: John Tacon of Brick + Mortar

Top jam/groove band: Wakah Chan

Best thing to happen in 2011-2012: The Bamboozle returns to Asbury Park

Top Journalist: Chris Rotolo

Living Legend Award: John Eddie

Top hangout bar and lounge: Johnny Mac

Top Heavy Rock Band: Toothgrinder

Top Radio Station: 90.5 the Night

Song Of The Year: "Tent City" by Elevator Art

Top Guitarist: James McCaffrey (Karmic Juggernaut)

Top Americana: River City Extension

Top Punk/Ska Band: The Obvious

Top Avante Garde Act: Accidental Seabirds

Top Indie Rock Band: Brick + Mortar

Top Local Release: "Don't Let The Sun Go Down On Your Anger" by River City Extension



---
Gary Wien has been covering the arts since 2001 and has had work published with Jersey Arts, Elmore Magazine, Princeton Magazine, Backstreets and other publications. He is a three-time winner of the Asbury Music Award for Top Music Journalist and the author of Beyond the Palace (the first book on the history of rock and roll in Asbury Park) and Are You Listening? The Top 100 Albums of 2001-2010 by New Jersey Artists. In addition, he runs New Jersey Stage and the online radio station The Penguin Rocks. He can be contacted at gary@newjerseystage.com.
---