originally published: 03/01/2018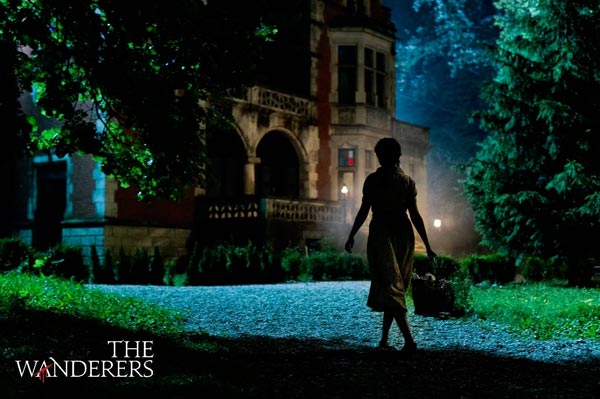 (ASBURY PARK, NJ) --  The 16th Annual Garden State Film Festival (GSFF) will kick off this year's screenings of over 245 fabulous films from 22 countries with the feature "The Wanderers: Quest of the Demon Hunter" on Friday evening, March 23rd at 8:30pm at the iconic Paramount Theater in Asbury Park. Directed by Dragos Buliga, the film stars esteemed actor Armand Assante who will be in attendance, along with fan favorite, New Jersey's Xander Berkeley of "The Walking Dead."
Prior to the first screening, GSFF launches its 'Sweet 16' weekend festivities with an elegant star-studded Red-Carpet Gala Networking Event and Cocktail Party, which will be held Friday evening, March 23rd, 7:00 p.m. at Asbury's majestic Convention Hall. Attendees will have an opportunity to mingle with organizers, filmmakers and celebrities, while celebrating the Festival's milestone event. This year, GSFF is extremely excited to have Hollywood royalty Monika Henreid acting as Gala Chair. The daughter of "Casablanca" film star Paul Henreid, Ms. Henreid grew up amidst the glitz and glamour of Hollywood's lights, cameras and action. 
In the fun campy film  "The Wanderers: Quest of the Demon Hunter," Assante stars as 'Louis Moudon,' a hardened Vampire Hunter, who travels with a Journalist to a reclusive village in Transylvania to investigate strange occurrences at Zalesky Castle. A young Romanian and a team of Korean reality TV hosts aid the duo on their journey. The villagers seem to be tormented by the appearance of a young girl, who may be connected with the events that took place at the Castle. At the same time, the priests of the village struggle to ward off an evil that befalls the village. Louis is ultimately confronted with a startling revelation and forced to accept a secret he had tried to hide all along.
The Festival promises an incredible evening filled with fun, frolic and fantasy. Both Assante and Berkeley are 2018 GSFF Honorees and will be on hand for the Festival's spectacular four-day 16th Anniversary Celebration, which runs from March 22nd to March 25th. 
Born in 1949 in New York City, Armand Assante received his dramatic training at the American Academy of Dramatic Arts.  Following his first screen in the cult film "The Lords of Flatbush," Assante appeared on several soap operas before his breakthrough role in "Private Benjamin."  Playing characters as diverse as Mike Hammer to John Gotti to Odysseus, Assante remains in strong demand with dozens of recent credits in both film and television, including his starring role this year's opening film "The Wanderers: The Quest of the Demon Hunter." Assante is the 2018 GSFF MVP in recognition of his long-time support of the Festival's efforts.
---
The article continues after this ad
---
---
New Jersey actor Xander Berkeley is best known for his role as 'Gregory' in AMC's critically acclaimed television series "The Walking Dead," now in its 8th season. Berkeley is also an accomplished painter, sculptor, and make-up artist. A graduate of Hampshire College, Berkeley studied in NYC with private teachers from the Royal Academy of the Arts, the Moscow Arts Theater and HB Studios and later, Lee Strasberg at The Actor's Studio in Los Angeles. He worked in Regional and Repertory Theaters in addition to off-Broadway while living in New York but, despite a classically trained theater background, he was increasingly drawn to the subtleties of film acting. Berkeley made his film debut in "Mommie Dearest" and has since amassed over 231 television and film credits. With roles in obscure independent films to big budget studio motion pictures, Berkeley has worked with some of the industry's most renowned directors, including Ron Howard, Clint Eastwood, Steven Spielberg, Michael Mann and Wolfgang Petersen. He has two new feature films being released early this year, including the action thriller "Proud Mary" and crime biography "Labyrinth."  His leading role in "The Maestro" earned Berkeley a 'Best Actor' award at the Oaxaca International Film Festival in 2017. Berkley is the recipient of the GSFF Lifetime Achievement Award this year.
The Garden State Film Festival celebrates the best in international and local cinema and will feature exciting networking opportunities, instructive hands-on workshops, an open talent casting call, screenplay competition winner reading, intriguing and informative panel discussions, and entertaining and fun parties - all in addition to the over 245 fabulous films from 22 countries scheduled throughout the Festival. GSFF is New Jersey's Premier Independent Film Festival and was named winner of the 2017 Global Excellence Awards 'Best Independent Film Festival - east Coast by TMT News.
The Festival's events are listed along with the complete film screening schedule on the GSFF's website at http://www.gsff.org/listings-at-a- glance
This year's participating venues include the historic Paramount Theatre, Berkeley Oceanfront Hotel, The Asbury, House of Independents, Jersey Shore Arts Center, the Asbury Park Senior Center, and City Council Chambers inside City Hall. Free jitney service will be offered throughout the weekend. Attendees are encouraged to use the GSFF App which is available for download; The app contains all useful information about venues, films, tickets and parking at is available on our website at www.gsff.org.