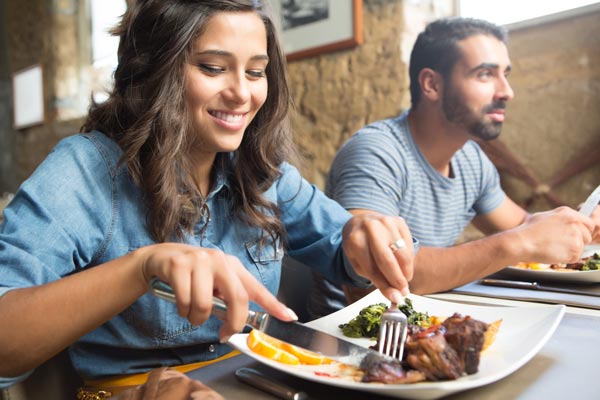 (BURLINGTON, NJ) --  Pizza and pancakes, lobster and cheesecake, microbrews and mango lassi — these are a few of the favorite food items you'll find at the 2018 Burlington Restaurant Ramble running May 18-27 in Burlington, NJ. Presented by Arts Guild New Jersey, the Ramble is a 10-day, two-weekend invitation to sample the top-quality cuisine of 22 area restaurants, bakeries, coffee shops, pubs and ice cream parlors. 
"We want to introduce visitors across the region to Burlington's culinary diversity," says Lawrence McCullough, Arts Guild New Jersey's executive director. "And after they've dined, we know they'll want to explore our many arts events and history attractions."
From May 18-27, when a customer makes a food or beverage purchase at a participating Restaurant Ramble eatery, they receive a stamp on a Restaurant Ramble Passport; three stamps from three eateries, and the Passport can be entered into a drawing for prizes. Each restaurant will have its own specials and discounts throughout the 10 days. 
There is no separate cost to obtain a Restaurant Ramble Passport, which can be downloaded for free at the Arts Guild New Jersey website www.artsguildnj.org. Links to participating restaurants and their menus are also available on the site. 
The 2018 Burlington Restaurant Ramble is one of several gala events Burlington hosts in May, starting May 12 with the Ship-to-Shore Festival and Jeeps on the Waterfront, the Burlington Day One World Festival and 5K Run on May 19, the May 20 Antique Show & Garden Market at Historic Burlington Antiques and Art Emporium and a May 20 special workshop by Broadway props and special effects artist Jennie Marino at Lyceum Hall Center for the Arts, a May 24 Summer Concert on the Waterfront and the annual Memorial Day Parade set for May 28.
---
The article continues after this ad
---
---
"People are eager to visit locales that offer new activities," says McCullough. "Burlington Restaurant Ramble is a perfect way to do that while enjoying a great eating experience."
PARTICIPATING RESTAURANTS:
Amato's Pizzeria – 1300 Route 130 • (609) 387-9698

Amy's Omelette House – 637 High Street • (609) 386-4800

B-Uno's – 350 High Street • (609) 386-0060

Brickwall Tavern – 19 E. Union Street • (609) 733-3562

Blue Claw Seafood – 4494 Burlington Pike • (609) 387-3700

Bukhara Restaurant – 125 Route 130 South • (609) 526-5047

City Steaks – 818 High Street • (609) 386-3600

Curtin's Wharf – 501 E. Pearl Street • (609) 386-4594

Doc's Pub Irish Sports Bar – 100 Jones Street • (609) 386-9828

Evermore Coffee Roasters – 30 E. Union Street • (609) 699-1088

Francesco Pizzeria & Restaurant – 351 High Street #102 • (609) 747-1400

Fratelli's Italian Restaurant – 1414 Route 130 • (609) 526-2746

Geraghty's Pub – 148 W. Broad Street • (609) 386-1121

J & B Bakery – 712 High Street • (609) 386-2295

Junior's Cheesecake – 499 Veterans Drive • (609) 387-1639

Kum Fong Cuisines of China – 1817 Mt. Holly Road • (609) 386-5784

Legends Gourmet Pizza – 318 High Street • (609) 386-3001

Rino's Penn Pizza Palace – 4525 Route 130 • (609) 387-4466

Riverview Restaurant – 219 High Street • (609) 669-6068

A Taste of Heaven – 345 High Street • (609) 531-6600

Ummm Ice Cream – 236 High Street • (609) 387-9786

Villa Rosa Ristorante & Pizzeria – 38 Route 130 • (609) 386-6717