originally published: 04/29/2018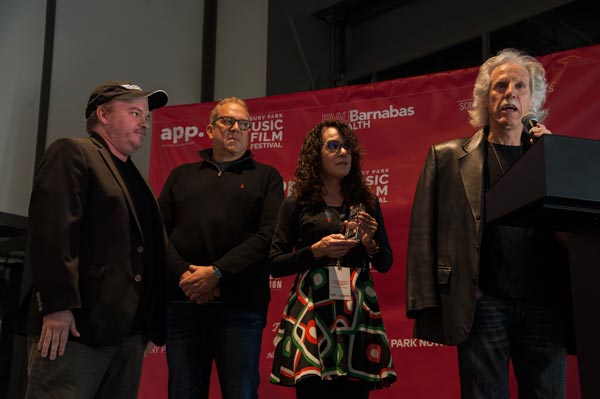 (ASBURY PARK) -- The 2018 Asbury Park Music & Film Festival has announced the film submission award winners.  The ceremony was held on Sunday, April 29 at the Asbury Hotel hosted by Shelli Sonstein, two-time Gracie Award winner, co-host of the Jim Kerr Rock and Roll Morning Show on Q104.3 and APMFF Board member.
Here is the list of winning films:
Asbury Park Press Award - Bike Riddim, directed by Sarah Galloway
RWJ Barnabas Health Award - Stay Human, directed by Michael Franti
Asbury Park Music Foundation Award - Brothers Hypnotic, directed by Reuben Atlas
---
The article continues after this ad
---
---
Best Animation - Weightless, directed by Amanda Duncan
Legacy Recordings Best Music Documentary - Conny Plank - The Potential of Noise, directed by Stephan Plank
Sony Pictures Award: Best Short Film Takes - The One Arm Bandit, directed by Rich Allen
Best Music Video Award - Send it to Me, directed by George McMorrow
Tito's Handmade Vodka Award - Write When You Get Work, directed by Stacy Cochran
Best Feature Film Award - Break On Thru: A Celebration of Ray Manzarek and The Doors, directed by Justin Kreutzmann
Best Aspiring Female Director Award - The Oyster Farmers, directed by Corinne Gray Ruff
The Asbury Park Music & Film Festival was founded with the mission to benefit the underserved youth in Asbury Park, one of the most challenged youth communities in the country. Funds raised through the APMFF support music programs for these children. Specifically, the APMFF will support three programs including The Hope Academy Charter School, The Hip Hop Institute and the Asbury Park Summer Recreation Music Camp. Over time, the APMFF plans to extend its reach throughout Monmouth and Ocean Counties. The Festival will continue to provide music education, instruments and social connection opportunities for children in underserved communities.
PHOTO: (From left to right) Justin Kreutzmann (Director, Break On Thru), Jeff Jampol (Jampol Artist Management), Shelli Sonstein (Q104.3 FM) and John Densmore (The Doors) receiving the APMFF Best Film Feature Award for Break On Thru: A Celebration of Ray Manzarek and The Doors.  Photo courtesy of APMFF