originally published: 03/23/2016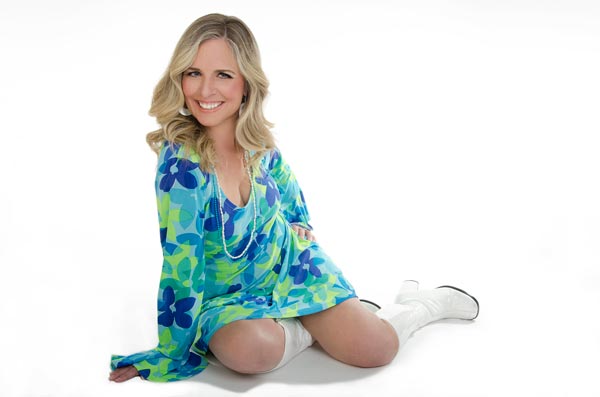 Carla Ulbrich, a Somerset, New Jersey-based comical singer-songwriter, was recently chosen as the winner of the 2016 Logan Award for Outstanding Parody Song for "Cheek To Cheek." Set to the tune of Irving Berlin's song of the same name, this "Cheek To Cheek" is a witty commentary on cosmetic improvements (plastic surgery, botox and steroid injections) and appears on Totally Average Woman, Ulbrich's newly released album of all humorous material.  In addition to "Cheek To Cheek," the CD contains six more parodies, five original songs and a ridiculous bonus track.
The Logan Whitehurst Memorial Awards for Excellence in Comedy Music (Logan Awards) are presented annually by The Funny Music Project to winners in three categories: Outstanding Parody Song, Outstanding Original Comedy Song, and Outstanding Comedy Music Video. Ulbrich also co-wrote the Outstanding Original Comedy Song, "I Dropped My Phone in the Toilet," with Steve Goodie and Jenny Casey, while They Might Be Giants won in the video category for "All the Lazy Boyfriends."
A Clemson, South Carolina native, Ulbrich has performed at the Kerrville, Falcon Ridge, South Florida and Philadelphia Folk Festivals and at such notable venues as Atlanta's Eddie's Attic, Nashville's Bluebird Café and New York City's The Bitter End, among others. Ulbrich -- who cites Sesame Street, camp songs and cat food commercials as her biggest musical influences – is primarily known for writing humorous songs about such topics as Waffle House, Klingons and how rich she would be if she had a copyright on the 'F' word. On Totally Average Woman, she also tiptoes into the topical/ social commentary realm with songs that touch on non-smokers' rights, classroom animal dissection, and low-slung pants.
Need tips on choosing a beverage, traveling to China or getting away from someone who won't stop talking? You'll find those and more on Totally Average Woman. "This CD is practically a public service announcement -- without all that boring useful info," declares Ulbrich. Musical genres bend to fit the topic or (for parodies) to match the original song: folk, blues, swing and pop-rock. Produced by Bob Malone and Steve Goodie, Totally Average Woman features the talents of Amy Engelhardt (The Bobs), Malone (John Fogerty), Tim LeFebvre (Derek Trucks), Mike Baird (Journey, Hall and Oates, Donna Summer), Bob DeMarco (who has worked on the TV shows "Ellen," "CSI" and "Extra"), and Chris Trujillo (Toto and the animated TV series "South Park"). The CD's opening track, "Joe's Ex-Girlfriends," was recently named as a finalist in the Comedy/Novelty Song category in both the 2015 International Songwriting Competition and the USA Songwriting Competition.
Ulbrich is a survivor of catastrophic illness, which resulted in her book How Can You Not Laugh at a Time Like This and a CD of medical parodies entitled Sick Humor that lampoons her frustrating experiences with the U.S. health care system. After a full recovery, Ulbrich is back to doing what she does best -- writing and performing funny songs.
Her songs are regularly played on, Dr. Demento, Pandora.com, Sirius XM's Laugh USA Radio, and a number of community and college radio stations throughout the globe (when the music director is on vacation). She has toured throughout the US and parts of the UK, has appeared on ABC and USA Network, once shared the bill with Twiggy the Water Skiing Squirrel, and was a background actor in Sharknado 2.
"Enter the delightfully twisted musical mind of Carla Ulbrich through her new CD, Totally Average Woman," says Mara Noelle, a program host on KVMR-FM in Nevada City, California. "Ha!  I detect nothing average about Carla's high IQ songs.  Her sharp, well-tuned humor inspires a melody of chuckles, guffaws, oh's, ah's, aha's, or oh no's, and you might hold your belly-laugh until your stomach becomes flat."
Says Jon Stein, host of Hootenanny Café on WTBQ-FM in New York's Orange County: "The wonderful thing about Carla's songs is that many of them portray truth about relationships, living, eating, etc. Fantastic!"
More information about Carla Ulbrich may be found on her website, www.carlau.com, while more details about the Logan Awards are posted online at www.loganawards.com.
---