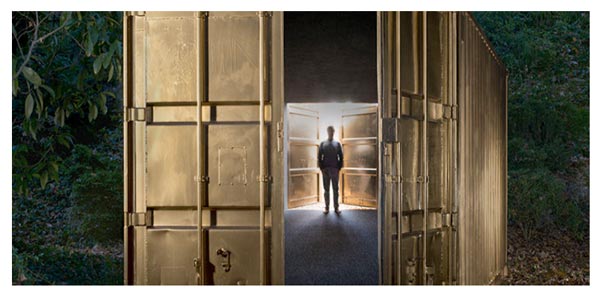 (NEWARK, NJ) -- Project For Empty Space [at] Gateway Project Spaces is pleased to partner with Shared_Studios and Military Park Partnership in Newark to present Portals, a Global Public Art Initiative conceived by artist Amar Bakshi, which will be open to the public for two months beginning on April 18, 2016. The location of Portals in Newark is at Military Park, 51 Park Place. Individuals can reserve 20 minute slots of time by visiting  www.SharedStudios.com/Newark. Walk-ins are also welcome.
Portals are gold re-purposed shipping containers that are equipped with immersive audio-visual technology. The purpose of the project is to connect people globally to create dialogues and interactions that may not otherwise happen in the course of everyday life. Entering a portal is an experience unlike any other; upon entering the container, a participant is connected by life-size video and audio with another participant in an identical gold shipping container somewhere else on Earth. These individuals, who are more often than not complete strangers, are able to converse and connect in real time despite their geographical distances.
Since its launch in December 2014, Portals has connected more than 12,000 people in conversation between Tehran, Havana, Herat, New York, New Haven, San Francisco, Miami, Washington D.C., a Syrian refugee camp, and Kigali, to name a few. Prior participants include U.S. Ambassador to the UN, Samantha Power; journalists CNN's Fareed Zakaria and FOX's Chris Wallace; film directors Doug Liman and Morgan Spurlock; artists Mary Ellen Carroll and Titus Kaphar; and many more. Global media has covered Portals including the New York Times, the Washington Post, ABC, FOX,PBS, and NPR.
Part of the the Newark Portal project will address issues within the United States criminal justice system, as part of an ongoing research series. The Portal will connect to a site in Milwaukee, WI, which has the highest incarceration rate in America, and focus its conversations on this topic. In addition to that component, the Newark Portal also will connect to the broader Portals network to allow participants to interact with people internationally. Newark will be connected to sites in areas such as Afghanistan, Cuba, Honduras, Iraq, Iran, Kenya, Jordan, Rwanda, and Zimbabwe.
---
The article continues after this ad
---
---
About SHARED_STUDIOS
Shared_Studios is a multidisciplinary arts, design, and technology collective. It grounds the connective potential of technology in physical spaces to create environments in which distant people can naturally converse, collaborate, and play. It envisions wormholes throughout the world, carved by an Internet one can walk through. This collective was created by Amar Bakshi. www.SharedStudios.com
About Military Park Newark
As the most significant historic park in downtown Newark, the six-acre Military Park serves as the primary gathering space for surrounding residents, businesses, and visitors. Military Park was laid out in 1667 as the town commons and training ground, and for many years was used as a military training ground, campsite, and recruiting location in addition to acting as the town commons. Following several years of decline, Military Park was renovated and reopened in 2014. The park now offers free programming and amenities, including movies, yoga, children's activities, and chess and board games. The park is once again a central community location for Newark.
About Project For Empty Space [at] Gateway Project Spaces
Project For Empty Space is a not-for-profit organization that creates socially engaging, multidisciplinary art exhibitions and programming that encourage social dialogue, education, and systemic change for cultural tolerance. This mission is achieved through a permanent project/gallery space, an incubator program for artists addressing social change, and through collaborative and interactive programs in vacant and neglected spaces in cities around the world.The organization's primary space is located within Gateway Project Spaces in 2 Gateway Center in Downtown Newark, New Jersey.
About Gateway Project Spaces
Gateway Project Spaces, recently referred to as The Gateway Project, began in 2012, as a series of pop up art exhibitions that were activated intermittently throughout The Gateway Center. Gateway Project Spaces expanded in 2015 to become a multifaceted arts hub that houses artist studios, workshops, residency program, and gallery space. The facility will also open a store called Project + Supply in April of 2016. The gallery and residency program is operated by the non-profit arm of the arts hub, Project For Empty Space. Gateway Project Spaces' mission is to enliven the community through interactive and stimulating art exhibitions. The gallery space rotates exhibitions every six weeks, providing participation opportunities to regional, national and international curators and artists. Gallery exhibitions are open to the public, Monday - Friday from 11 a.m. – 6 p.m., for events and by appointment. Gateway Project Spaces is located in downtown Newark, NJ, in 2 Gateway Center, adjacent to Newark Pennsylvania Station. http://gatewayprojectspaces.com/