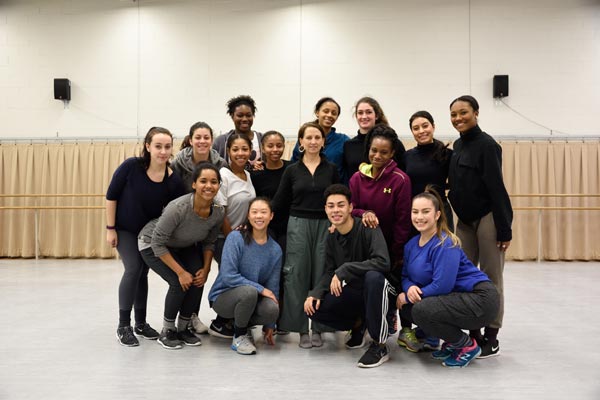 (NEW BRUNSWICK, NJ) --  The Dance Department is set to celebrate the 50th anniversary of experimental dance artist and filmmaker Yvonne Rainer's seminal work, Trio A. Students who have been immersed in the MacArthur Fellow's choreography all semester will perform Trio A during the annual DancePlus Spring concert April 20 to 24; Rainer will deliver a lecture on her approach to movement April 13.
Julia Ritter, chair and artistic director of the Dance Department and a resident of Metuchen, N.J., says she was eager for students to encounter Rainer precisely because, for more than half a century, the now-81-year-old has interrogated accepted norms within the dance world.
Rainer has used the word "recalcitrant" to describe her body and has said that she was never particularly limber. But she forged ahead and emerged as a deeply admired dance artist, receiving commissions from the likes of Mikhail Baryshnikov.
"She asked, 'Why is it this way? Why must it be?' " Ritter says. Ritter says she hopes to see Rainer's spirit of curiosity and inquiry infusing the artistry and perspectives of the Mason Gross School student dancers. "That's why students should have access her processes and her works of art--to keep asking why."
According to Ritter, Rainer's appearance is part of the Rutgers 250 series of events celebrating the university's founding around the time of the American Revolution because Rainer, from the boundary-pushing Judson Dance Theater of the 1960s, is a bona fide revolutionary herself.
---
The article continues after this ad
---
---
"She said, 'I won't accept the standard--my body can be an innovator, creator, and performer of movement,' '' Ritter says. "Some people would have said, 'OK, my body can't do that.' She said, 'No, I won't stand for this door being closed.' She was willing to take chances. That's why she's so respected."
One of those chances was undoubtedly 1966's Trio A, documented in a 1978 film. Rainer later wrote that the pared-down piece, and its series of seemingly mundane gestures, was so controversial that the performance prompted an audience member to wave a white handkerchief, "as if to say, 'Uncle!'"
Some student dancers might have been ready to say "Uncle!" when they first encountered Trio A in a winter training session with Shelley Senter, one of the transmitters of Rainer's work.
"What's most frustrating is trying not to 'perform' Trio A," says dancer Tyler Thompson. "There's this idea of not trying to be a dancer and to just be a normal person when it comes to Trio A, but it's very difficult to just be a normal person while in a dance space. What moves me the most is how honest it is. It's just genuine dancing for yourself, and I find that very powerful."
Student Joseph Picciotto of Teaneck, N.J., agrees. He says initially he found Rainer's minimalist, "very plain vanilla approach" to Trio A disconcerting.
As he's spent more time with the work, however, Picciotto says that "this work has honestly changed my whole approach to life. It's helped me feel that there is more to life that trying to be perfect and to be what everyone is looking for.
"The work allows me to be myself," Picciotto continues, "and to embrace any imperfections that I find in me or in the world."
Yvonne Rainer will be on hand for a FREE lecture and Q&A 7:30 p.m. Wednesday, April 13, 2016, at the Victoria J. Mastrobuono Theater. The event, Doing Nothing/Nothin' Doin': Revisiting a Minimalist Approach to Performance, is part of the Rutgers 250 yearlong series commemorating the university's founding in 1766. More information about Rutgers 250 events is

here.

 

Rainer's lecture is co-sponsored by the

Center For Women in the Arts and Humanities

.