By Al Nigrin
originally published: 02/03/2016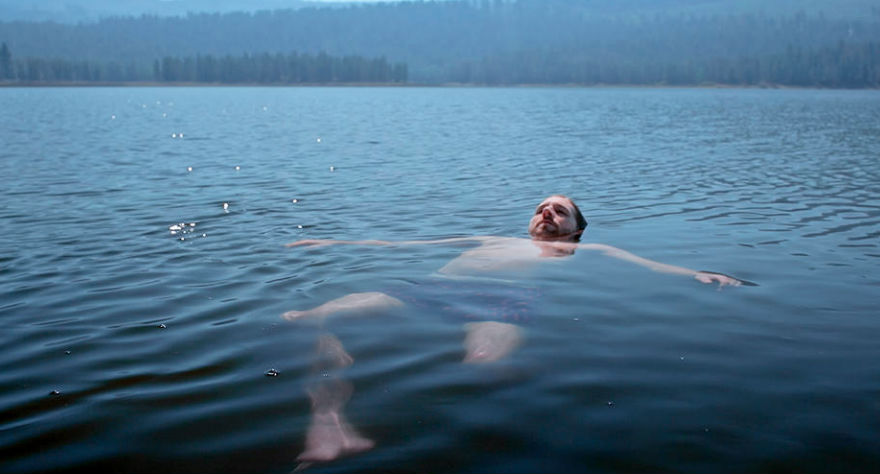 Jody McVeigh-Schultz poetic feature Echo Lake premieres this Saturday, February 6 at the Spring 2016 New Jersey Film Festival
Here is an interview I did with Echo Lake Director Jody McVeigh-Schultz:
Nigrin: Your indie feature Echo Lake, which has been called a "poetic love song to loss and grief," tells the story of Will, a 30-year old struggling with adulthood.  Tell us what motivated you to make this wonderfully poetic film.
McVeigh-Schultz: The inspiration for the story really came from the location first and foremost. Most of the film takes place in Lassen National Park in Northern California, a place where I spent summers at a family cabin as a child, much like Will remembers doing in the film. The place is so specific and meaningful to me, and as far as "scenic" locations go, it's incredibly unique with barren volcanic formations right next to lakes and woods. I've known for a while that I wanted to build a project around it. The story of Will and his estranged father just felt like a nice way to create a character drama with limited resources and allow that location to have real meaning and play a visceral role in Will's journey. That said, while the place is personal to me, the story line isn't (I have a great relationship with my Dad). As for the "loss and grief" stuff, I do think grieving (if done realistically) is a really interesting thing to see on screen, mostly because it can take so many forms, and there's so much social pressure put on how we're expected to grieve. The films In the Bedroom and Rabbit Hole are two favorites of mine and both show grief in really unique, captivating ways. My hope was to show someone, in Will, who needed to grieve but didn't know how to let himself.
---
The article continues after this ad
---
---



Nigrin: The lead actor Sam Zvibleman who plays 30-year-old Will Baxter is really great. Tell us more about him and how he came to be in your film. 

McVeigh-Schultz: Sam was a total revelation for me. He's a friend who I met at USC's film school and is a non-actor who is currently writing and directing himself. He read the script and just connected with the material. When I started talking to him about playing Will, he swore that he would be a terrible actor, but the truth is he had all this experience behind the camera to apply to his acting approach. He was especially aware of how small and subtle the performance could be, which really helped create that naturalism we wanted. The thing you don't see on screen, though, is that Sam also gave amazing creative notes in the script and edit phases and helped keep spirits high over the course of a sometimes grueling production schedule. So, yeah, can't say enough about Sam. I hope he continues to act in films even his directing career takes off.

Nigrin: The  very organic music by Sufjan Stevens really fits the variety of moods established in your film. Tell us more about him and what you think his music adds to Echo Lake.

McVeigh-Schultz: Sufjan's song "Futile Devices" has always been powerful for me. Musically he just creates a magical, intimate sound and that first line "It's been a long long time since I've memorized your face" just fits so nicely with where Will's story is going and his relationship with his father. The song title itself comes from the line "Words are futile devices" which ends the song. That idea of not being able to communicate that you love someone seems especially poignant in terms of Will's inability to really communicate with anyone in his life. I'm a big fan of a lot of the artists we used, some of whom I found through Youtube and SoundCloud, including artists from Australia and Germany. I also worked with our amazing composer Joe Minadeo primarily over email since he was located in the Bay Area at the time. Being able to find people who are excited about being a part of your project in the random corners of the internet is pretty amazing.

Nigrin: Your film becomes imbued in nature once it moves to the Baxter cabin and the surrounding Sierra Nevada Mountains. How does this environment help Will come to terms with his unsettled life?

McVeigh-Schultz: We really wanted those natural surroundings to almost act as a character in the film. As a child, Will came to those mountains and felt trapped in the cabin with his dad, but now he's seeing the place from this new adult perspective and having to reconcile those two disparate experiences. To help show that, I worked with our amazingly talented DP, Andy Rydzewski, to open up the frame once he starts to become affected by his surroundings, to parallel his emotional perspective opening up again. As his time at the cabin wears on, Will finds himself realizing more and more that perhaps the story he told himself about this place and his father was more the subjective story of a child than he'd like to believe.

The natural surroundings and the cabin itself also act as a proxy for Will's father, who I knew I never wanted to see in the film. That way, all you know of him is this place and people's memories of him, which to me is much more interesting. The cabin itself, so steeped in his dad's things, opens Will up to this new version of his father (not angry or abusive) that he never got to see, which is why he becomes so fascinated with the journal entries his father wrote. Those words and the hikes he takes in his father's footsteps are like windows into this entirely different person.

Nigrin: How long did it take you to make this film and were there any memorable stories while you made this film or any other info about your film you can rely to our readers?

McVeigh-Schultz: We shot the film in 21 days but post took forever. I edited the film myself while working full time as a television editor so it was a labor of love, but not fast-paced by any means. I'm definitely looking forward to working with other editors on my future projects. The most interesting aspect of the film is probably that, during the first two production days, we hiked 10 miles with film and camping gear on our backs to capture the hike that Will takes to the Cinder Cone. That was an insane adventure and it certainly tested the will of our crew when stuff went wrong. I remember we ran out of fuel for the camping stove in the morning and had to drink cold instant coffee. Ugh. Those who've been on set before know that having coffee is like the holy grail of set necessities, so yeah, that was a rough morning, haha. That said, thanks to a small but amazingly dedicated team, we made it out of those first two days on the trail and got some really gorgeous footage of the cinder cone that gives the film this unique, epic production value that films of this size rarely have. So in the end it was worth it, but yeah, there are things I would do VERY differently when it comes to producing and planning something that crazy.

Here is a link to the trailer for Echo Lake:



---------------------------------------------------------------------------------------

Two terrific short films Tourists and Uncanny Valley will be screened prior to Echo Lake. Here is more info on this screening:

Tourists – Shaun Seneviratne (Brooklyn, New York)
 A couple is on the verge of separation, when they hear a song that transports them back to a time when they were passionately in love. Can this love last, or are they just tourists in each other's lives? 2015; 16 min. With an introduction and Q+A session with Director Shaun Seneviratne! 

Through the

Uncanny Valley - Pasquale M. Greco (Vancouver, Canada)
 A compelling, futuristic parable about a man who orders a female robot through the mail, and tries to have a successful relationship with her, only to realize that's he's been down this road before. 2015; 18 min. 



Echo Lake - Jody McVeigh-Schultz (Los Angeles, California)
 A "poetic love song to loss and grief," this new indie feature tells the story of Will, a 30-year old struggling with adulthood. When his father dies, Will inherits the family cabin in the Sierras and, with it, gains a new perspective on his family, childhood, and relationships.  Embedded in the stunning stillness and beauty of the Sierra-Nevada mountains, this moving film transports its characters to a wilderness that takes them far beyond their ordinary lives and concerns.  2015; 86 min.

Saturday, February 6, 2016 at 7:00 p.m.


Voorhees Hall #105/Rutgers University


71 Hamilton Street, New Brunswick, New Jersey


$12=General; $10=Students+Seniors; $9=Rutgers Film Co-op Friends


Information: (848) 932-8482; www.njfilmfest.com

Free Food courtesy of Jimmy Johns of New Brunswick will be given out prior to this screening of the New Jersey Film Festival!