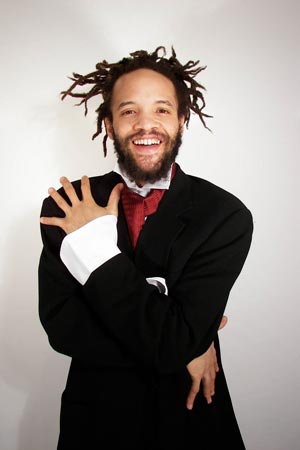 (NEWARK, NJ) -- New Jersey Performing Arts Center (NJPAC) has announced the appointment of three extraordinary voices and game-changing innovators as Artistic Advisers  award-winning tap dancer and choreographer SAVION GLOVER, America's preeminent jazz bassist, CHRISTIAN MCBRIDE, and nationally acclaimed poet PATRICIA SMITH.  
"Newark has a long history as being a center for poetry, jazz and art," says John Schreiber, NJPAC's President and CEO. "In welcoming these three immensely talented artists as artistic advisers to the Arts Center, we absolutely strengthen our larger vision of comprehensively serving our audiences and the local community."
"Rather than rely on a singular programmer or artistic director, NJPAC has opted for the best of all worlds by engaging top talent in a variety of genres to act as Artistic Advisers," states David Rodriguez, NJPAC's Executive Vice President and Executive Producer. "We then have the benefit of these artists performing their best work on our stages as well as the opportunity to gain insight into the worlds of these visionary creators. It is this combination of iconic talent and our in-house staff that leads to the one-of-a-kind programming that has made NJPAC the state's premier venue for nearly twenty years."
Defining excellence in the fields of dance, music and poetry, the Artistic Advisers will also be active participants in NJPAC's vigorous community engagement and arts education programming, leading master classes and doing educational outreach.
Schreiber adds, "In order for to be a robust arts center, one renowned for its eclectic and diverse programming, it is necessary that we listen equally to professionals in the artistic field and within the communities we serve. Our Artistic Adviser program provides a high profile and tested pathway to mobilize NJPAC as a national leader in both world class performance and community-based programming."  
---
The article continues after this ad
---
---
Newark native Savion Glover is perhaps the world's best-known advocate of tap dance, an actor and choreographer who has made it his life's mission to promote tap education and its history as a distinctively American art form. Glover discovered tap when his mother signed him up for dance lessons at the age of seven. It was when he met the greats responsible for the art form, including Gregory Hines, Jimmy Slyde and Lon Chaney, that his relationship with dance flourished. As a teacher, Glover believes that "it's up to us to share knowledge about the people who have made great contributions, not only through dance but through music and art and all types of artistic expressions." For three decades, starting with his Broadway debut at the age of 10 in The Tap Dance Kid (1983) to his Tony Award choreography for Bring In 'Da Noise, Bring In 'Da Funk (1996) to his current work on the highly anticipated Broadway production Shuffle Along (2016), Glover has been a national treasure. As the spokesman for NJPAC's dance program, Glover will have the honor to introduce Dance Theatre of Harlem when the legendary dance company headlines the NJPAC's annual Martin Luther King, Jr. Celebrations on Friday, January 15. He will also be the special guest speaker at the opening night performance of Alvin Ailey American Dance, May 6 - 8.
Patricia Smith, named NJPAC's Poet-in-Residence, says her education and appreciation for language began with her father. In an interview with HEArt Online, Smith recalls, "At the end of every day, my father would hold court in the living room, spinning an addictive serial narrative in which everyone in the neighborhood, everyone he knew, was a character. It wasn't long before I learned to look at the world through the stories it could tell, instead of through whatever I was or wasn't learning in school."
As part of NJPAC's extension of the Geraldine R. Dodge Poetry Festival, Patricia Smith will introduce a variety of Newark's most dynamic voices, including some very young and talented poets from Newark's schools, on March 18. Ms. Smith will also curate NJPAC's participation in National Poem in Your Pocket Day, which will be held on April 21.
Ms. Smith adds, "Poetry appeals to me because you can take unwieldy stories and put them in tight controlled spaces and I really appreciate that. I love language and everything language can do is evident in poetry."
NJPAC is pleased to announce the formal renewal of our ongoing collaboration with jazz great Christian McBride. McBride has served as the Arts Center's Jazz Adviser and Artistic Director of the James Moody Jazz Festival since 2013. The roots of Mr. McBride's relationship with NJPAC run especially deep: McBride first met John Schreiber, NJPAC's President and CEO, when the bassist was a promising 14-year-old musician.
ABOUT NJPAC:
New Jersey Performing Arts Center (NJPAC), located in downtown Newark, New Jersey, is among the largest performing arts centers in the United States and is the artistic, cultural, educational and civic center of New Jersey - where great performances and events enhance and transform lives every day. NJPAC brings diverse communities together, providing access to all and showcasing the state's and the world's best artists while acting as a leading catalyst in the revitalization of its home city. Through its extensive Arts Education programs, NJPAC is shaping the next generation of artists and arts enthusiasts. NJPAC has attracted more than 9 million visitors (including over 1.5 million children) since opening its doors in 1997, and nurtures meaningful and lasting relationships with each of its constituents.