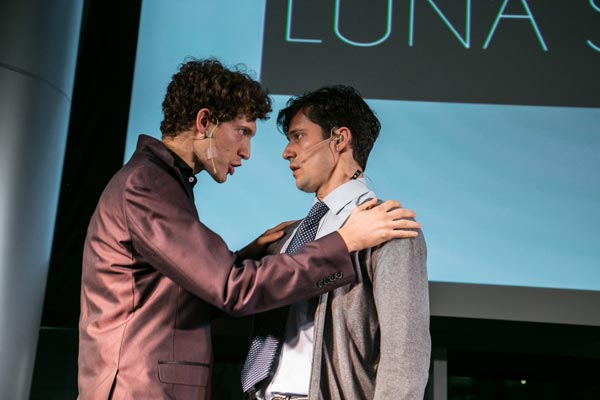 On November 2nd, the New Jersey Theatre Alliance (NJTA) held its annual Curtain Call event at Kean University.  The event celebrates the wonderful professional theater in the Garden State and honors theatres and individuals for their work.  This year, Dreamcatcher Repertory Theatre, Luna Stage, and Premiere Stages were honored along with Natalie S. Watson, Esq. who served as the Alliance's President for the past six years.
Watson received the Alliance's Star Award, which is presented to organizations or individuals who have made an impact on the Theatre Alliance and its member theatres. She thanked her partners and colleagues at McCarter & English for the firm's belief that to be a leader in the law you must also be a leader in the community, including the theater and arts community.
"The Alliance does amazing work for our community, particularly for our member theaters and, by extension for our state," said Watson.  "Whether through bridge loans to help theaters as they await funding to come, whether the Cultural Access Network project which I am so profoundly proud of or even our annual combined auctions.  There is a range of things that the Alliance does that makes theater in New Jersey work more efficiently and provides greater access to all of our fellow citizens.  So I am so honored to be part of a team that cares so much for the member theaters, for the artists in our community and the patrons that attend theater here."
The first of three Awards of Excellence went to Premiere Stages, the professional theatre company in residence at Kean University.  The company recently celebrated its 10th anniversary under the leadership of Artistic Director John Wooten.  They were honored for providing a wide range of training programs for artists and students, while developing more than 40 new theatre works — many which have gone on to be produced in New York and regional theaters around the country.
"Premiere Stages finds unique ways to introduce the art of playwriting into a variety of settings and has formed a wide range of innovative partnerships with schools, community based organizations, and healthcare organizations," said Todd Schmidt, Chairman of the New Jersey Theatre Alliance and Managing Director for Paper Mill Playhouse.
---
The article continues after this ad
---
---
Wooten accepted the award and recalled how a little over a decade ago, neither the building in which Curtain Call was being held nor the company Premiere Stages existed.  He asked John McEwan of the Theatre Alliance to speak at Kean University on the benefits of having an Equity theater.
"For those of you who don't know much about Premiere Stages, everything we do is dedicated to new play development," said Wooten. "We do an All Play Festival, and commission a new play about New Jersey every other year.  We develop student playwrights here at Kean University; we have the John Bauer and Nancy Boucher award that applauds and awards aspiring and growing Kean University playwrights or alumni.  One of the things I love most about our New Play Development program is our Play Factory.  We work with schools, with after school organizations, with community groups, senior centers, to work with students of all ages to learn about playwriting then bring in a company actors to perform their work."
Luna Stage was the second recipient of the Award of Excellence.  The company was described as being a transformative power of West Orange since HANDS Inc. (Housing and Neighborhood Development Services) invited them to be the anchor of the Valley Arts District five years ago.  Larry Capo, the President of the Theatre Alliance, praised Luna for their productions of new works and ability to give new life to classic plays along with their innovation educational programs.
Cheryl Katz, the Artistic Director at Luna Stage, accepted the award, thanking Jane Mandel, who founded the company, for having the foresight to look towards the Valley Arts District for its home.
"Even more so than being honored, tonight I feel fortunate, so very fortunate to be one of the blessed few who gets to spend a lifetime making art," said Katz. "In the deepest, darkest days of deficits and contract negotiations and casting crises, I try to always remember that we get to spend our days and nights making plays, making magic, and maybe, just maybe, a drop at a time, changing the world a little bit for the better."
The final recipient of the Award of Excellence was Dreamcatcher Repertory Theatre.   John McEwen praised Laura Ekstrand and Dreamcatcher for two decades of challenging and entertaining audiences with works that celebrate the human spirit.
"I have had the pleasure watching the growth of Dreamcatcher since its early days and I have been so impressed by their growth, quality of their work, the talent of its ensemble, and the dedication and support of its board," said McEwen, Director of the New Jersey Theatre Alliance.
Laura Ekstrand, Dreamcatcher's Artistic Director accepted the award and thanked the Theatre Alliance for their support over the years.  "I guarantee without them, we would not be around 20 years later," said Ekstrand.  "It is only because of them that we are still here.  It is that spirit of collaboration and partnership that we enjoy here in New Jersey because of the Theatre Alliance that kept us and many of you going when things get hard.  I think what we share, even though we do a lot of different things here in the state, is just a love of the process of creation.  We love it so much we don't want to do it project by project, we want to do it our whole lives.  That is what we are doing.  It is the love of the creation and the love of the relationship we have and the collaboration over time that we develop that keeps us going when things get tough."
The night was full of performances from a collaborative piece presented by Premiere Stages featuring artists from Matheny Medical & Educational Center's Arts Access Program to a musical number from Luna Stage's production of Thrill Me: The Leopold & Loeb Story to improv comedy provided by Dreamcatcher Repertory Theatre.  Judging from the performances it's clear that theatre in the Garden State is very much alive and well.  Visit njtheatrealliance.org and see for yourself.
Photo by Jerry Dalia