originally published: 12/16/2015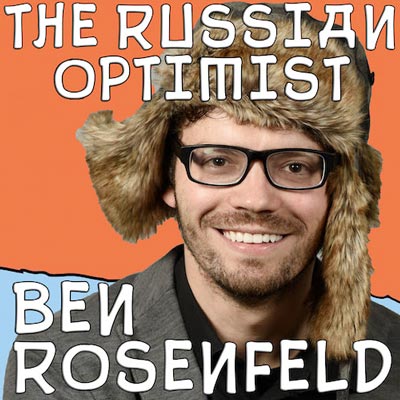 For over seven years, Russian-born Jewish comedian and  Rutgers alum Ben Rosenfeld has been telling jokes on-stage across the country and beyond, in places as far flung as New York, L.A., D.C., North Carolina, Florida and even New Jersey.   Ben Rosenfeld: The Russian Optimist, his second comedy album, will be released on iTunes, Google Play, Amazon, Spotify and all other digital retailers and streaming sites on January 1, 2016.
Ben has appeared on FOX's Laughs, CBS This Morning, National Geographic's Brain Games, Rooftop Comedy and been featured as TimeOut New York's Joke of the Week.  He has twice headlined at Caroline's on Broadway, hosted at the Lincoln Center and is the creator of the illustrated coffee table book, Russian Optimism: Dark Nursery Rhymes To Cheer You Right Up, an Amazon Top 5 Best Seller in Humor. 
This New Year's Day comes Ben's sophomore release, "To help you cure your hangover... or make you wish you were still drunk," says Rosenfeld.
Recorded live this past September, in front of a huge house at New York Comedy Club, The Russian Optimist captures Rosenfeld getting laughs while making social commentary on everything from dark Russian nursery rhymes to sharing scientific findings about whether monogamy is natural to explaining why America runs on fear. Each topic takes hilariously surprising twists and turns until you can't help but agree with Ben's conclusions.
Ben decided to record the album at New York Comedy Club because "that was the first place I ever performed. So I thought it'd be really neat to go back to where it all started. Also, they had a date available."
The album title "The Russian Optimist" comes from Rosenfeld finding the upside in all sorts of horrible situations like, "It's scary how more terrorists are homegrown in America, but on the bright side, we're back in the manufacturing game."
Rosenfeld thinks comedy fans will identify with his blend of "smarter comedy for smarter people." As Ben explains, "I want to get huge laughs while raising everyone's consciousness. Also, I need the money."
---