originally published: 12/10/2015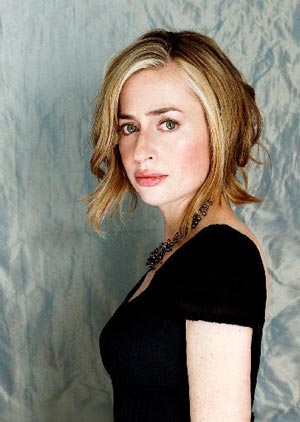 (PRINCETON, NJ) -- The Princeton Symphony Orchestra (PSO) is receiving a 2016 Art Works award from The National Endowment for the Arts (NEA) to help fund a community engagement project centered on Hiraeth, a new work by Princeton composer Sarah Kirkland Snider. The work was co-commissioned by the PSO in honor of its 35th anniversary celebrating the creativity of women, a tribute to Ms. Snider's first teacher and founding artistic director of the PSO, Portia Sonnenfeld.
Upon learning of the Art Works award, PSO Executive Director Marc Uys said, "It's terrific to receive this recognition from the NEA as it validates our mission to continue to bring new music to our patrons and the greater Princeton community. Beyond being a talented woman, Sarah is quite simply a talented composer, with whom we are very fortunate to work." 
Sarah Kirkland Snider writes music of direct expression and vivid narrative. Her works have been commissioned and performed widely by orchestras and smaller ensembles, including the American Composers Orchestra at Carnegie Hall and the Grammy Award-winning group Roomful of Teeth. Penelope, her 2010 debut album featuring Shara Worden, made the top 10 lists of media outlets around the world. In September 2015, she released her second full-length album Unremembered on New Amsterdam Records. She received a master's degree and artist diploma from the Yale School of Music.
Ms. Snider's Hiraeth is a meditation on home, family, heritage, and identity, and will be performed under PSO Music Director Rossen Milanov at the orchestra's final Classical Series Concert of the season: Passion & Affection on Sunday, May 15 at Richardson Auditorium. Surrounding this concert will be a series of community engagement events with lectures, in-school workshops, and a special chamber concert designed to explore the music and inspirations behind Snider's composition. The poetry of Ellen McLaughlin, Ms. Snider's longtime lyricist, will be performed during the PSO's January 24 & 25 Chamber Series events featuring poet Alexandra Zelman-Doring and violinist Alexander Chaleff.
The NEA announced awards totaling more than $27.6 million in its first funding round of fiscal year 2016. In its first 50 years, the National Endowment for the Arts (NEA) awarded more than $5 billion in grants to recipients in every state and U.S. jurisdiction, the only arts funder in the nation to do so. The Art Works category supports the creation of work and presentation of both new and existing work, lifelong learning in the arts, and public engagement with the arts through 13 arts disciplines or fields.
---
The article continues after this ad
---
---
To join the Twitter conversation about this announcement, please use #NEAFall15. For more information on projects included in the NEA grant announcement, go to arts.gov.
Photo by Murat Eyoboglu