By Al Nigrin
originally published: 09/21/2015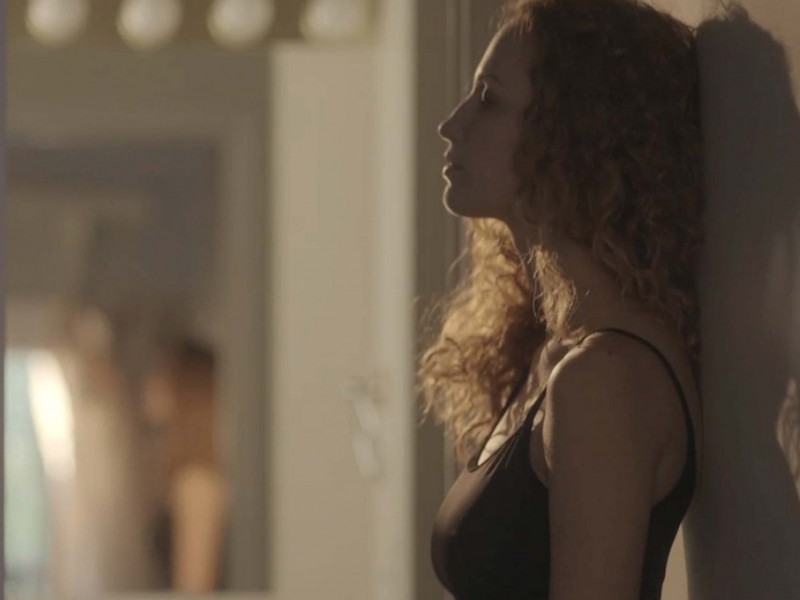 A witty and inventive feature film, It Plays Like Love is about a theatre director who hopes to prove that love existed by recreating it on the stage. The movie weaves together four narrative threads: the rehearsals for the play; the director's memories of the past (which are unreliable, at best); a dinner party with his frustrated cast; and cast auditions (shot with real actors opening up about their love lives). With its mix of scripted drama, honest confessions, timeless questions, confusion, and humor, It Plays Like Love adds up to an experience greater than the sum of its parts.

Here is an interview I conducted with It Plays Like Love Co-Directors Jeremy Waltman and Adam Lucas
Nigrin: How did you and Adam Lucas come together to make this film? 
Waltman: We met around a rack of comic books at the local book store when we were twelve years old. Our grandfathers would take us, separately, to the mall each weekend, and we would find each other repeatedly in that same section.
Lucas: Playing Risk together as kids… we named every one of our game pieces, and invented these elaborate histories for them… and never finished a game! So we've been telling stories together for a long time. Jeremy likes movies that are more hopeful, and I like movies that poke around in the darker parts of human behavior. We joke that working together is like carrying a lantern into the dark. It's a good combination, I think.
Nigrin: Your previous film Locomotive – which won Best Feature at the New Jersey Film Festival two years ago -- focused on a young rocker who is trying to figure out what he wants out of life. Here you peer into the life of an other artist but this time he is a theatre director and he is trying figure out what went wrong in his love life. Do you see any similarties between your previous film and this one? 
---
The article continues after this ad
---
---
Waltman: There are similarities, and that's because they were started at the same time when we were living in Florida. Locomotive's a first draft Adam was working on, and It Plays Like Love was a first draft I was writing. Then we came together and built on top of those drafts. But the tone, intention, and structure are drastically different.
Lucas: And some of our biggest personal heroes are artists, so we probably tend toward having artists be the "heroes" of our work. Also, we frequently deal with miscommunication as a theme, so these are characters... rock stars, writers... who are expected to express their feelings easily, but actually they struggle with it, like we all do.
Nigrin: Your film is really funny and very sexy all while using hand held cinematography. Why did you use this style?
Waltman: Thank you. The humor was an intentional shift in tone from the first film. In terms of cinematography, the technology has gotten so small and light that the camera is free now, but there has to be a reason to move handheld. So, while the camera does float in certain sequences, that's because it's used to express tone, or add to a specific feeling.
Lucas: The theme of the film is that love is a holistic experience. We wanted the film to represent that, to be a patchwork of moments... funny, sour, wistful, stubborn... when you're in a relationship, it feels like a seamless experience, but looking at it from a distance, you can see the stitching between the fabric.
Nigrin: The acting ensemble in your film is really good. Tell us more about the actors who play Cort, Drew, Attie, Laure and Topher and how they came to be in your film.
Waltman: The actors were pulled together from New York, LA, and Atlanta. Many of the cast are people we've worked with before. Attie and Topher are Athena Masci and Toby Levin from Locomotive. And Cort, Drew, and Laure are Joshua Mikel, Ted Limpert, and Alison Gregory who we're happy to add to the team.
Lucas: Our actors had to take a big idea... love is an experience!... and make it feel personal within the space of these small vignettes, and in a short amount of time. That demand was even more difficult because most of the "action" is accusation and judgment and perception, rather than definitive, witnessed events. Cheers to our wonderful cast for achieving that!
Nigrin: Where there any memorable stories in getting the film finished or any other info about your film you can pass on to us?

Waltman: At one of the casting sessions in LA… the original location booked had a water pipe break. So last minute, we had to find another space. There was a brand new location available, but they hadn't finished sound proofing yet. The new room was across from an improv group learning how to be dinosaurs that day. So, there was a high likelihood you were going to compete with rampaging T-Rex's while finding your most vulnerable interior space.
Lucas: Weaving together the separate threads you mentioned required not only a lot of instinct, trusting they could come together, but also a lot of hard work and vision from our cast and crew, who helped us pull them together and shape the narrative. We truly couldn't have made this movie without them, and their incredible talent.
---------------------------------------------------------------------------------------

It Plays Like Love will be screened with two terrific short films Be Now and Dawit on Friday, September 25. Here is more info on this program:
Be Now - Graham Atkins-Hughes (London, England) A gripping short film that plays out in a young woman's mind. As the present moment jumbles with fragments of what happened the night before, she's close to something like madness. 2015; 7 min.
Däwit - David Jansen & Sophie Biesenbach (Hamburg, Germany)  In this animated short, a boy is rescued from his violent father and grows up among wolves. As he grows into adulthood he embarks on a quest to find his own identity. 2015; 15 min.
It Plays Like Love- Jeremy Waltman and Adam Lucas (Young Harris, Georgia)  A witty and inventive feature film, about a theatre director who hopes to prove that love existed by recreating it on the stage. The movie weaves together four narrative threads: the rehearsals for the play; the director's memories of the past (which are unreliable, at best); a dinner party with his frustrated cast; and cast auditions (shot with real actors opening up about their love lives). With its mix of scripted drama, honest confessions, timeless questions, confusion, and humor, It Plays Like Love adds up to an experience greater than the sum of its parts. 2015; 71 min. With an introduction and Q+A session with Directors Jeremy Waltman and Adam Lucas!
Friday, September 25, 2015 at 7:00 p.m.


Voorhees Hall #105/Rutgers University


71 Hamilton Street, New Brunswick, New Jersey


$10=General; $9=Students+Seniors; $8=Rutgers Film Co-op Friends


Information: (848) 932-8482; www.njfilmfest.com
Free Food courtesy of Jimmy Johns of New Brunswick will be given out prior to this screening of the New Jersey Film Festival!