originally published: 08/28/2015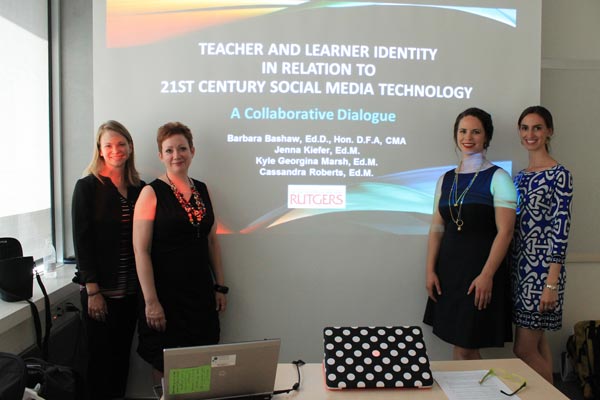 (New Brunswick, NJ) --  Three Rutgers alumnae and their professor traveled to Copenhagen in July for the Dance and the Child International 13th World Congress, a conference for professionals interested in dance practice for youth. Jenna Kiefer, Kyle Georgina Marsh, and Cassandra Roberts, all graduates of the master's degree in dance education (EdM) program at Mason Gross School of the Arts and the Rutgers Graduate School of Education, as well as Barbara Bashaw, the director of the program, spent seven days in Denmark's capital city to present research, attend panels and workshops, and network with other dance educators from around the globe.
The conference, known as daCi, is held every three years and attracts nearly 700 participants from 21 countries. Leading scholars of dance education convene to learn about recent research, compare projects, provide and gather feedback on scholarship, and build new international networks, says Bashaw.
"What makes this event particularly unique, however, is that it is the only conference of its type that is also attended by young [students]," Bashaw says. "I believe that children have important perspectives to bring to the dance education field, and daCi creates a critical meeting place for scholars, teachers, and youth to dialogue about, experience, and celebrate dance education."
Presentations and workshops under this year's theme of Twist and Twin: Exploring Identities in Dance in 2015 covered topics including neuroscience and dance, disability-inclusive dance, and the diverse backgrounds of break- dancers. Bashaw and her team facilitated three sessions, speaking about the influence of social media and digital technologies in the classroom, project-based learning, and the perspectives of adolescent dance-makers.
In their presentation on social media, Bashaw, Kiefer, Marsh, and Roberts—all members of a think tank created by Bashaw in 2010 for Rutgers graduates to explore issues in dance and dance education—presented original research from an international survey of students and teachers of all ages and educational settings (EdM alumna Meg Hebert Regan also contributed to this research, but was unable to attend the conference). Their findings covered the classroom usage of online video references for dance, attitudes toward social media, and student expectations and identity when using social media technology.
---
The article continues after this ad
---
---
The discussion with other educators afterward "opened up some interesting conversations," says Roberts, a 2013 EdM graduate who teaches dance at Passaic County Technical Institute in Wayne, New Jersey. "Some of them were using technologies that we had never heard of, and some of them were wondering about the technologies that each of us were using in our classrooms."
Roberts was also interested to learn if other teachers were dealing with the challenges of the digital world that she faces with her students, including the lack of online access at home.
"I definitely felt a sense of comfort knowing that other people are experiencing the same things that I am, whether they are dilemmas or benefits of the things that I'm employing in my own classroom," Roberts says.
During the weeklong trip, which was made possible with support from Mason Gross School of the Arts and the Rutgers Graduate School of Education, Bashaw found herself reflecting on future adjustments to the EdM program curriculum—including creating more community-building activities—as she both collaborated with and observed her team of alumnae in panel discussions.
"It was a thrill to watch our alumni interact intelligently with top scholars and dance educators from around the world," says Bashaw. "In my role directing a graduate program, it was valuable and informative for me to view the entire experience through their eyes."
For Roberts, the trip was a rare chance to network with professionals from countries as far away as New Zealand, who inspired a host of ideas that she looks forward to adding to her curriculum in the coming school year.
"It was a huge, wonderful mix of people from all over the world coming together for similar interests," Roberts says. "How often do we get to do that as dance educators?"
PHOTO: L-R: Jenna Kiefer, Barbara Bashaw, Kyle Georgina Marsh, and Cassandra Roberts presented original research from an international survey of students and teachers. Photo courtesy of Jenna Kiefer.