By AG NIgrin
originally published: 06/02/2015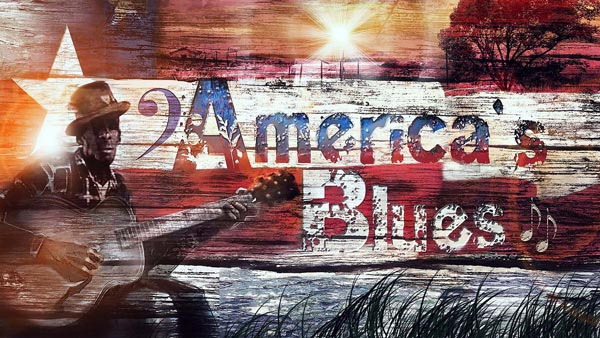 Patrick Branson's documentary feature America's Blues Premieres Friday, June 5 at the 2015 New Jersey International Film Festival!

Here is an interview I did with Patrick about his enlightening film:
Nigrin: In your documentary film America's Blues you explore the tremendous impact that Blues music has had on American society. Tell us about what triggered making this film.
Branson: I made a short 10 minute documentary for a Non Profit organization called the Killer Blues Headstone Project.  They raise money to provide headstones for deceased Blues musicians lying in unmarked graves.  While making that film I found that there are a lot of Blues musicians without headstones; some that were pretty well known and also some of the most influential people in American music such as Lonnie Johnson.  This made me realize how little credit and respect the Blues and Blues musicians have gotten and still get today.  As I did more research, I soon realized that ALL American music was, in fact, influenced by the Blues and that this music deserved much more of the spotlight than it has been given.  
 
Nigrin:  You use lots of interviews with musicians, historians, and activists to tell the history of the Blues and its significant contribution to American culture. Tell us how you came about to select these individuals.
Branson: We are lucky enough to have an amazing Blues Music scene in Saint Louis where we live so finding a few Blues Legends here like Big George Brock wasn't all that difficult.  As we started traveling down south, we met others that we felt belonged in the film.  Then, as the story progressed, we saw openings for a few other individuals to discuss specific people and events.  To be honest with you, everything kind of just fell together once we got the ball rolling.  We reached out to hundreds of musicians and artists and we couldn't be happier with the ones that we were able to interview.  



Nigrin: How long did it take you to make this film and how you were able to tackle such a huge undertaking?
---
The article continues after this ad
---
---
Branson: Planning and development took us almost a year because we didn't have the money yet for the equipment we needed.  Once we were able to raise the initial funds, production only took us about another year and then editing took about 6 months.  I've always been very ambitious and when I discovered that the angle we wanted to take had never been done, I started running with it.  I didn't really see it as a huge undertaking but rather an important untold story with a time limit because of the age of some of the last remaining original Delta Bluesmen that we interviewed.  We didn't spend the most amount of money to produce this film, but I think what came out of it might be one of the most important stories of the blues ever told.
Nigrin:  Were there any memorable stories while you made this film or any other info about your film you can rely to our readers?
Branson: I think the most memorable stories from making this film are the ones told by some of our interview subjects.  It was an absolute honor getting to meet and work with Blues Legends that helped define American Music as we know it.  One of my favorite moments from Production was during my trip to New York.  I was there to interview several people.  3 of them are 3 members of the 2013 Grammy Nominated Heritage Blues Orchestra.  They flew back in town just before our interview, rented a rehearsal space to do the interview in, and then sang an A Capella version of on of their songs.  It was an amazing experience and just goes to show how dedicated they are to honoring and playing the Blues.
America's Blues will be preceded by two touching short films on Friday, June 5 at the New Jersey International Film Festival.  Here is more info on this screening:
Tick Tock – Zeynep Kocak (Istanbul, Turkey)

In this beautiful animated film, an elderly man wakes up to a routine day with his cat, who is his only friend. After making his breakfast, he comes up with an idea to break his routine, and end his loneliness. 2015; 9 min.
Moving Day – Louis Hunter (Cedar Hill, Texas)

A portrait of a break-up, or is it really that simple?  Carrie's illness has come back, and now she and Pete are separating. Is this a mutual separation, or not?. 2014; 15 min.
America's Blues – Patrick Branson (St; Louis, Missouri)

An illuminating, feature-length documentary, exploring the tremendous impact that Blues music has had on American society.  From Charlie Patton, to Bob Dylan, this deeply felt music has transcended generations and racial barriers, tearing down walls of segregation and fostering social acceptance of cultural diversity. Through interviews with musicians, historians, and activists, a compelling story unfolds about the history of the Blues and its significant contribution to American culture. The film also pays homage to the organizations and individuals who work diligently to honor and preserve the legacy of the Blues. 2015; 84 min.

Friday, June 5, 2015 at 7:00 p.m.


Voorhees Hall #105/Rutgers University


71 Hamilton Street, New Brunswick, New Jersey


$10=General; $9=Students+Seniors; $8=Rutgers Film Co-op Friends


Information: (848) 932-8482; www.njfilmfest.com