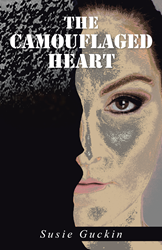 (Forked River, NJ) -- "TBI, PTSD, and trauma may very well not be the breaking down of a human being, but the evolution of a human being," says Guckin. "Growing from our experiences whether they are perceived as good or bad is all part of living our lives." I've taken what seemed like a devastating event in my life and turned it around with the on-going support and interaction of the soldiers who helped me to understand the true meaning of courage and recovery. They have encouraged me to share what I know because they believe it has the ability to help others. TBI, PTSD, and trauma do not discriminate. They are equal opportunity conditions that could impact anyone at any time.They do not just come from war. We have an entire brotherhood and sisterhood of people suffering from these invisible wounds, not just in our country, but around the world. We have the power to learn from each other and to help each other heal when we have the courage to walk in the light of our experiences.
Susie Guckin is an intermediate school music teacher in Hunterdon County, NJ, as well as, a "Warriors At Ease" certified meditation teacher with advanced training and certification in military combat stress, post-traumatic stress, trauma, and resiliency. She is also a "McLean Meditation Institute S.E.E.D© Certified Meditation Teacher with training in stress management and stress reduction. She is the owner of "Peaceful Warriors" in Forked River, NJ, offering trauma-sensitive meditation, Reiki, and Simple Easy Every Day© meditation. Visit http://www.peacefulwarriormeditation.us for resources on traumatic brain injury, post-traumatic stress, and trauma. Resource links and articles are posted for military personnel, police officers, firefighters, and civilians alike.
"The Camouflaged Heart" was inspired by the process of recovery that Guckin went through over a period of 14 years and came into being after she was invited to be a guest speaker for the wounded warriors of the local Warrior Transition Unit. Her presentation in March 2014 for "Traumatic Brain Injury Awareness Month" was so well-received that she was asked to return for two more presentations; these presentations became the inspired outline for her book.
Guckin's book was chosen by Litfire Publishing of Atlanta, Georgia, to participate in Book Expo America (BEA) as part of the Publisher's Discovery Zone, taking place at the Jacob K. Javit's Center in Manhattan. Guckin will attend the event having an opportunity to sign books and meet other authors and publishers in the industry. BEA is a prominent event for book publishers in North America and will take place on May 27-29, 2015. Visit http://www.thecamouflagedheart.com.
"The Camouflaged Heart" is available at the following online retailers: Balboa Press   Barnes and Noble    Amazon
---