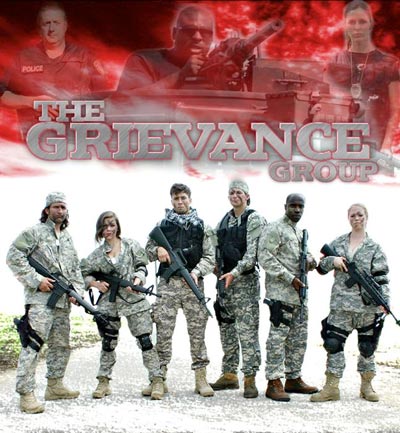 (Mt. Laurel, NJ) -- Rob Hawk and Chris Cardillo present, "The Grievance Group 2: The Pardon", an action-packed blockbuster soon to be released and starring former NY Giants running back Brandon Jacobs in his first movie as the leader of a militant army trying to protect his community.  The world premiere will be held on Tuesday, June 23rd at 7:00pm at the Levoy Theater, 126-130 N. High Street in Millville, NJ. 
"The Grievance Group Part 2 'The Pardon'" picks up from the original Rob Hawk film "The Grievance Group" about a group of vigilantes who join a small support group and eventually track down individuals who have done wrong to their families.
Directed by Rob Hawk, the film stars Jefferson Sanders, Cabrina Collesides, Gina Marie Scholl,  Chris Cardillo, Ignacyo Matynia and Doug Pickard and features Brandon Jacobs as "Willow".  Chris Cardillo, Executive Producer, co-wrote the film with Rob Hawk.  To purchase tickets, click here.
---
The article continues after this ad
---
---
About Rob Hawk

Born and raised in New Brunswick New Jersey, Rob ventured into the entertainment business first as a hip hop artist and break dancer at the early age of 10 years old. After receiving a standing ovation at his middle school talent show, Rob realized that the entertainment industry might just be his calling. Over the years, Rob has traveled the world producing music for talent ranging from underground artists to chart-topping celebrity stars.  Some of his credits include multi-platinum recording artists Ashlee Simpson, PM DAWN, 98 degrees, C & C Music Factory, Christina Aguilera, and Nicki Foxx.

In 2007, Rob decided to take on the challenge of writing, shooting, directing, and editing movies and began making a name for himself in the film industry. In addition, Rob has  worked on or alongside many television sets, including the Sopranos, Law & Order, and Gossip Girl. Rob's latest accomplishment was working with horror actor Tyler Mane (Michael Myers of "Halloween") in "TAKE 2:The Audition", a film Rob wrote, directed and filmed himself.  Today, the name "Rob Hawk" is well-known to industry insiders, as he continues his journey through the entertainment industry, with several film titles set to be released world-wide and many more already in development. 

 

About Chris Cardillo 

Chris Cardillo started his career in the entertainment industry as a recording artist.  After achieving success for his lyrical abilities, Chris was asked by music producer and rising film producer, Rob Hawk, to read for a small part in an independent film.  The test scenes were posted online and received incredible feedback from industry professionals.  As a result, Chris was offered a lead role in "The Grievance Group," a new project by Rob Hawk, and also asked to co-write the script.  Chris has since completed three independent films with Rob ("The Grievance Group: Life for a Life", "The Grievance Group: The Pardon", and "Take 2) and will be featured alongside singing sensations Kristinia DeBargeand MTV's Jenni JWoww Farley in the forthcoming film, "The Mint Movie".