originally published: 04/27/2015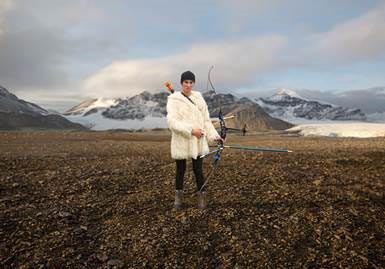 (OCEANVILLE, NJ) – The Noyes Museum of Art of Stockton University presents Frozen Earth: Images from the Arctic Circle from May 29, 2015 through January 10, 2016. An opening reception with the artists in attendance—plus live music, and light refreshments—is planned for Friday, May 29, 5-8pm. For more information call (609) 652-8848 or visit www.noyesmuseum.org.
Frozen Earth is an exhibit featuring the work of eight artists from the Fall 2013 Arctic Circle expedition. With photography, video, sculpture, and paintings, Frozen Earth offers a glimpse into how the northern extreme of our planet inspired and engaged artists to collaborate on and explore central issues of our time through artistic expression. Diane Burko, Laura Petrovich Cheney, Deborah Hamon, Jane Isakson, Lauren Portada, Karen Power, Kate Puccia, and Marianna Williams are artists who traveled to the Arctic and use their work to communicate the impact that experience has made on their lives and their work.
The Arctic Circle expeditionary residency takes place aboard a specially outfitted, century old sailing vessel in the High Arctic. This program is open to international artists of all disciplines, scientists, architects, innovators and educators who seek out areas of collaborative exploration. The Arctic Circle supports the creation and exhibition of new and pioneering work with a focus on public engagement.
Philadelphia artist Diane Burko has situated her practice at the intersection of art and science, focusing on climate change. On expeditions to Antarctica and the Arctic Circle she took photographs from the air, sea and ground. Her compelling series intends to reveal the consequence of record breaking rapid ice melt at either end of our globe, which is frightening and could be catastrophic. Burko's work represents the culmination of years of study and collaboration with glacial geologists throughout the world. Jane Isakson from Whitehorse, Yukon, Canada presents paintings inspired by nature. Her paintings of the Arctic landscape simultaneously suggest chaos and mystery as well as order and interconnection. Marianna Williams presents an eye-opening film about the abandoned frozen settlement of Pyramiden, Russia. This small coal mining community reached several thousand people before economic hardships hit in the 1980s. When tragedy struck settlers immediately abandoned the town, leaving artifacts of their lives behind. Filling the gallery with sound is Irish composer Karen Power. While on the Arctic Circle expedition, Power recorded Inside Arctic Ice, a sound composition that surrounds the audience and puts them into the center of the ice scape. Asbury Park artist Laura Petrovich-Cheney constructed an installation of found objects that washed up on the Arctic coast. When in the Arctic she discovered that it was not the pristine, snowy landscape that she had imagined. There were remnants of industrialism and capitalism in the northern most regions. Her construction is comprised of debris she collected, mostly plastics, as a way to explain her first-hand experience. Her intent is to encourage collective responsibility to preserve the beauty and bounties of the natural world.
A panel discussion will take place in conjunction with the exhibition on Thursday, September 10, 2015 from 6:30 - 7:30pm. Moderating the discussion is Diane Burko; the panelists are Dr. Jeff Niemitz, Michael Lemonick, Andrew Revkin, Amy Lipton, and Aaron T. O'Connor.
---
The article continues after this ad
---
---
About:
The Noyes Museum of Art was founded in Oceanville, NJ, in 1983 to collect, preserve, and exhibit American fine and folk art, with an emphasis on New Jersey artists and folk art forms. Today, the Noyes Museum's exhibitions continue to reflect the area's cultural heritage, while also presenting significant artwork by regional and national artists working in a variety of media. The Noyes has also expanded to include satellite galleries in Hammonton, Atlantic City, and at Seaview Resort in Galloway. The Noyes Shop: Hammonton, which opened in 2008, specializes in custom framing and can be reached at (609) 561-8006. In February 2010, The Noyes Museum of Art formed a partnership with Stockton College (now Stockton University) to form The Noyes Museum of Art of Stockton College. Through a 2013 partnership with the CRDA, The Noyes Museum of Art of Stockton University opened The Noyes Arts Garage of Stockton University, a unique multi-use arts and retail space at 2200 Fairmount Avenue in Atlantic City.
The Museum remains a 501 (c)(3) organization, with general funding provided by: the New Jersey State Council on the Art/Department of State, a state partner of the National Endowment for the Arts; the Mr. and Mrs. Fred Winslow Noyes Foundation; Stockton University; and the Geraldine R. Dodge Foundation.