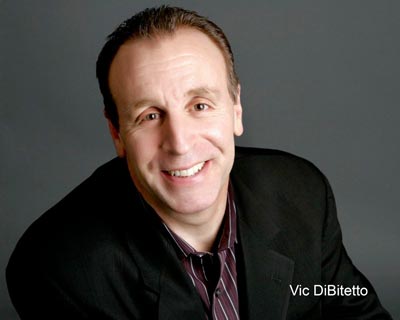 (FREEHOLD, NJ) -- iPlay America and Catch a Rising Star present comedian Vic DiBitetto on Friday, April 24 at 6:30pm.  Known world-wide for his viral videos on YouTube, DiBitetto churns energy, honesty and humanity into nonstop laughter. His pace is frenetic. His material vivid and true. He's been called a cross between Rodney Dangerfield and Ralph Kramden. The bottom line is, DiBitetto leaves his audiences breathless with laughter.  Tickets are $49.95 and include an Italian buffet dinner.  VIP tickets are available for $74.95. Call 732-577-8200 for VIP reservations.
DiBitetto has received more than 22 million YouTube views for his now famous Bread and Milk and Justin Bieber viral rants.  He has appeared on television's America's Funniest People (ABC) where he was a $10,000 Grand Prize winner as well as Stand-Up Spotlight (VH1) and Last Laugh at Pips and acted in a pilot with Woody Allen and Danny Aiello. In addition, he has warmed-up hundreds of audiences for hit shows such as Who Wants To Be A Millionaire and The Ricki Lake Show.
He has performed at many of the nation's best comedy venues such as New York City's Dangerfield's, Los Angeles' Laugh Factory, Las Vegas' Riviera Hotel, Resorts World Casino and Atlantic City's Borgata Hotel. His schedule is relentless and he is booked thru 2015 at every comedy venue imaginable in the New York Tri-State area. A Pay Per View special and major US Tour are in current discussions.
In April, DiBitetto will be seen in Mall Cop 2 featuring Kevin James.
DiBitetto was the cover story in the September 2014 issue of New Jersey Stage magazine.  Click here to view the article.
---
The article continues after this ad
---
---
iPlay America is located at 110 Schanack Road in Freehold, NJ.  For more information visit www.iPlayAmerica.com