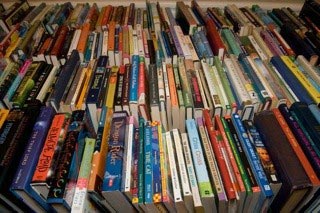 (ENGLEWOOD, NJ) -- The Elisabeth Morrow School (EMS) in Englewood, New Jersey will once again partner with Project Cicero NJ to host the annual book drive that will benefit public school students from under-resourced schools in New Jersey. Project Cicero takes new and gently used books from donors at public schools and independent schools and redistributes them to needy public schools through an annual book drive. On Saturday, March 7, 2015 from 12:00PM-2PM, approximately 250 teachers from various districts will attend the book drive at The Elisabeth Morrow School and be able to select free books to take back to their classrooms for their students.
Project Cicero accepts new and gently used hardcover and paperback books for children (pre-K through grade 12) and young adults. Project Cicero does not accept textbooks, adult books, library discards or out of date non-fiction/reference books. All teachers from under resourced schools in New Jersey who would like to attend the drive must pre-register online through the following link: https://www.eventbrite.com/e/project-cicero-nnj-book-drive-2015-tickets-15220792801

Project Cicero NJ was started in 2012 by two Bergen County residents, Teddi Hunter (Englewood) and Jennifer Backer (Fort Lee), who thought to duplicate the great work that was being done by Project Cicero in NYC. To date, Project Cicero has placed over 2.2 million books into 12,000 classrooms and school libraries reaching 500,000 children in under-resourced schools in NYC. From its first two book drives, Project Cicero NJ has donated over 75,000 books to classrooms in Northern New Jersey. For more information and/or to discuss adding a donor school, please email Project Cicero NJ at projectciceronnj@gmail.com.
About The Elisabeth Morrow School:
The Elisabeth Morrow School (EMS) is an independent country day school serving children, age three through eighth grade, from more than 70 communities throughout New Jersey and New York. EMS provides an innovative 21st-century curriculum focusing on critical thinking, collaboration, and creativity and character development. The school's comprehensive secondary school placement process ensures graduates matriculate into premier day and boarding schools. Located on 14 wooded acres in Englewood, NJ, the EMS campus includes multiple technology and science labs, playgrounds, libraries, athletic facilities, nature trails and working gardens. Visit our website: www.elisabethmorrow.org.
Places to drop off books:
Bergen County Academies
Dorchester Elementary School (Woodcliff Lake)
Dwight-Englewood School
Englewood Cliffs Upper School
Fort Lee School #4
John Y. Dater School (Ramsey)
Kaplan JCC on the Palisades
Lewis F. Cole Middle School (Fort Lee)
Northern Valley – Demarest
North Cliff School (Englewood Cliffs)
Norwood Middle School
Old Tappan
Ridge School (Ridgewood)
Ridgewood High School
Smith School (Tenafly)
Tenafly High School
Tenafly Middle School
Temple Emanu-El
The Elisabeth Morrow School
Walter Stillman Elementary School (Tenafly)