By Gary Wien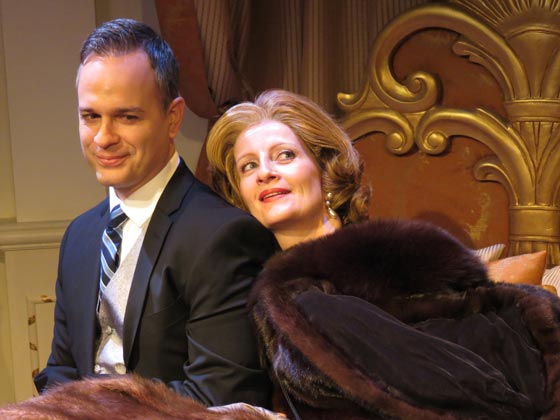 "One thing about money is that you can never have enough," says socialite Pamela Churchill Hayward Harriman in Charles Leipart's, Swimming At The Ritz. She's an utterly amazing character — one that found a way to parlay a good name ("Churchill") into husband after husband and fortune after fortune… that is, until the money runs out which is where the play begins.

Swimming At The Ritz is current enjoying its U.S. premiere at New Jersey Repertory Company for another two weeks. The play features absolutely fantastic performances by Judith Hawking (as Pamela) and Christopher Daftsios (as Pietro, her favorite valet at the Ritz) under wonderful direction by Suzanne Barabas (NJ Rep's Artistic Director).

They say truth is always stranger than fiction and this play proves that theory once again. Pamela's story is entirely based on the true story of a woman who became penniless when sued by her step children for squandering their inheritance (something like $115 million in nine years time). As the play begins, Pamela is spending her last few quiet hours in her hotel room at The Ritz before her items are taken away to be sold by an auction house.

"My friend Coco Chanel always said the best things in life are free… the next best are very, very expensive," Pamela tells the audience — literally speaking to the audience. There is no fourth wall here. Audience members are an active part of her conversation, sometimes being spoken directly to or even thrown gifts as she recalls the men, the money, and the memorable moments of her life. "All we needed was to learn how to marry a rich man and give them babies — an heir and a spare," she laughs.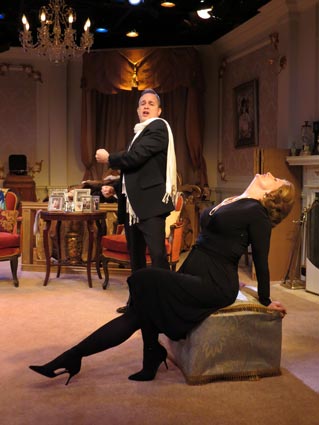 The dialogue is fresh and often quite funny, but Hawking shows off excellent range during a couple of sad memories, often from war time when she would flirt with soldiers to acquire information for Winston Churchill. She relished having access to power — something that would steer her destiny as much as money would.
What makes Swimming At The Ritz so great is the addition of Pietro, her favorite valet. Daftsios is simply hilarious as her Italian sidekick and confidant, providing real-time illustrations to her stories. He plays each of the characters she mentions differently and to great comedic effect. The two make a perfect pair.
The play is a highly enjoyable tale about a character in history that was almost like a Forest Gump of the socialite world. If she didn't exist someone would have had to create her. Kudos to Charles Leipart for recognizing the hilarity in her story. My only wish is that he reconsiders the surreal ending, which seems like an unnecessary break in the play's realism. Pamela's story is so grand, there's no reason to add to it.
---

"Swimming At The Ritz" is playing at New Jersey Repertory Company now through February 1 in Long Branch, NJ.

---
Photos by SuzAnne Barabas


---
Gary Wien has been covering the arts since 2001 and has had work published with Jersey Arts, Elmore Magazine, Princeton Magazine, Backstreets and other publications. He is a three-time winner of the Asbury Music Award for Top Music Journalist and the author of Beyond the Palace (the first book on the history of rock and roll in Asbury Park) and Are You Listening? The Top 100 Albums of 2001-2010 by New Jersey Artists. In addition, he runs New Jersey Stage and the online radio station The Penguin Rocks. He can be contacted at gary@newjerseystage.com.
---