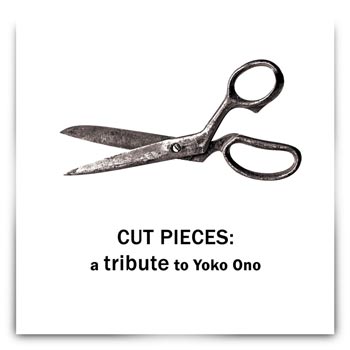 There is arguably no artist as misunderstood as Yoko Ono. Her status as a composer and an interpretive artist is well-known throughout the world. The rich and varied style which Yoko Ono has applied to her career was like a beacon of attraction for the producers over at Main Man Records. Since 1998, Main Man Records has aligned themselves with the area's most intricate and evervescent east coast projects, and Cut Pieces: A Tribute to Yoko Ono is a continuation of that.
Cut Pieces: A Tribute to Yoko Ono deconstructs and reimagines an essential collection of skillfully constructed pop/rock songs. Presented in their own context and in their own terms, the tribute soars free from the superficial sensationalism that still seems to follow her.
The album title is a reference to "Cut Piece" (singular, where the album title is plural), a performance art piece Yoko originated in the early 1960's,and an interactive experience wherein she invites gallery patrons to come up on stage and cut pieces of her clothing off with scissors, a statement on the vulnerability of women in society.
The album also coexists as a benefit release for New Jersey Peace Action. Ms. Ono has always been an outspoken activist about world peace, going back to 1969 and her "Bed in for Peace" with John Lennon, so Cut Pieces: A Tribute to Yoko Ono is a beautiful synchronicity, joining Ms. Ono's passionate quest and tying into the original happening.
Yoko was gracious enough to allow us to use her songs at no charge, given the fundraiser nature of the project.
With an official release date of January 13, 2015, the album presents 16 of Ms. Ono's most diverse and arabesque compositions. Styles range from radio friendly genres of pop, to experimental journeys into rock, country, blues and even a foray into the heady days of new wave, with the following track listing:
---

I'm Movin' On – BEBE BUELL
Tomorrow May Never Come – RUSSELL ARCARA
Walking On Thin Ice – JACK BRAG
Death of Samantha – TARA ELLIOTT AND THE RED VELVETS
New York Woman – WILD CARNATION
Move On Fast – FRANKENSTEIN 3000
Age 39 – GARRY NOVIKOFF
Waiting For the Sunrise – DEENA AND THE LAUGHING BOYS
Nobody Sees Me Like You Do – REBECCA TURNER
Turned the Corner – DIGGER PHELPS
Midsummer New York – CAROLYN MAROSY and DONNA DEADY
She Hits Back – THE MALEDICTIONS
Silver Horse – CHRISTIAN BEACH
I'm Your Angel – SPEED THE PLOUGH
We're All Water -- THE POOR MAN'S OPERA
Goodbye Sadness – RUBY ON THE VINE

---
The executive producer of Cut Pieces: A Tribute to Yoko Ono is Tony Donato, a founding member, primary songwriter and bassist for the band Jack Brag www.jackbrag.com
Yoko has been gracious enough to waive all royalty rights for this project. All proceeds will benefit New Jersey Peace Action. For more information, go to www.njpeaceaction.org
Since 1998, Main Man Records has been the home of cutting edge tribute albums, original artist releases and compilations around the New York/New Jersey area. www.mainmanrecords.com
For more information visit
www.mainmanrecords.com/yokotribute
.
originally published: 2015-01-07 07:05:53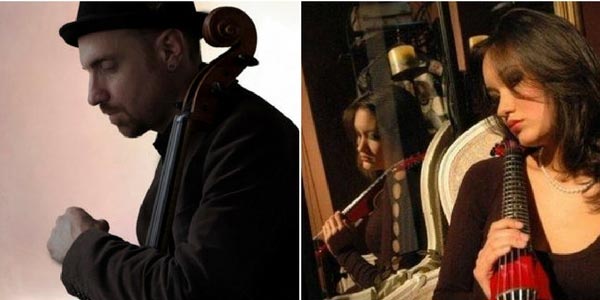 West Windsor Arts Council Hosts Gala Featuring cellist David Eggar and violinist Katie Jacoby
(PRINCETON JUNCTION, NJ) -- The hottest party in town is back! On March 3, 2018, the West Windsor Arts Council is hosting a gala fundraiser, featuring live musical entertainment by cellist David Eggar and violinist Katie Jacoby, from 6:00pm-10:00pm. The evening also includes theatrical happenings, games of chance, and even a babysitting option, making it 'the don't miss event' of the region.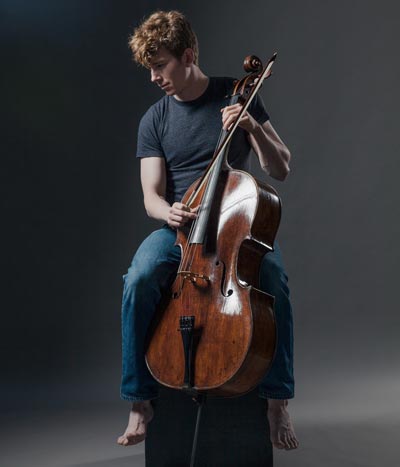 Guest Conductor Teddy Abrams and Cellist Joshua Roman Join the Princeton Symphony Orchestra for March 18 Concert
(PRINCETON, NJ) -- On Sunday, March 18 at 4:00pm, cellist and composer Joshua Roman performs his 2015 work Awakening with the Princeton Symphony Orchestra (PSO) under the baton of guest conductor Teddy Abrams. Joan Tower's Made in America is also on the program, performed as part of the Princeton Migrations project spearheaded by the Princeton University Art Museum. Ludwig van Beethoven's Symphony No. 6 in F Major, Op. 68 "Pastoral" completes the program.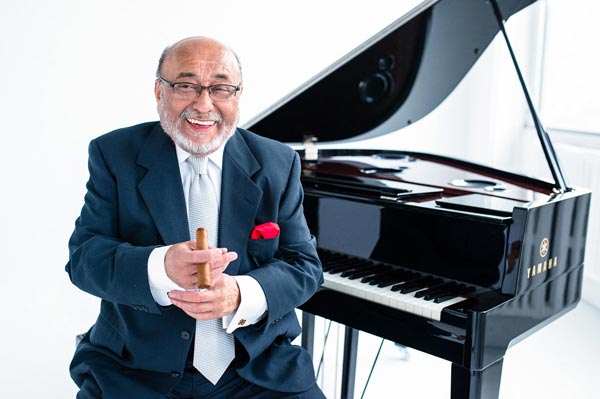 Mayo Presents Eddie Palmieri
(MORRISTOWN, NJ) -- Ten-time Grammy winner Eddie Palmieri, one of the finest jazz pianists of the past 60 years, performs at Mayo Performing Arts Center, Friday, March 23 at 8:00pm. Palmieri is a bandleader, arranger and composer of salsa and Latin jazz. His playing skillfully fuses the rhythm of his Puerto Rican heritage with the complexity of his jazz influences: Thelonious Monk, Herbie Hancock, McCoy Tyner as well as his older brother, Charlie Palmieri.  Tickets range from $29-69.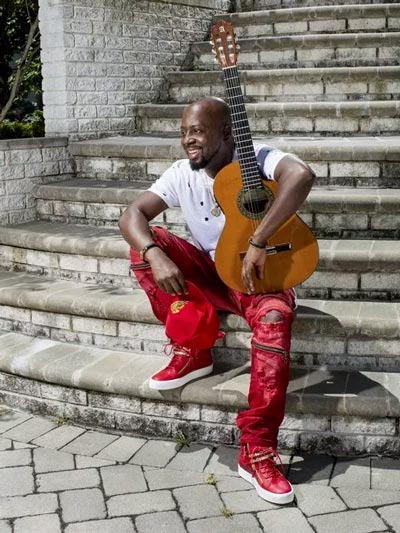 Wyclef Jean To Perform At Stone Pony During Asbury Park Music and Film Festival
(ASBURY PARK, NJ) -- Wyclef Jean has been added to the lineup for the Asbury Park Music & Film Festival (APMFF). Wyclef will perform on Saturday, April 28 at 9:30pm at the Stone Pony in Asbury Park, NJ.