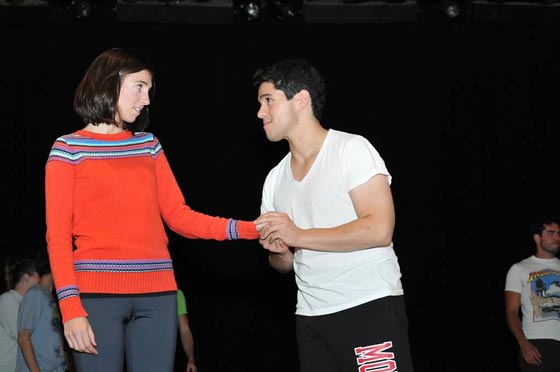 (FAIR LAWN, NJ) -- It used to be that films would be based on a successful play, book or musical, however, these days the flow from one source material to another can go in a myriad of different ways. Such is the case of the musical "Meet Me in St. Louis" which began life as a classic film starring Judy Garland in 1944, the heyday of the big and bold Hollywood musical. The film proved popular enough but a stage treatment of the story of the Smith family and their life choices at a pivotal time set against a turn of the 20th century world's fair wasn't made until 1989. Its this version now being adapted by Old Library Theatre of Fair Lawn, NJ and running from October 17-26.
According to director Craig Tiede, "Despite being based on a very popular and successful film, Meet Me In St. Louis is an underperformed stage musical." He adds that producing the lesser done but known musical fits in perfectly with his theater company's mission.
"Old Library Theatre prides itself on providing diverse offerings to its patrons, so we often seek out lesser-produced gems with which audiences may be less familiar. This particular show also offers lots of opportunities to flex our creative muscles related to stage craft. There are more than one hundred costume pieces, a moving trolley car, two Christmas trees and a turn of the century Victorian home required in the telling of the story. In addition to employing the talents of 25 performers and eight orchestral musicians, we've been able to employ extremely talented costume and set designers and a properties team. Community theater is, in part, dedicated to teaching the craft of theater to non-professionals and this production has afforded unparalleled opportunities to do so. ", said Tiede.
"Meet Me in St. Louis" takes place on the eve of the 1904 World's Fair and follows the Smith family. Alonzo (Jason Kell)and Anna (Randi Seffinger )have four daughters, Rose (Maria Jacobi), Esther (Michelle Zink), Agnes (Emma Saccone), and Tootie (Sofia Fusco); and a son, Lon Jr (Peter Fournier). Esther, the second eldest daughter is in love with John Truitt (Christopher Morriss) who is unaware of her affection while Rose is expecting a phone call in which she hopes to be proposed to by Warren Sheffield (Christian Spinella). Esther finally gets to meet John properly when he is a guest at the Smiths' house party, although her chances of romancing him don't go to plan when, after all the guests are gone and he is helping her turn off the gas lamps throughout the house, he tells her she uses the same perfume as his grandmother and that she has "a mighty strong grip for a girl".
The chances of love go further awry when, Esther's sister Tootie comes home injured, claiming that John Truitt attacked her. Without hesitation, Esther confronts John, physically attacking him and scolding him for being a "bully". When Esther returns home, Tootie confesses that what really happened was that John was trying to protect Tootie and their other sister Agnes from the police after a dangerous prank they pulled went wrong. Upon learning the truth, Esther immediately dashes to John's house next door to apologize, and they share their first kiss.
Mr. Smith announces to the family that he is to be sent to New York on business and eventually they will all move. The family is devastated and upset at the news of the move, especially Rose and Esther whose romances, friendships, and educational plans are threatened. Esther is also aghast because they will miss the World's Fair. An elegant ball taking place on Christmas Eve and the 1904 World's Fair are where the various love stories come together and explored through the show's various songs.
When asked what about the show and its setting appealed to him, Tiede said, "Our modern day-to-day lives seem to be becoming more and more coarse and disconnected. What's appealing about a seemingly corny throwback like "Meet Me In St. Louis" is the opportunity it provides to reconnect with the simple joys of family, first love and hometown pride. Though it's an unabashedly saccharine tale, each member of The Smith Family is a fully realized person with quirks and flaws like those that exist in every family. It's fun to be entertained by a year in their lives and to escape the demands of our own. I have only seen the film once - a year or so before submitting it to OLT for its 2014 season. I was drawn into the idea of spending time with this family who genuinely likes being with one another. One can't help but feel the affects of that joy when being involved in this production."
"Times, clothes and technology may change, but the human condition is constant. We all fall in love, see dreams and hopes rise and fall, squabble with family and friends and try to navigate the unexpected moments of our lives. The Smith Family is real and revelatory in ways all good fictional characters should be. Audiences will see reflections of themselves in their story and be reminded of the power of persistence", he added.  
On his favorite songs from the show, Tiede said, "My favorite song is "Have Yourself a Merry Little Christmas." It's the perfect blend of melancholy and optimism, speaking not just to the character of Esther (who sings it), but also to the shared experience we all have as humans when life inevitably challenges us to soldier on and reclaim the joy in being alive. There's also another wonderful ballad written specifically for the stage show - "You Are For Loving" - that I'm certain will tug at people's heartstrings and leave them humming. "The title song was, in fact, written as a marketing tool for the upcoming World's Fair. Both the film and the stage musical are based on a series of short stories written for The New Yorker by Sally Benson, titled "5135 Kensington." They were based on her own childhood growing up in St. Louis around the time of the fair and each covered one month in the lives of her family," Tiede said.
Tiede concluded with "This is a show the entire family will enjoy. We have a cast ranging in age from 11 - 70. The visual components of the show will impress, the choreography will amaze and the story will have you grinning from ear to ear!"
Old Library Theatre (OLT), Fair Lawn Recreation Department's resident theatre company, is a community theatre organization, located in Bergen County, NJ, committed to producing quality productions at an affordable price. Old Library Theatre was started in 1967 in Fair Lawn by a handful of dreamers who wanted to make the joy of theatre performance available to everyone. The original theatre was on River Road, and several years ago moved to the George Frey Center for Performing Arts—a state-of-the-art 170-seat theater—in the Fair Lawn Community Center. Our mission is to provide quality entertainment in Bergen County, showcasing talented performers of all ages, shapes, sizes, ethnicities, and stages of development. Now in our 46th season, we continue the tradition of quality community entertainment.
PHOTO: (Rose (Maria C. Jacobi) and Warren (Christian Spinella))
---
"Meet Me in St. Louis"
Book by Hugh Wheeler
Music and Lyrics by Hugh Martin and Ralph Blane.
Directed by Craig Tiede
Musical Direction by Gregory Paradis
Choreography by Tabitha Boulding
Old Library Theatre 10-10 20th Street (at the corner of Kipp Street), Fair Lawn, NJ 
Tickets: You can purchase tickets online at http://oldlibrarytheatre.ezregister.com/
Adult - General Admission: $22
Adult - Students and Seniors: $20
Children under twelve: $12
Please note a $2 processing fee is already reflected in online ticket price options.
If you have any questions, please call 201.797.3553 or email info@oldlibrarytheatre.net.
Friday, October 17, 8:00pm
Saturday, October 18, 8:00pm
Sunday, October 19, 2:00pm
Friday, October 24, 8:00pm
Saturday, October 25, 8:00pm
Sunday, October 26, 2:00pm
Cast
ROLE / PERFORMER
Esther Smith - Michelle Zink
Rose Smith - Maria Jacobi
Anna Smith - Randi Seffinger
Agnes Smith - Emma Saccone
Tootie Smith - Sofia Fusco
Katie - Lou Ann Csaszar Salkin
Lucille Ballard - Bonnie Zwigard
Eve -Toni Braun
Ensemble: Florence - Anelena Frollini
Ensemble: Ethel Neely - Erin Sorbanelli
Ensemble: Alice - Sarah Lepre
Ensemble: Emma - Allison Beckley
Ensemble: Nellie - Kathleen Perry
John Truitt - Christopher Morriss
Alonso Smith - Jason Kell
Lon Smith (Jr.) - Peter Fournier
Grandpa Prophater - Michael Craig
Warren Sheffield - Christian Spinella
Postman, Clarence Neely - Geoffrey Waumans
Motorman, Frederick - Sam Salter
Clinton Badger - Matthew Cordero
Peewee Drummond - Steven Slatten
Sidney Purvis - Jason Bischak
Ensemble: Arthur - Brendan Bartlett
Ensemble: Henry - Christopher Perez
Crew:
Director/Producer: Craig Tiede
Stage Manager: Maddie Murrillo
Music Director: Greg Paradis
Choreographer: Tabitha Boulding
Hair Design: Kelly Camp-Force
Set Designer: Patt Tanner
Costume Designer: Dan Schulz, On Cue Costumes
Properties: Linda Wielkotz