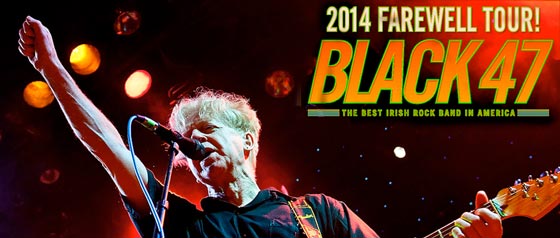 (ENGLEWOOD, NJ) - Black 47 is touring in support of their CD "Last Call" on what will be their final tour after 25 years of performing together. The band has played more gigs at Shea Stadium than The Beatles, shut down the city of Hoboken, appeared multiple times on Jay Leno Leno, David Letterman, and Conan O'Brien, and in March 2014 on The Tonight show with Jimmy Fallon on St. Patrick's Day. On Saturday, September 20, the farewell tour makes a stop at BergenPAC (30 North Van Brunt Street in Englewood, NJ) with special guest The Bill Weevils.
Led by Irish author, playwright, and SiriusXM radio host, Larry Kirwan, Black 47 play a uniquely Irish form of rock 'n' roll that touches on many social and political issues, and yet is never less than entertaining and riveting. Black 47 earned their chops playing four sets a night in New York pubs. They gained national attention for their first indie record before The Cars' Ric Ocasek produced their second album, Fire Of Freedom which brought them mainstream attention with MTV favorites, Funky Ceili and Maria's Wedding.
The band has starred in a movie with their fans Matt Dillon and Danny Glover, helped spring the Guilford Four and the Birmingham Six from British prisons, and saved an Irish immigrant church from the wrecking ball. Black 47 capped off a frantic St. Patrick's Day season this year with an appearance on The Tonight Show with Jimmy Fallon before playing to a sold out house at BB King's in Times Square and starting their morning as special guests on VH1.
Formed by Chris Byrne an NYPD detective and Kirwan, a musician, author and playwright, Black 47 – who took their name from the worst year of the Irish Potato Famine – caused an immediate stir by introducing original music and political context into the Irish bar scene. Black 47 was soon signed to EMI Records,Funky Ceili lit up Alternative Radio and MTV.
Geoff Blythe (saxophones), Fred Parcells (trombone/whistle) & Thomas Hamlin (drums) are the other three original members. Joseph Mulvanerty(uilleann pipes/bodhran) joined when Chris Byrne left in 2000, and Joseph "Bearclaw" Burcaw (bass) came aboard in 2007.
The farewell tour continues on with shows every week until the finale on Nov. 15th at BB Kings, exactly 25 years after their first gig in The Bronx.