By Jennifer Pricci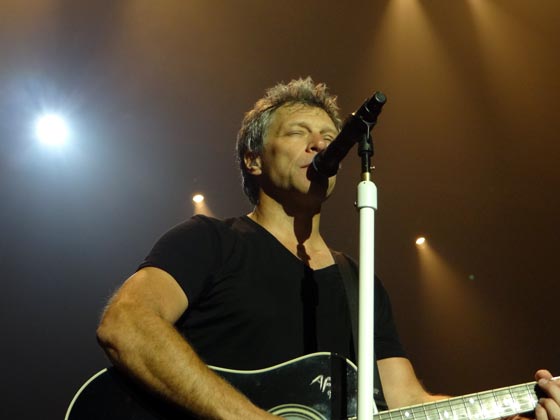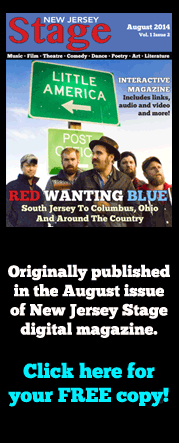 When Jon Bon Jovi holds court with his Kings of Suburbia, it's not an internationally renowned rock star that you see, and not a front-man of a rock n' roll band, or, more formally, the CEO of the 13th highest grossing band on the Forbes Top 100 list. Think Jon Bon Jovi, music fan.
 
His most loyal fans outside of the Jersey Shore really have never seen this side him. Women travel thousands of miles to see their icon, their hero. And many leave asking... Who is this man and why is he confusing me like this?
 
They understand the strength of a song like "Wanted," treating it as some kind of gift just for them, part of his namesake's band bestselling album Slippery When Wet, a collection that went platinum to the 12th power; not a bad way to launch a megastar career.
 
Jon's is an act that fills stadiums around the world until every seat has a fanny in it. But despite such commercial success, he never forgot where he came from. So when he set his sights on a new project, he collected the kind of musicians that spoke to him as an artist. The result is The Kings of Suburbia.
 
For most Jersey Shore residents, to live here is to be immersed in the musical culture. To visit is to have no context. And this holds true whether one comes to the Shore or the Shore comes to you. So for those nomadic women who purchase a ticket to a Kings of Suburbia show because it's adorned with the name "Jon Bon Jovi;" here are the keys to the castle.

On July 30th Jon brought his Kings home to Red Bank, New Jersey to play a benefit for the Parker Family Health Clinic, a local nonprofit that extends medical services to the uninsured, a cause Jon and his wife Dorothea have been a part of since before he dug in his first shovel at groundbreaking.
 
The historic Count Basie Theatre, just a few blocks east of the JBJ Soul Kitchen — a restaurant run by Jon's Soul Foundation serving free food in exchange for volunteer work -- was filled to the brim with both women on pilgrimage and residents of the suburb baited by its many local music heroes and a prodigal son.

The band was relentless. Soaring vocals by Jon and the 14-piece Kings of Suburbia rocked 'n' rolled between bar band torque, think Nick Lowe's "What's So Funny 'Bout Peace, Love and Understanding", or the gritty R&B of Ray Charles' "Night Time is the Right Time", or the artful soul of Sly & the Family Stone's "Everyday People", Queen's classic rocker "Under Pressure." Add a measure of symbolism with Don McLean's venerable sing-along "American Pie" as a finale and you find a whole much greater than the sum of its parts.

The Kings' lineup is a veritable who's who of the kind of musicians that have given the Jersey Shore its rich musical heritage. Bobby Bandiera, one of the more recognizable Kings and a tie that binds the group together, is a beloved local attraction.
 
A badly kept Shore secret for decades, Bandiera began playing in clubs 50 years ago at 16. His first outfit was a band from Orange, New Jersey called Holme. They debuted in 1970, and were the house band for years at Dodd's and D'Jais in Belmar, where it's still possible to find the 21st century version on any given summer Sunday.
 
In the early '80's he became lead vocalist and guitarist for Cats on a Smooth Surface, the only group to ever achieve house band status at the famed Stone Pony. It was the spring of '82 when Springsteen could often be found appearing unannounced with the Cats. The Boss loved jamming with the Cats.
 
In 1985, Bandiera joined Southside Johnny and The Asbury Jukes, a position he still unofficially holds -- he's been on "permanent loan" to Bon Jovi since 2005... it's safe to say even Springsteen's been getting his voicemail.
 
Bandiera's performance credits include countless benefits, he's found the time to record four solo albums and has over 40 recording credits including the "A Very Special Christmas" albums to benefit the Special Olympics, recorded under his musical direction live from the White House in front of President Clinton. He's shared the stage with B.B. King, Eric Clapton, Jackson Browne, Keith Richards, Dr. John, Levon Helm and many more.
 
When Bobby's front and center, one can truly comprehend his value. His standing-room-only performances with The Bobby Bandiera Band delivers with the same vigor and exactitude of his popular Rock-N-Soul Revues, a concert series born in 2005 that pays tribute to some of rock 'n' roll's greatest artists.
 
Along with Bandiera, Lorenza Ponce, of the habitual smile and feisty fiddle, is also a staple on Bon Jovi's tours. The multi-talented musician has toured the world playing violin alongside Ben Folds, Sheryl Crow, John Tesh and more.
 
As Lorenza explains, her extensive qualifications are founded in "a style change from the classical training and new age music of (her) past, while incorporating the 'graduate degree' (she's) earned at the school of rock star employers and mentors."
 
There may be no better way to feature Lorenza among the Kings than with The Who's "Baba O'Riley," a cover that stops every show. The tune showcases Bandiera on lead vocals and guitar but it is Lorenza's rock violin solo that elevates it to an exponential level. And when Bandiera and Ponce treat the audience to a duel; the two are the musical equivalent of a beast with two backs.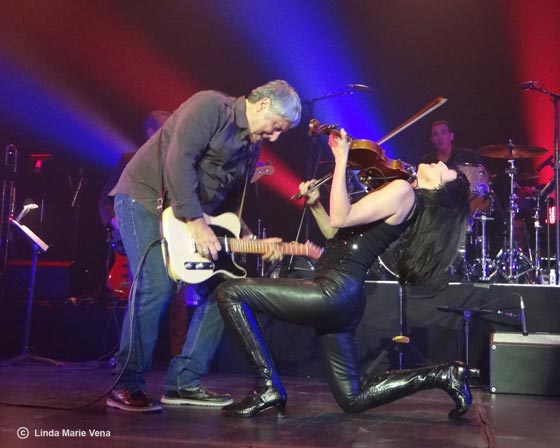 For the evening's Bon Jovi originals you could again count on Bobby to move the songs over toward the Southside. The immortal "Bad Medicine," bolstered further by brass.
 
Tommy Meares on trombone, Tony Perruso on trumpet, John Berry on trumpet, Tommy LaBella on sax and Doug DeHays on baritone sax transformed the Jon Bon Jovi led show to an even greater Jersey Shore bread sound. The combined credits of this group, simply too many to list, include stints as Springsteen sidemen, Asbury Jukes, The Motor City Review, Glen Burtnik's Summer of Love Series, Bandiera's Rock-N-Soul Revues and more.
 
The Kings' brass roster, who set The Boxtops' "The Letter" ablaze, must bring great satisfaction to Jon, the music fan, who in his very beginning struggled pounding the pavement for a deal because labels felt the market was already saturated with the "Jersey Shore Sound;" Springsteen and Southside's Jukes cornering the market.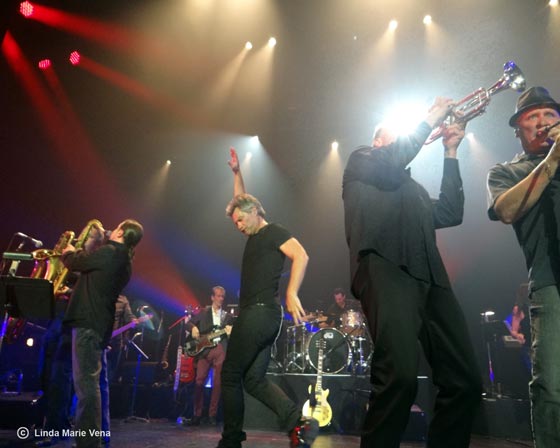 "I want to grow up to be Southside Johnny," Jon has proclaimed on many occasions; even admitting to lifting Southside's "Hearts of Stone" to cushion Bon Jovi's "Never Say Goodbye" to #1 on the Billboard charts. The Jukes horn section has always set them apart, so there's no denying how much The Kings' lineup of spinning and dancing brass must be his moment of self-actualization.
 
Rhythm Guitarist and Backing Vocalist Jim Celestino and Bass Player Graham Maby, more key players responsible for making the overall performance blow through the walls of The Basie and onto the side streets of Red Bank. Celestino, whose resume includes The Jersey Shore Rock-N-Soul Revue, has shared the stage with a range of artists including Springsteen, Ben E. King, Gary "US" Bonds, Daryl Hall and Rob Thomas among others. Graham Maby, longtime bassist for Joe Jackson, is looked upon by those who know his work as a scene stealer. He's toured with Graham Parker, Garland Jeffreys, and Darden Smith and has recorded and toured with Natalie Merchant's band. Maby has also appeared on recordings with Marshall Crenshaw, Joan Baez, and more.
 
Drummer Rich Scanella, an obvious choice for The Kings, was snatched up by Jon after Bon Jovi drummer, Tico Torres, underwent an emergency appendectomy right before a show in Mexico City on their last tour. He got the call the day of the cancelled show as Torres was admitted. That gave Scannella about one week to learn the entire Bon Jovi repertoire so that he could to join the band for immediate concert dates that included the famed Rock in Rio festival in Brazil. It is no wonder he's so obviously suited to bring that monstrous stadium sound. Bon Jovi originals such as "We've Got It Going On," would not have translated without him. Scannella, just as much in demand in studio as on the road, has worked with Springsteen, Southside Johnny, Adam Duritz, Joe Elliot, Michael Anthony, Neal Schon, Hubert Sumlin, Tommy Shaw and more.
 
Another show highlight features, not only "the most famous finger snaps in rock 'n' roll," but our keyboard players; Arne Wendt and Carl Gentry. When Queen's "Under Pressure" kicked off with that notable bass hook and keyboard sprinkle, so did the audience's great anticipation. The energetic Arne Wendt has occupied the keyboard seat for a dynamic range of artists such as Ben E. King, Gary "US" Bonds, Noel Redding, Rob Thomas and more. This night was Carl Gentry's debut as a King. In addition to leading his own Carl Gentry Band, he's also been tapped to play with Bandiera and Marc Muller's critically-acclaimed Grateful Dead Revue Concert Series. We'll be seeing Gentry again in this role.
 
It should also be put on record for those critics in the cover and tribute circle who say nobody should try their hand at Freddie Mercury; Jon thrives on this song as it sits perfectly in the nook of his 52 year-old range.

"Under Pressure," immediately followed by the dimmed room intro to "Baba O'Riley" is where we again find Wendt and Gentry under no pressure at all, prepping the room for the aforementioned eruption of violin and guitar.
 
And just as the audience may feel they've reached their own peak, Jon welcomed to the stage his mentor Southside, another common denominator among most of the Kings. Jon introduced him as "the reason I do what I do," and sat back in deference as Southside took over, performing a mini Ray Charles tribute beginning with "Big Boss Man" with backing vocalist Jillian Rhys McCoy. Jillian's voice may be what you call "retro." Think 1963. Ronnie Spector, The Shirelles -- one of the great branches to the roots of rock 'n' roll music.
 
Our welcomed guest continued to keep the house agroove with local R&B 'Queen' Layonne Holmes, performing "Night Time is the Right Time." Enjoying Layonne solely as a backup singer is a crime. The size of her rich alto voice pales only in comparison to her command of soul and stage as she outshines every spotlight she steps into. Her first paid session work came from E Street Band member, Danny Federici at the age of 22. More impressive session credits followed but it is in performance where Layonne's love for music can be felt, even in your own gut, as you listen. Layonne has parlayed her experience launching outfit after outfit into a calendar full of engagements with her groups RAIN, the Grand Ladies of Jazz concert show, the New Standard, and the 11-piece Motor City Revue who has built such a strong following that they sell out every performance. Layonne has shared the stage with many music industry luminaries including Darlene Love, Phoebe Snow, Gary U.S. Bonds, Ben E. King, Leslie Gore and Beth Nielson Chapman. In 2001, Layonne and her late Mother – the celebrated Delores "Miss Dee" Holmes – were selected to back Bruce Springsteen on the internationally-televised "9/11 Tribute to Heroes" telethon and appeared on the album of the same name.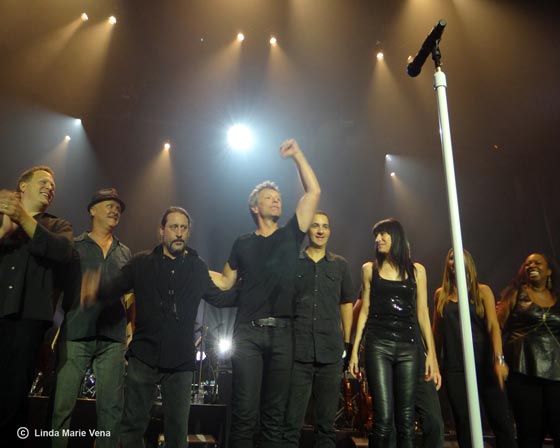 An incestuous group of bona fide, qualified and unequivocal musicians amplified the Count Basie stage that night and, along with a revolving group of even more area artists who rotate based on Jon's vision, deliver the superb sounds of this Suburb to stages around the world. Grand scope, thanks to the veritable, viable and commercially authoritative Jon Bon Jovi. So in addition to appreciation for his philanthropy, he is due gratitude for enlightening the world, and what may be an otherwise bewildered group of well meaning fans, about why the Jersey Shore is a time-honored dynasty from where Kings reign supreme.


---

Line-Up: Jon Bon Jovi / Bobby Bandiera – Lead Guitar / Jim Celestino – Rhythm Guitar / Graham Maby – Bass / Lorenza Ponce – Violin, Backing Vocals / Layonne Holmes – Backing Vocals / Jillian Rhys McCoy – Backing Vocals / Tommy Meares – trombone / Tony Perruso – trumpet / John Berry – trumpet / Tommy LaBella – sax / Doug DeHays – Baritone sax / Rich Scanella – drums / Arne Wendt – keyboards / Carl Gentry – Keyboard
 
Special Guest: Southside Johnny Lyons
 
 
---

 Setlist: Sgt. Pepper's Lonely Hearts Club Band (The Beatles) / Ain't Nothin' But a House Party (J. Geils Band) / Lost Highway (Bon Jovi) / Whole Lot of Leavin' (Bon Jovi) / Oh, Pretty Woman (Roy Orbison) / Everyday People (Sly & the Family Stone) / Old Time Rock & Roll (Bob Seger) / You Give Love a Bad Name (Bon Jovi) / (What's So Funny 'Bout) Peace, Love and Understanding (Nick Lowe) / I'm Your Man (Leonard Cohen) / We Got it Goin' On (Bon Jovi) / Under Pressure (Queen) / Baba O'Riley (The Who) / Big Boss Man – Southside Johnny Lead Vocals (Ray Charles) / Night Time is the Right Time – Southside Johnny Lead Vocals (Ray Charles) / What'd I Say? – Southside Johnny Lead Vocals (Ray Charles) / The Letter (The Boxtops) / Who Says You Can't Go Home (Bon Jovi) / Bad Medicine (Bon Jovi)
 
Encore: Prayer '94 (Bon Jovi) / Because We Can (Bon Jovi) / Talk To Me – Southside Johnny Backing Vocals (Southside Johnny and the Asbury Jukes) / 634-5789 – Southside Johnny Backing Vocals (Wilson Pickett) / American Pie (Don McLean)