By Diego Allessandro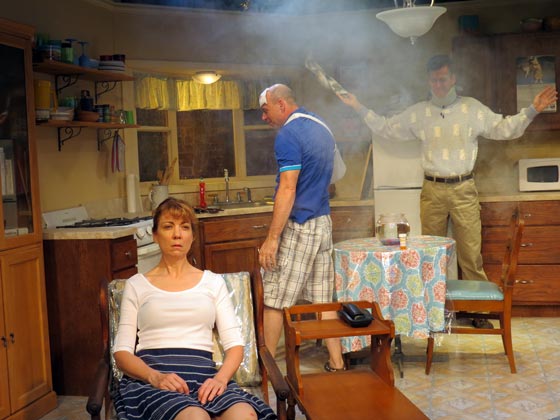 Luck is hard to come by, especially in the state home to the casinos of Atlantic City and the crane games on boardwalks up and down the shore. Just a short drive from the beach, The New Jersey Repertory Company has long presented new plays into the long and illustrious history of the American Theatre. From playwright Robert Caisley and director by SuzAnne Barabas comes Lucky Me, a delightful new romantic comedy debuting this month in Long Branch and is a must see for those who enjoy stories of love, family, AWOL cats, mustard and airport security.

Lucky Me follows the seemingly cursed Sara Fine (Wendy Peace) who slipped off the roof on a cold, icy New Year's Eve in Denver and fractured the 5th metatarsal in her foot. To her rescue is the nice and slightly awkward TSA agent Tom (Michael Irvin Pollard) who has just moved in across the street after being transferred from Juno, Alaska. He brings her to the hospital and helps her back to her apartment only to meet her aging father Leo (Dan Grimaldi) who instantly distrusts the kind hearted Tom. Despite the warnings of her landlord Yuri (Mark Light-Orr) and Leo's constant attempts to either scare or annoy him away, which ever works quicker, Tom pursues Sara's affections.

Robert Caisley's writing is brilliant, witty and insightful in what can be described as modern day Glass Menagerie. Lucky Me is pleasing mixture of great sitcom and vintage Neil Simon with a dash of Aaron Sorkin. Caisley, a Professor of Theatre and Head of Dramatic Writing at the University of Idaho, crafts a story that is both relevant and heartfelt while maintaining big laughs at the expense of family dynamics, romantic histories and the TSA. The scenes make masterful use of the stage space and great comedic timing under the direction of SuzAnne Barabas. The apartment's wallpaper adds a timeless feel to the set which allows the audience to further invest themselves emotionally in the characters and the story.

The cast have great chemistry and make the comedy feel both effortless and natural. Dan Grimaldi, known to many as twin mobsters Philly "Spoons" & Patsy Parisi on HBO's classic drama The Sopranos is brilliant as Leo, who comes off like a mix of Jerry Stiller's King of Queens quirky father character Arthur Spooner and Carrol O'Connor's classic Archie Bunker from All In the Family with the mischievous scheming of Family Guy's Stewie Griffin. Leo becomes more loveable the more he lays into Tom and shines that boy like smile when he knows he's gotten over on him. In researching the role of Leo, who lost his sight after he retired, Grimaldi admitted to observing blind people and watching Scent of A Woman and USA's espionage thriller Covert Affairs while crafting his own take to bring the character of Leo alive.

Wendy Peace, who portrays the accident prone and loveable Sara, sees her character as someone fighting for optimism and commented "there's not a sense of inevitability about her." At first Sara is not willing to accept anyone or anything new into her life; she refuses to name her pets because she expects them to die or run away within 3 months of her bringing them home and tries to keep Tom at bay despite her attraction to him. Sara's most remarkable scene comes in the second act after a cathartic moment in which Tom, Leo and Sara lay their cards on the table when she begins to accept her fate and allow herself to let Tom to get close to her. For Peace, Sara embodies an important life lesson, "open yourself up to love and you never know the possibilities that can come to you."

Michael Irvin Pollard is no stranger to NJ Rep having appeared in previous productions of Big Boys, Ten Percent of Molly Snyder and six other productions. His performance of Tom, the TSA agent next door, is inspired. Tom is a divorcee who admits he's been closed off to the possibility of love since he and his ex-wife split until he met Sara. His affection for Sara is immediately genuine as he takes it upon himself to help Sara take care of herself and Leo after falling off the roof. His ability to be open with her even when she asks him not to ask questions creates an interesting tug of war under the surface of their relationship. Tom, a usually easy going guy with a good sense of humor, is no push over as displayed when he stands up to Leo after taking weeks of Leo's teasing with a grain of salt. With the help of Sara's quirky, hungry and straightforward Ukrainian landlord Yuri, played masterfully by Mark Light-Orr, Tom seems determined to win Sara's heart and learn how to deal with Leo, the scars, the bruises and the constant barrage of sporting goods flying through the windows.

Lucky Me is a play sure to bring laughs aplenty to audiences this month. With its wit, charm and stellar cast it's serendipitous that it has come to debut here in the Garden State. Lucky Me plays each Thursday through Saturday at 8pm with matinees at 3pm on Saturdays and 2pm on Sundays through August 31 at NJ Rep (179 Broadway, Long Branch, NJ). Tickets are available at www.njrep.org and over the phone at 732-229-3166. And if we're lucky, it'll come back around soon.