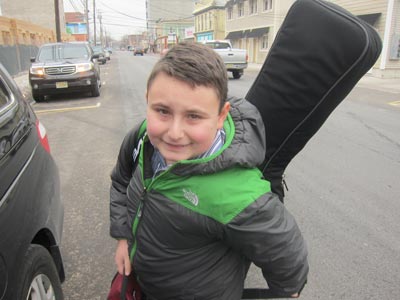 (Salt Lake City, UT) -- New Jersey 12 year-old, Geoffrey Alintoff, has spearheaded a major fundraising effort both locally and nationally for the Tyler Robinson Foundation. In fact, the TRF has a cause that has motivated the entire Alintoff family to get on board. Scott (45), Jill (40), Geoffrey (12), and Naomi (9) Alintoff have spent the last few months in passionate dedication to further the TRF's mission as a family and don't plan to stop any time soon. Their efforts have opened so many doors for the TRF that they have been nick-named "the family that keeps on giving."
Geoffrey Alintoff first heard about the TRF 4 months ago at an Imagine Dragons concert at the Izod Center. During the concert, lead singer, Dan Reynolds dedicated the song "30 Lives" to Tyler Robinson and told Tyler's story. Reynolds' sincerity and Tyler's example of being resilient in the face of adversity had an immediate impact on Geoffrey. He decided right then that he wanted to do his Bar Mitzvah project on behalf of the TRF.
In central New Jersey, most Jewish children do a "Mitzvah Project" which is a social action/community service project in preparation for their Bar or Bat Mitzvah. Geoffrey's Bar Mitzvah will be February 2015. He has decided to fundraise for the TRF for 9 months (May 2014-March 2015) and has formed his own "team" which consists of his 9-year-old sister, Naomi, and several friends. Geoffrey's project brings together several different fundraising streams and events. Here are some highlights from his efforts so far:
Geoffrey has created a fundraising site which has raised $5,000 to date. http://www.youcaring.com/nonprofits/help-geoff-s-mitzvah-project-to-slay-cancer-with-dragons/172635

Geoffrey custom designed TRF car magnets and is selling them with his team in front of local stores and to friends and family.

Geoffrey and his team have also placed 72 custom TRF collection containers (manufactured and donated by O.Berk Company) in local stores and restaurants.

Renee Narson of Sons of Israel Preschool and Kindergarten is going to have a fundraising dance party (in the winter) to benefit TRF/Geoffrey's Mitzvah Project. Local D.J., Noble Productions, owned by Lonny Narson, is donating D.J. services.

Paul Sallee, the owner of Music University in Freehold, NJ, has agreed to do a benefit concert for TRF/Geoffrey's Mitzvah Project. This will likely occur in early November and will feature Music University's extremely talented student bands, and will include raffles and auctions.

Geoffrey will be donating a portion of his Bar Mitzvah gifts to TRF.

Geoffrey says, "The greatest part about fundraising for the TRF is knowing that all the money my team and I are raising is going to such a great cause. Imagine Dragons has taught me that I can use music to have a HUGE impact on the world, and I plan to do exactly that!"

Naomi Alintoff says, "I love helping my brother fundraise for TRF and I feel proud to be part of TRF, because I feel that TRF does special and unique work for families battling childhood cancer."

Scott Alintoff, Chief Operating Officer of SunGard, ­­­­has been a gold mine for opportunities for the TRF. While at the SALT (Skybridge Alternatives) Conference in Las Vegas, Scott nominated the TRF in a twitter-based contest for charities put on by Pvblic Foundation. The grand prize was up to $1,000,000 in media grants. When the contest was over, TRF was one of three winners.

Scott has also introduced Jesse Robinson, TRF's President to John Salamone, one of the nation's leading non-profit fundraisers. Salamone is currently helping the TRF with their upcoming Gala event. Scott and Robinson are also currently working with several multi-millionaires to become grantees for the TRF.

Scott says, "It is my passion and belief in TRF's mission that motivates me to educate my friends and colleagues about TRF. My hope is that they will be as inspired by TRF as I am and that they, too, will want to get involved."

Jill has been able to assist the TRF in securing the buy of the domain, www.trf.org. Her contacts at O.Berk Company, Debbie and Marc Gaelen, generously volunteered to donate the money in order to underwrite the purchase of the domain.

Jill's brother, Randy Becker,(44) is an Ironman triathlete, tennis professional and 2XU national sales manager. Becker has volunteered to help Geoffrey by fundraising for the TRF through one of his upcoming triathlons. Becker and Robinson have also started developing a long-term program called the TRF Race Ambassador Program wherein athletes can run as part of a TRF team or create their own running event in their area. The TRF Race Ambassador Program will officially kick off in March, 2015 at Ironman California in San Diego, CA.

In May, Robinson contacted Jill Alintoff, and invited the entire family to join the TRF's Board of Directors. Jill, a New Jersey state attorney, is the official "sitting" member on the Board representing everyone. "We are all incredibly honored to be on TRF's Board of Directors," Jill states. "We are most excited about the opportunity, as a family, to have a positive impact on TRF and the amazing families they serve. TRF's mission is unique and one that we are incredibly passionate about."

About The Tyler Robinson Foundation
Founded in 2013 by The Imagine Dragons, The Tyler Robinson Foundation is a Salt Lake City, UT based non-profit organization dedicated to providing financial assistance to families throughout the US with children battling cancer, also known as pediatric cancer. Interested parties can learn more and donate online at www.tylerrobinsonfoundation.com. To see what The Tyler Robinson Foundation is up to, please follow us on www.facebook.com/TylerRobinsonFoundation.