By Gary Wien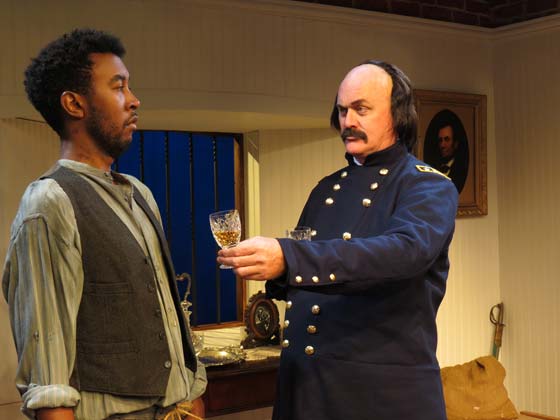 "Running away is easy... the only thing is we didn't have any place to run to."
(LONG BRANCH, NJ) - New Jersey Repertory Company has world premiered many plays during its 17-year existence in Long Branch, but "Butler" - the company's latest production - just might be my favorite to date. Based on real life events that changed the lives of more than 10,000 slaves, the play is expertly constructed by playwright Richard Strand, superbly acted, and uplifting as it shows how simple decisions can truly change the course of history. It's an often hilarious look at a particularly important part of the Civil War that history books often ignore.
The play is set inside the command post of Fort Monroe in Virginia during the beginning of the Civil War. A portrait of Abraham Lincoln is the giveaway that this is a Union hold out. Major General Butler, a lawyer from Massachusetts who worked his way up quickly to his current rank despite never receiving any military training, is in charge. Butler (played by NJ Rep regular Ames Adamson) is interrupted by Lieutenant Kelly (Benjamin Sterling) with news that a runaway slave is at the fort demanding to see him. The Major General is astonished by the news, and is determined to clarify what exactly leads him to astonishment over merely being surprised. In an opening scene that plays out like an extended Monty Python skit, Butler introduces the concept of how and why words matter. And words like "astonishment" and "demands" are two which are featured prominently throughout the play.
Butler doesn't like people making demands of him. In fact, he points out to the Lieutenant that the only people who have the right to demand things from him include the President, the President's cabinet, all those who outrank him, and his wife. The scene truly establishes Butler as a man of the law. He may no longer be a civilian, but his actions are still determined by legal concepts. While building his case that words matter, Butler also begins setting up the framework for a second case. Butler asks the Lieutenant for the name of the runaway slave, but it never occurred to the Lieutenant to ask. Even though he's fighting for the North, the Lieutenant is guilty of treating the man as property himself - something pointed out by the Major General.
"Lieutenant, do you dislike all negroes?" asks Butler.
"If all negroes are like this negro... then yes," he replies.
Butler is warned by the Lieutenant that the runaway slave is dangerous and he should be armed when meeting him. It's advice that Butler wrestles with, but ultimately decides to ignore. While the scene may seem a bit long, it contains many clever and humorous lines, and everything said during this point is important in the play's construction.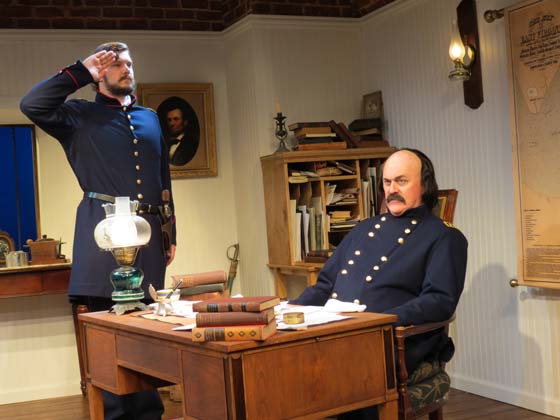 The play really takes off when the runaway slave enters the picture. John G. Williams gives a remarkable performance as Shepard Mallory, an educated black man seeking refuge at the fort. During the first act, Williams provides one of the best acting performances I've ever seen on the NJ Rep stage, or anywhere else for that matter. He shows anger and pain, but restraint as well. It's his mastery of restraint that is remarkable. Mallory has such an amazing backstory and Williams lets us see the man's history through his eyes and clenched fists. Instead of acting mean or crazy, his character simply is mean and crazy. It's an acting performance that seems effortless... It's perfect!
Mallory's anger stems largely from being a man out of time; a hundred years from his era and he might have become a political leader. Yet, during his time, he is a piece of property carrying a series of scars on his back from disagreements with people. Mallory came to the fort with the hope that Butler's legal background could help him, as he's been told lawyers can twist the law as they wish.
Butler is amazed at the way Mallory talks - refined, sometimes using very large words — and filled with sophisticated concepts of thought. Butler also picks up on the fact that the slave knows how to read. Confused about what he's seeing, he asks, "Are all negroes like you?"
"Yes suh, once you meet one, there's pretty much no need to meet another," wisecracks Mallory.
The Major General is fascinated by the contradictions posed by Mallory. He describes the slave as being scared and obnoxious, humble yet arrogant. Butler says, "I'm trying to understand you, I want to understand you."
"The way I am... gets me in a world of trouble," admitted Mallory. "There is no person in this world, white or black, that reminds me of me."
Recognizing that his initial request to seek asylum in the fort is not going well, Mallory goes a different route, offering his services as a spy and to help build military fortifications as he's done for the Confederacy. Butler is shocked to learn that the Confederates were using slaves for such purposes.
"It didn't occur to you that the Confederate Army was using slaves to build fortifications? How can the Union Army win the war if the generals are as dumb as you?" Mallory blurts out. An admission, he instantly wishes he could take back. As he's leaving the office, Mallory says, "General Butler, that's the sort of thing that got me whipped."
Mallory begs Butler to come up with a loophole in the law, something the Major General denies that lawyers do, but it's the only hope the slave has. After some time thinking over the situation, Butler has another meeting with Mallory. Butler informs him that his owner is sending someone over to pick him and the other two runaway slaves that came to the fort with Mallory back to their owners. He offers Mallory a choice: go back to his owner or escape the fort and start heading north immediately.
"Where do you expect me to go?" asks Mallory. "To Maryland? I don't believe I'd be very popular there either."
The longer the two are in the same room together, the more they see how much they are alike. Mallory and the other slaves came to the fort with the hope of joining the Union Army, a fantasy for the era; however, his knowledge of confederate troops and military installations impresses Butler and the Lieutenant. The most impressive note was his detailed information about Major Cary, the man coming to pick up the slaves. Mallory instructs them to blindfold the man, as he's not an ordinary soldier and was chosen for this assignment on purpose.
The Lieutenant originally hated Mallory, as most people do, but his views appear to change as he spends more time with him. It's a fascinating look at racism and how prejudices can change once you're able to put a name to the face.
Mallory's goal all along was for the Major General to use his expertise of the law to find some sort of loophole to ensure his survival and, in the second act, he finds one... and it's a doozy!
If you think social media spreads news around the globe fast today, you'll be amazed to see how fast Butler's final decision changes things within Virginia.
Ames Adamson is excellent as Butler. A veteran of many plays at NJ Rep, this role just might be his best to date. He offers a truly realistic portrayal of a lawyer thrust into a wartime role, trying to hold on to his humanity, and his comic timing is perfect.
Benjamin Sterling as Lieutenant Kelly is a great side-man whose constant interruptions of Butler are humorous throughout. He does a nice job of showing growth as a character from initial hatred of Mallory to suspicion to champion of his cause.
David Sitler as Major Cary isn't on stage very much, but does a wonderful job in a limited role. He portrays the Southern soldier as someone trying very much to remain dignified in a situation that's anything but dignified.
But John G. Williams steals the show; simply a tremendous performance as Shepard Mallory. Powerful, intense, hilarious, and thought-provoking... it has to be seen.
Credit should also go to Joseph Discher, whose direction lets us believe in these characters and in the wonderful dialogue written by Richard Strand. The play's pace is good and comic timing is excellent.
This play was a welcome surprise for me. New Jersey Repertory Company is known as an incubator of new works. Theatre absolutely needs companies like NJ Rep, but presenting new works offers many challenges. Some productions are very good, some are a bit ambitious, and some need a little fine-tuning. Many go on to have lives of their own on stages throughout the world; yet, few arrive in Long Branch as complete in design as this one. The dialogue is fantastic, the characters are well defined, and the story moves along crisply. It's so well constructed that it's hard to believe it hasn't gone through a series of productions and workshops and fine-tuning already. It's complete. And it's very, very good.
It's got great acting, great comedy, and tells a great story... "Butler" is recommended immensely!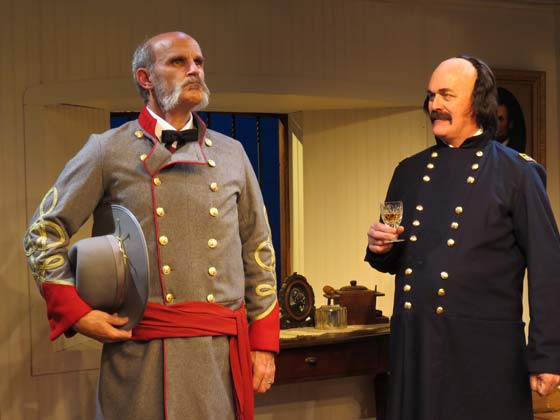 ---
"Butler" runs now through July 13 at New Jersey Repertory Company (179 Broadway, Long Branch, NJ). For more information visit http://www.njrep.org. Photos courtesy: SuzAnne Barabas.
---
---
Gary Wien has been covering the arts since 2001 and has had work published with Jersey Arts, Elmore Magazine, Princeton Magazine, Backstreets and other publications. He is a three-time winner of the Asbury Music Award for Top Music Journalist and the author of Beyond the Palace (the first book on the history of rock and roll in Asbury Park) and Are You Listening? The Top 100 Albums of 2001-2010 by New Jersey Artists. In addition, he runs New Jersey Stage and the online radio station The Penguin Rocks. He can be contacted at gary@newjerseystage.com.
---