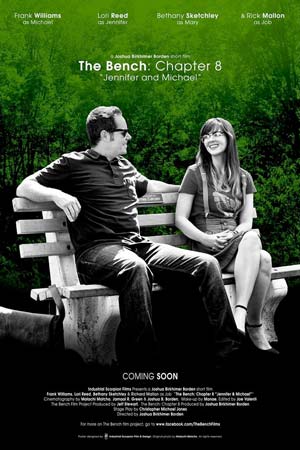 (TRENTON, NJ) -- The premiere of "The Bench" is just one of the many films to screen on Saturday, June 21 and Sunday, June 22 as part of the 3rd Annual Art All Night Film Festival. "The Bench" is a feature-length film created by a collective of Trenton filmmakers. The film tells a story about a day in the life of a park bench in Trenton, and the interweaving personalities that circle that bench. Split into eight related and interconnected short films, "The Bench" demonstrates the diversity, collaboration, and raw storytelling power of Trenton's artistic community. The film headlines the 24-hour film festival component of Art All Night, which includes features and short films from around the world. "The Bench" screens on June 21 at 8:17pm.
Produced by Artworks, the eighth annual presentation of Art All Night Trenton will present art, food, music, workshops, competitive arts events and kid-friendly activities throughout a straight 24-hour period, beginning at 3 pm on Saturday, June 21 and continuing until 3 pm on Sunday, June 22 at the Historic Roebling Wire Works at 675 South Clinton Avenue in Trenton. Art All Night Trenton is free and open to the public.
FILM FESTIVAL SCHEDULE
Saturday, June 21st, 2014
Saturday Drama
03:00 PM – "The Trestle at Pope Lick Creek" 27:00
Directed by Vuk Mitrovic
Film Origin: United States
A haunting coming-of-age tale with a wicked twist. Dalton Chance is seventeen-years-old and an open book. Pace Creagan is eighteen, brimful of adventure, fearless and feared. To Dalton, she's irresistible. To Pace, he's a challenge. Yet the story opens with Dal- ton making shadow puppets against the walls of a prison cell, suspected of killing Pace. Only Dalton knows what happened the day Pace challenged him to run across the trestle.
www.trestlethemovie.com
Parental Warning: Mature Subject Matter
03:27 PM – "Balcony" 20:00
Directed by Lendita Zebqiraj
Film Origin: Kosovo
Jeton, a 10-year-old boy is sitting on the edge of a balcony on the 4th floor. Neighbours and passers-by, terrified by this situation, call the police and firefighters for help. But the situation quickly becomes unmanageable.
www.ballkoni.com
Parental Warning: Mature Subject Matter
03:47 PM – "Little Darling" 17:00
Directed by Igor Mirkovic
Film Origin: Croatia
Two kids at the top of a skyscraper. A view of the sea. He is Tom Sawyer and she is Alice in Wonderland. They walk along the edge of the roof, doing everything they're not supposed to. In that hot summer, left under the care of her grandma, she will feel love for the first time.
Parental Warning: Mature Subject Matter
04:04 PM – "Glass Sun" 7:30
Directed by Greg King
Film Origin: United States
In an experimental take on the Film Noir genre, an impeccably dressed detective is visited by a mysterious woman one night, who inspires him to take extreme measures to preserve their 'noir' existence.
gregoryking.net/film/music-video
Parental Warning: All Ages
04:12 PM – "Magic Master" 10:30
Directed by Nergis Şentürk
Film Origin: United States
Parental Warning: All Ages
04:23 PM – "Time 2 Split" 4:34
Directed by Bracq
Film Origin: France
A couple, a young child. Life is such that sometimes it is time to separate and live his life.
WWW.FABRICEBRACQ.COM
Parental Warning: All Ages
04:28 PM – "Jane Be Jane" 20:19
Directed by David Salowe & Meghan Kaltenbach
Film Origin: United States
Jane has just graduated college. Her post grad malaise is due to either the future or her past. As she returns home she must decide for herself which one she needs to face.
janebejanefilm.com
Parental Warning: Mature Subject Matter
04:49 PM – "Mind the Gap" 6:05
Directed by Tom Darom & Arkady Ostrovsky
Film Origin: Israel
She misses her train. But when she suddenly meets him on the platform to the other direction, she realizes she's been waiting too long for the wrong train.
Parental Warning: All Ages
04:55 PM – "Flyboy" 4:10
Directed by Tobias Andersson
Film Origin: Australia
An estranged mother and father discuss their son's desire to fly.
Parental Warning: All Ages
The Feature Films
05:00 PM – "Joe's War" 1:45:00
Directed by Phil Falcone
Film Origin: United States
Joe Caruso's a 21 year old that virtually has it all: brains, brawn, a loving family, a beautiful girlfriend, and he's a hockey star. It is his family pride and fearless determination that drives him to join the Marines and take part in today's War on Terror.
Upon his return home, now former Marine Sergeant Caruso attempts to seamlessly fall back into his normal life with the help of his family and friends all while coping with his life changing overseas battle. Their support is not enough, and Joe continues on his downward spiral. In an attempt to regain control of his life and return to his old self Joe enlists the help of new friends and the aid of a therapist.
http://www.joeswarthemovie.com
Parental Warning: Mature Subject Matter
06:45 PM – "Indigo" 1:32:00
Directed by John Hawthorne Smith
Film Origin: United States
Eli Casey, an up-and-coming photographer and recovering heroin addict, implodes after his son is kidnapped. He separates from his wife. He stops working. He gives up. As a favor to his agent, Eli begrudgingly agrees to shoot a wedding. While there, he takes a picture of a suspicious couple who offer to bribe him in return for deleting certain photos. Eli refuses. The next day, Eli discovers that the flower girl at the wedding disappeared and Eli sets out to conquer his demons and save the girl.
www.lamanchafilms.com
Parental Warning: Mature Subject Matter, Extreme Drug Use
08:17 PM – "The Bench"
World Premiere 2:00:00
with introduction by Jeff Stewart and Christopher Michael Jones. Then following the screening, meet the cast and crew of
"The Bench" for a quick Q&A after the film.
Directed by:
Chapter One: Abraham and Kennedy - Anthony Catanese
Chapter Two: Betty and Paul - Christopher Michael Jones
Chapter Three: Fred and Eric - Ricardo Lorenzo
Chapter Four: Juliana and William - Frank Williams
Chapter Five: Rose and Percy - Jamaal R. Green
Chapter Six: Diane and Lloyd - Jeff Stewart
Chapter Seven: Grace and Mary - Lawrence R. Greenburg
Chapter Eight: Jennifer and Michael - Joshua Birkhimer Borden
Film Origin: United States
A feature told in 8 chapters, that depicts a day in the life of a park bench.
www.facebook.com/TheBenchFilms
Parental Warning: Mature Subject Matter
10:17 PM – "The Perfect Husband" 1:25:00
Directed by Lucas Pavetto
Film Origin: Italy
A married couple decide to spend a weekend in a remote cabin, but the romantic journey will take a turn for the worst, when a sneaking suspicion become pure madness.
theperfecthusbandmovie.com
Parental Warning: Mature Subject Matter, Extreme Violence
11:42 PM – "A is for Alex" 1:14:00
Directed by Alex Orr
Film Origin: United States
In this bright and witty low-budget independent comedy, Alex (Alex Orr) is an inventor about to face his greatest challenge: Fatherhood. Stricken by anxiety and struggling to keep his pregnant wife (a hilariously foul-mouthed Katie Orr) happy, Alex works to save the world and become a worthy father and husband. At the same time, Alex is Alex Orr, the filmmaker, working on the film we are watching, showing us the process behind the fiction he is creating. A IS FOR ALEX is a fine example of personal, comic filmmaking, a cinematic lesson in turning life's lemonade back into lemons.
www.fakewoodwallpaper.com
Parental Warning: Mature Subject Matter, Brief Nudity
---
Sunday, June 22nd, 2014
12:56 AM – "How to Become a Criminal Mastermind" 1:23:00
Directed by Henry
Film Origin: United Kingdom
A desperate man hires a crime coach to turn him into the perfect criminal.
www.howtobecomeacriminalmastermind.com
Parental Warning: Mature Subject Matter
02:19 AM – "Astray" 1:03:00
Directed by Kyle Romanek
Film Origin: United States
A drama about trust and limitations - Tyler Bennett (Anthony Williams) is a social worker with a personal ethics code and a need for change. Life has become mundane, his clients' stories keep him up at night and chronic neglect from his father has made him unable to form meaningful relationships. Tyler finds himself at a dangerous crossroad when he stumbles upon a 15-year-old boy (Christopher Fisher) who has run away from an abusive foster family. Their back-stories collide exposing one another's vulnerabilities. In an attempt to reconnect the teenager with his biological father, he faces collapsing friendships, internal uncertainty and the evident possibility of losing his job. Tyler has a choice to make: Risk his career in the name of doing what his heart says is right or abide by the law and put a defenseless adolescent in danger.
Parental Warning: Mild-Mature Subject Matter
03:22 AM – "Fireflies" 1:15:00
Directed by JJ Lask
Film Origin: United States
Johnny has nearly surrendered to the sentence of a dead-end life, but Hart dreams of something else...anything else. 'Fireflies' is the stirring dramatic story of two friends Hart and Johnny on a journey to find themselves and escape the jaws of small town life for a chance to start living. When an altercation with his abusive stepfather goes horribly wrong, Johnny must get out of town, fast. Along their venture the two wayfarers encounter a mysterious drifter named Daisy, a disarming old soul whose striking beauty is matched only by her common sense. Friendships are tested, boundaries are crossed, lives are changed forever. Fireflies is the story of three people desperate to find out who they are and where they belong.
Parental Warning: Mature Subject Matter
Late Night Shorts
04:37 AM – "Chrysanthemum" 14:57
Directed by Ivan Francis Clements
Film Origin: United Kingdom
Emily is a troubled child. Like most teenagers, she has angst and rages against her parents. Her favourite pass times are doing drugs and aggravating her mother. One day, she meets Jack, and her world changes forever. Jack is older by some years, smart, very good looking but what attracts Emily the most is the danger. After an intense beginning period in their relationship, things start to go wrong. Jack becomes violent. Now he has her, he plays with her. Can Emily overcome her internal battle, reconcile with her mother and realize where she has gone wrong?
Parental Warning: Mature Subject Matter, Nudity, Violence
04:52 AM – "The Other Night Factory" 15:52
Directed by Nathalie Giraud & Timothée Corteggiani
Film Origin: France
Helpless and confused, Andrea goes back to the factory where she used to work. Clinging on her past, she tries to survive. But, the violence of reality will shatter all of her illusions.
www.facebook.com/lulanlefilm
Parental Warning: Mature Subject Matter, Violence
05:08 AM – "Last Night" 23:00
Directed by Chris Smellin & Robert Smellin
Film Origin: Australia
Last Night is a thriller about a seemingly perfect newly wed couple that are terrorized by two strangers in the middle of the night. The couple wake up tied to chairs they soon discover their hosts for the night are not strangers at all rather a pair of vengeful psychopaths that are intent on unearthing the dark secrets of the couples past.
Parental Warning: Mature Subject Matter, Extreme Violence
05:31 AM – "Fodder" 9:00
Directed by David Dollard
Film Origin: Canada
In a post-apocalyptic world, humanities survival lies with Trelas, a secret military research facility buried deep underground. Trelas is developing a new weapon against the undead, or is it for the undead? But, just how effective their new efforts are lies with Gloria. Freshly captured, and just as mysterious a figure as her surroundings, she's about to make the ultimate sacrifice: her flesh and blood.
www.facebook.com/51Fodder
Parental Warning: Mature Subject Matter, Extreme Violence
05:40 AM – "Butterfly Fluttering" 24:25
Directed by Roman Kayumov
Film Origin: Russian Federation
She is a modern girl, young, beautiful, and she tries to follow their own instincts. She is searching for someone to love and real feelings. Perhaps she just wants to feel alive.
butterflyfluttering.com
Parental Warning: Mature Subject Matter
Early Morning Laughs!
06:05 AM – "Does This Mean We're Gonna Have Sex?" 9:40
Directed by Simon J. Riley & Emma Rasmussen
Film Origin: United Kingdom
In the frustrating world of dating, three women believe they have found a way of meeting their perfect partner... But who will get lucky?
www.dontshootthemermaid.com
Parental Warning: Mature Subject Matter
06:15 AM – "5 Ways 2 Die" 15:03
Directed by Daina Papadaki
Film Origin: Cyprus
Makis explores different ways of death, struggling to achieve the most ideal result.
www.5ways2die.weebly.com
Parental Warning: Mature Subject Matter
06:31 AM – "Pint" 9:26
Directed by Nic Barker
Film Origin: Australia
Nobody at the wedding likes Jackson. So he probably shouldn't drink too much...
nicbarkerfilmmaker.com/pint
Parental Warning: Mature Subject Matter
06:41 AM – "Shooting Oliver" 16:50
Directed by Daniel Clements
Film Origin: Canada
Shooting Oliver follows the struggles of an intensely devoted method actor whose steadfast dedication to his character threatens to crash a mega budget action movie faster than snakes on a plane.
www.shootingoliver.com
Parental Warning: Mature Subject Matter
06:58 AM – "Singhing Bee" 23:23
Directed by Aby Rao
Film Origin: United States
Harjinder (Honey) Singh is a 12-year-old Indian-American boy poised on the brink of a major turning point in his life. His parents' obsession with raising a national spelling bee champion sharply conflicts with his desire to pursue more creative interests. This humorous short film chronicles Honey's journey to determine the right path for him.
www.imdb.com/title/tt1919072/?ref_=fn_al_tt_1
Parental Warning: All Ages
07:22 AM – "Terrible People" 22:01
Directed by Jonathan Salemi
Film Origin: United States
When a cute, free-spirited, hippie girl is forced to bring in her gay best friend as a roommate because her Iranian boyfriend lacks ambition… and a sufficient income to help with the rent, preconceived notions about each other's diverse characteristics is only the beginning of this tumultuous relationship in this edgy, politically-incorrect, half-hour sitcom.
Parental Warning: Mature Subject Matter
07:45 AM – "The Dandelion" 14:05
Directed by Sophie-Clémentine Dubois
Film Origin: Belgium
The Dandelion, or How to save a restaurant with a hedgehog, a singing fish and a little bit of imagination...
Parental Warning: Mature Subject Matter
08:00 AM – "Breaking & Entering" 24:25
Directed by Jeff Kent
Film Origin: United States
Three friends seek to enter Hollywood by breaking their backs working as assistants in the entertainment industry.
BreakingandEnteringTV.com
Parental Warning: Mature Subject Matter
Docu-Sunday
>
08:25 AM – "A Good Wife" 16:00
Directed by Linda Brieda
Film Origin: United States
A Good Wife is a short documentary that explores a hidden corner of rural India on the Sundarban islands where women share their struggles against a conservative, patriarchal society. They reveal their diminished role in arranged marriages, often challenged by demands for dowry or faced with domestic violence. Despite of all their challenges they try to be what society calls a good wife.
Parental Warning: Mild-Mature Subject Matter
08:41 AM – "Under a Minute Guide to the World" 1:00
Directed by Phil Travis
Film Origin: Canada
In this ultra-brief comedy, an entire country is summarized in one minute.
Parental Warning: Mild-Mature Subject Matter
08:42 AM – "Guantanamo Circus" 26:46
Directed by Christina Linhardt
Film Origin: United States
A hardy troupe of circus performers is cleared by the FBI, CIA, Homeland Security and the Pentagon in order to take their act to the home of one of the most notorious prisons in the world, Guantanamo Bay Cuba. These singers, dancers, jugglers, magicians, aerialists and musicians have no idea what awaits them when they arrive at a place everyone has heard of but very few know much about. They soon discover things are not quite what they assumed. During processing a soldier tells them 'Guantanamo Bay, it's a great place to raise your kids.' They were entering a giant time capsule like a surreal, small town right out of the 'Twilight Zone' that desperately needed an infusion of positive energy.
www.imdb.com/title/tt2760174/
Parental Warning: Mature Subject Matter
09:09 AM – "Bad Seed: A Tale of Mischief, Magic and Medical Marijuana" 1:10:00
Directed by Shayne Metcalfe
Film Origin: Canada
Bad Seed is the tale of a tiny little seed that some see as good and others believe is evil. Cannabis and hemp can drastically improve the quality of life of people suffering from a wide range of symptoms and illnesses yet people are denied relief due to marijuana's bad reputation. Is cannabis a bad seed? Or have it's extraordinary health benefits been unjustly suppressed by government, law enforcement and corporate manipulation? Following the story of a medical marijuana user and activist, filmmaker Shayne Metcalfe delves into the history of cannabis prohibition in Canada, the United States and Mexico over the past century. Incorporating the perspectives of law enforcement, doctors, lawyers, activists, commercial growers, medical patients, historians and entrepreneurs, Bad Seed tells the fascinating story of how one of nature's gifts came to be vilified and provides an intriguing look at the rapidly changing marijuana landscape.
www.iseemovies.com
Parental Warning: Mature Subject Matter
10:19 AM – "TRIANGLES - Witnesses of the Holocaust" 40:00
Directed by Ann P Meredith
Film Origin: United States
An unprecedented, inclusive, history-changing documentary giving a compassionate, shocking and intimate face and voice to lesbian, gay, transsexual, straight and transgender survivors and victims of the Holocaust in their own words.
www.annpmeredith.com
Parental Warning: Mature Subject Matter
10:59 AM – "Embedded" 30:35
Directed by Madeleine Pryor
Film Origin: United States
Sebastiano's passion is documenting war. His photographs from Syria and Afghanistan are widely published and in 2013 he won second prize in the prestigious World Press Photo competition. His longtime girlfriend, Gessica, is proud of him, but worries about his safety and struggles to understand his drive to work in war-torn places. Embedded documents a relationship burdened by the realities of war in the modern world.
www.embeddedmovie.com
Parental Warning: Mature Subject Matter
11:30 AM – "Spazz Out!" 35:44
Directed by Evan Kidd
Film Origin: United States
The in-depth process of planning, running, promoting, and keeping a small town music festival alive and well by bringing a community together through music. All while literally saving lives and launching careers.
www.imdb.com/title/tt3067304/
Parental Warning: All Ages
12:06 PM – "sweet!" 3:16
Directed by Jacob A Tapia
Film Origin: United States
sweet! is a micro doc about a talented and enterprising confectioner, Minas Zuniga. Minas demonstrates his skill and passion for making custom, unique, and creative candies. Featuring music by renowned musician Reynold D. Philipsek.
handrawnpictures.com/project/sweet/
Parental Warning: All Ages
12:10 PM – "The Trenaissance: A Better Way for the Capital" 19:09
Directed by Jeff Skomsky
Film Origin: United States
In the late 19th and early 20th centuries, Trenton was a major manufacturing center of the Northeast portion of the United States. As an industrialized city, Trenton played a large role in manufacturing rubber, wire rope, ceramics, and cigars. Since the decline of industrial jobs in the 1970's, Trenton has declined culturally as well as economically. Today, the media portrays this distressed city in a negative light and focuses on the poverty and crime rather than those working to revitalize this city. The Trenaissance: A Better Way for the Capital focuses on individuals, communities and organizations that are striving to make positive changes within the city of Trenton.
Parental Warning: All Ages
12:30 PM – "Strike: The Greatest Bowling Story Ever Told" 12:30
Directed by Joey Daoud
Film Origin: United States
Bill Fong is passionate about bowling. When he's not working at the bowling shop he's studying YouTube videos, playing 20 games a week as a member of four active leagues, and memorizing the characteristics of each of the 48 lanes at his regular bowling alley. Yet despite all of Bill's determination, he has yet to achieve his dream of going pro. One seeming ordinary night all may change for this underdog as Fong begins to get strike after strike, nearing the ever elusive 'perfect series,' a feat only achieved 21 times since 1895. The achievement would be historical, the first for Texas and the first by an Asian-American. A perfect series could be just the thing to launch Bill into the pros but will he be able to make it or buckle under the pressure?
cc-prod.com
Parental Warning: All Ages
12:43 PM – "From Leonard to Leona: Ah Kua No More" 35:32
Directed by Larry Tung
Film Origin: United States
This documentary is about the life and work of Leona Lo. Born and raised in Singapore, Lo realized that she is a transgendered woman at the age of 12. Often a target of taunting by her peer because of her effeminate mannerism, Lo excelled in school and graduated from one of the top high schools in Singapore. However, during her national service, she had a breakdown and attempted suicide. Later she was sent by her parents to the University of York in England. Yearning to become a woman, she went to Thailand for her sex reassignment surgery during a winter break. With her new body and identity, she returned to Singapore only to find challenges in many aspects of her life, including employment, romance and family. Determined to tell her story, Lo wrote an autobiography in 2007 and produced and acted in a one-woman play, The Ah Kua Show, detailing her joy and pains in her journey to becoming a woman. The film takes a close look at Lo's life and work in a society that is still coming to terms with its transgedered people and other sexual minorities.
www.imdb.com/title/tt2766862/
Parental Warning: Mature Subject Matter

01:19 PM – "Confessions of a Comic Book Nerd" 6:16
Directed by Ryan Hartford
Film Origin: United States
A short documentary on the stereotypes and stigmas regarding 'comic book nerds'.
Parental Warning: All Ages
AANMTV
01:26 PM – "California Street" The Beachbreakers 3:16
Directed by Florencia Elgue
Video Origin: Argentina
Parental Warning: All Ages
01:30 PM – "Arc De Triomphe" Allison Beda 5:00
Directed by Allison Beda
Video Origin: Canada
A woman in Paris, the city of romance, with a broken heart.
Parental Warning: All Ages
01:35 PM – "Get into My Convertible" Valentimes 7:14
Directed by Valentín Lozita
Video Origin: Argentina
Valentimes luxuriates in his new life as a rock legend, but things don't always work out the way they do in music videos.
www.facebook.com/valentimes.music?ref=hl
Parental Warning: Mild-Mature Subject Matter
01:43 PM – "Rafa Carlavilla" Trabajo 1:52
Directed by Ferran Masip Valls
Video Origin: Spain
"Trabajo" is a music video made for the Singer "Rafa Carlavilla". It was done with more than 2000 hand-drawn frames, through rotoscopy, looking for some minimalist and neat esthetics, but still raw and rough like a tribute to the origins of hip-hop.
productions.nomasdf.com/index.php?c=rafa
Parental Warning: All Ages
01:45 PM – "Losing Touch" Pinksy 3:30
Directed by John F. McCarthy
Video Origin: United States
Pete struggles to maintain a close connection with a person dear to him in this artsy, no strings attached, melodic rock video.
www.t17media.com
Parental Warning: All Ages
01:49 PM – "Bitter Ditty" Danny Sherwood 2:48
Directed by Paolo Benetazzo
Video Origin: United Kingdom
A music video about a pianist, a dancer and their magic.
Parental Warning: All Ages
01:52 PM – "Mulligan's Island" WeGovernWe's 4:15
Directed by
Video Orgin: United States
Five young travelers embark on a journey to find buried treasure and the fabled Mulligan's Island. Part homage to the works of Georges Melies, part sideshow carnival with rich visuals that leap off the screen, this interpretive fantasy of WeGovernWe's indie rock heartwarming single "Mulligan's Island" will have audiences both young and young-at-heart dancing in the aisles demanding a do-over.
flickerpictures.com/
Parental Warning: All Ages
01:57 PM – "Jet" Annie Minoque Band: Feat. Mystic Bowie 3:48
Directed by Devereux Milburn
Video Origin: United States
Jet is a music video that celebrates the innocence and freshness of youth in the foreground of New York's Corroded visage. It shines a light on the wholesome and fun-loving nature of children through candid behaviors and vibrant color, and illustrates how their inherent optimism and spontaneity can inspire the same disposition in adults.
www.annieminogue.com/vid.php
Parental Warning: All Ages
02:01 PM – "The Only One" Lil Roquelin 4:35
Directed by Kyle Lavore
Video Origin: United States
(...) Astoria Park in New York City was used as a backdrop for the music video for "The Only One." Director Kyle Lavore used the challenging One-Shot Music Video technique and it has Roquelin walking down a path while various men offer her dead roses. At the end of the video, 'The One' appears... (...) - The Queens Tribune, Nov 2013.
www.liliroquelin.com
Parental Warning: All Ages
02:06 PM – "Fighter" Fender Heist 3:27
Directed by Christian Schüssler
Video Origin: Norway
In an apocalyptic existence where an unknown force is about to take over the world, a little girl wakes up and shows resistance as an essential figure in which all other forces have been lost.
Parental Warning: Mild-Mature Subject Matter
02:10 PM – "Cro!" Wilda 4:47
Directed by Jose Araújo
Video Origin: Spain
People desperate cries. Disturbing, uncomfortable situations.
Parental Warning: Mild-Mature Subject Matter
Animation Time
02:15 PM – "Television" 2:47
Directed by Oliver Bradley-Baker
Film Origin: United Kingdom
'Television' is a short animation depicting the dangers of television on a child's development, as described by the poem of the same name by Roald Dahl, to which the film is an accompaniment. 'Television' placed 2nd in the Animation category at the RATMA film festival. Music: Gymnopedie No. 3 Kevin MacLeod (incompetech.com) Licensed under Creative Commons: By Attribution 3.0 creativecommons.org/licenses/by/3.0/
Parental Warning: All Ages
02:18 PM – "The Little Girl" 4:40
Directed by Hakan Berber
Film Origin: Turkey
This Movie describes that last minutes of a little girl who died in war by enriching with Nazım Hikmet's poem, named "Kız Çocuğu", with the different point of view in abstract situation.
www.hakanberber.com.tr
Parental Warning: All Ages
02:23 PM – "L'ÎLe Noire" 6:35
Directed by Nino Christen
Film Origin: Switzerland
Animated Shortfilm: On an island, at the edge of the woods, a watchman and his bird live a miserable and isolated life. One day a deceptive chance came up to escape the boredom. But great danger lurks behind it.
www.ninochristen.ch/lilenoire
Parental Warning: All Ages
02:30 PM – "Framed" 4:56
Directed by Evgenia Gostrer
Movie Origin: Germany
How much do I love myself? What am I proud of? How do I present myself? How do I want to be seen like? Where are my personal boundaries and how do they look like? How far can I go?
Parental Warning: All Ages – Minor suggested nudity
02:35 PM – "Cartoon Away" 3:40
Directed by Augusto Bicalho Roque
Film Origin: Brazil
An animated character is tortured by his creator to the point the creature rebels from his creator and escapes from the drawing table. The human manages to bring the character back but only to find out that he no longer can eliminate his creation.
Parental Warning: All Ages
02:39 PM – "Maker vs Marker" 1:53
Directed by Jonny Lawrence
Film Origin: United Kingdom
An intense stop motion whiteboard animation where both the creator and the created battle for their lives.
www.jonny-lawrence.co.uk
Parental Warning: All Ages
02:41 PM – "Virtuo" 5:28
Directed by Mikołaj Jagodziński
Film Origin: Poland
"Virtuo" is a story about materialization of virtual existence. It is a dialogue between two different worlds. The main character gradually discovers that he lives in a post apocalyptic world that is devoid of humanity. It gives him mix of emotions from the joy of life to loneliness, alienation and helplessness. Empty streets and color desaturation are trying to transfer those feeling to the viewers. The ending shows that in the future depressive feeling of loneliness may not only be a human thing.
Parental Warning: Mature Subject Matter
02:47 PM – "The Last Straw" 5:00
Directed by Luke Grandmont
Film Origin: Canada
Rising above his cornfield, Scarecrow stands guard with his only friend, a crotchety old crow, perched at his shoulder. However, the unlikely duo are in breach of Scarecrow's duty to protect the field and their friendship hasn't gone unnoticed by The Farmer. With his crop at risk, The Farmer erects a newer and much scarier scarecrow to ward off crows. Fearing a forced retirement, Scarecrow takes matters into his own hands to deal with the new threat. Will Scarecrow find common ground with the new guy or will this be the last straw?
Parental Warning: All Ages
02:52 PM – Best Feature, Best Documentary and Best Short Announcement

03:00 PM – 3rd Annual Art All Night Film Festival Ends