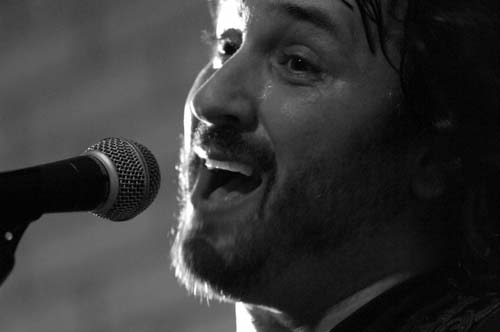 The battle between New York and New Jersey will have a ceasefire on June 29, 2014, when Joe D'Urso (a fixture in the music scenes of both states) presents the Rockland-Bergen Music Festival on the borders of Rockland and Bergen counties at the German Masonic Fairgrounds in Tappan, NY. The day-long festival will feature over 20 artists on two stages, including performances by Willie Nile, Jesse Malin, John Eddie, James Maddock, Tom Chapin, McMule, and Joe D'Urso & Stone Caravan.
"I've been thinking about doing this for some time as I felt the Rockland and Bergen counties were underserved when it came to something like this" says D'Urso. "Also, with Pete Seeger's recent passing, it was the catalyst to get me to finally commit to organizing this particular festival which also coincides with my 50th birthday in late June. I think you could say that mortality was a motivation! I had the opportunity to work with Pete a few times over the years and his inspiration, along with Harry Chapin's and Bruce Springsteen's, run deep in me."
A second stage include performances by The Levins, Tim O'Donohue, Arlon Bennett, Chris Brown, Kevin Cronin, Bobby Mahoney, Joe Rapolla, Peter Elkas, Anthony D'Amato, Alice Leon, George Romano, Rob Dye, Over The Line and Bobby DiBlasio.
The festival will also feature reasonably priced local food and beverage vendors such as Jack Ford, Tequila Sal Y Limon, Denise Marie Catering, and Sixpoint Beer.
"I have been very fortunate to work with many of the 22 artists performing," D'Urso explains. "A few of the folks on the bill have been mentors to me over the years and helped me out when I was starting out...There are a good handful of younger artists or artists who people don't know yet that music lovers will be very happy to discover."
As a major proponent of charity and board member of WHYHunger and Light of Day, Joe D'Urso is involving multiple organizations in the Rockland-Bergen Music Festival. "At this point in my life, it's just part of my DNA. I hate to waste any gathering and not have someone learn about a cause or organization."
Portions of the proceeds from ticket sales will benefit WHYHunger, Light of Day, Homes For Heroes, Dan Sullivan Foundation, the Volunteer Fire Association of Tappan, Orangetown Auxillary Police, and the Rockland County Widows & Orphans Fund.
Tickets are available for $42 in advance or $50 on the day of event. Current high school or college ID price is $20. Free admission to all children 12 and under. Free admission is also available to anyone born in 1964 (proof of ID required, day of show) to help celebrate Joe's birthday!
Free parking is available, but a suggested donation of $5 to go to WHYHunger/Light of Day.
The gates will open at 11:00am with music beginning at 11:30am. The event runs until 7:15pm rain or shine.
Blankets and chairs welcomed. No outside food, beverage, pets, coolers or knapsacks. Tailgating is not allowed in German Masonic Park.
For more information visit http://www.RocklandMusicFestival.com