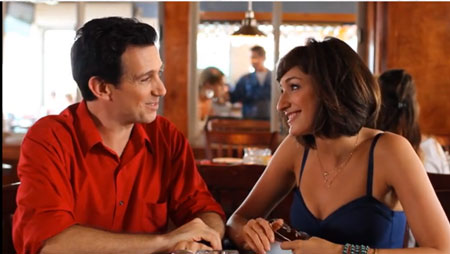 (ATLANTIC CITY, NJ) -- The World Premiere of Tom Baldinger's Romantic Comedy short film, "Two Sides of Love", will take place during the Garden State Film Festival. The premiere will be held on April 5, 2014 at 5:30pm at the Resorts Casino in Atlantic City, NJ in the Superstar Theatre #4. Tickets are on sale now for $12.00. Just go to www.gsff.org to purchase tickets.
Two Sides of Love was originally a romantic comedy play that premiered at the Roy Aries off-Broadway play in 2011. After its opening the show toured in multiple community theaters in NJ earning three NJACT Perry Award nominations including Best Original Play in 2012. In 2013, Tom Baldinger and his own company, 624 Productions, decided to make the leap into film. The story is about a heartbroken guy who meets a heartbroken girl on a New York City Subway. The question begs, 'what happened in their own separate lives that brought them to this point and to potentially fall in love?'
The short film stars Ronnie Marmo (General Hospital, West of Brooklyn), Kevin C. Carr (Polar Express) Emily West (NJACT Perry Award Nominee for Best Actress), Debbie Glick and Jen Jacob.
Tom Baldinger formed 624 Productions LLC to allow gifted writers, actors and producers who are driven to create for both the screen and the stage to work in a collaborative environment. Baldinger is a graduate of Wagner College where he studied Theatre Arts. He has written multiple plays that have premiered off-Brodway New York City such as Last Call 1, Last Call 2 and Triple Play. He is currently working on bringing Triple Play back to the stage where eventually it will make its way to film. He is also directing a comedic web series called The Mid-Lifers which will be released in the Fall of 2014 and is in pre-production on a sitcom called Boys on Tap which he also wrote.
For more information on 624 Productions, visit www.624-productions.com