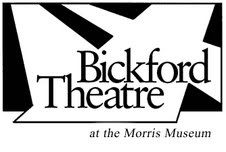 (Morristown, NJ) -- The Morris Museum's Bickford Theatre is proud to announce the 2013-2014 Main Stage Season, which includes a world premiere and a New Jersey premiere.
The 2013/2014 Main Stage Season at the Bickford Theatre will open with The Last Romance, a. heart-warming romantic comedy, written by Joe DiPietro which tells the tale of an 80-year old widower named Ralph finding love for a second time.
In October, the Bickford Theatre will showcase Sherlock Holmes-Knight's Gambit, written by Paul Falzone. This world premier follows Sherlock Holmes and Dr. Watson in a diabolically clever who-done-it.
In January, come in from the cold and enjoy Say Goodnight, Gracie by Rupert Holmes. The legendary George Burns is brought to life in this multi-media play starring Joel Rooks.
Finally, in May, the season will conclude with Forever Plaid. This nostalgic musical, written by Stuart Ross, celebrates the vocal groups of the 1950's and 1960's.
In addition to the Main Stage productions, the Bickford Theatre will present an A La Carte Series and numerous Special Performances.
Main Stage productions are performed Thursday through Sunday. Subscription packages are available starting at $140. Singles tickets are available starting at $20. Subscriptions and tickets may be purchased by calling the box office 973.971.3706, visiting the Morris Museum's Bickford Theatre Box Office at 6 Normandy Heights Road in Morristown, or going to our website at www.morrismuseum.org.
The Bickford Theatre's 2013-2014 Main Stage Series
The Last Romance
September 26 through October 13, 2013
Book by Joe DiPietro
A crush can make anyone feel young again—even an 80-year old widower named Ralph. On an ordinary day in a routine life, Ralph decides to take a different path on his daily walk—one that leads him to an unexpected second chance at love. Relying on a renewed boyish charm, Ralph attempts to woo the elegant, but distant, Carol. Defying Carol's reticence—and his lonely sister's jealousy—Ralph embarks on the trip of a lifetime, and regains a happiness that seemed all but lost. A heart-warming comedy about the transformative power of love. (NEW JERSEY PREMIERE)
Sherlock Holmes-Knight's Gambi
October 24 through November 10, 2013
Book by Paul Falzone
Sherlock Holmes and Dr. Watson are busy once again on Baker Street in this diabolically clever whodunit that will please fans of Arthur Conan Doyle's brilliant detective. The evil Moriarty has dispatched what appear to be numerous killers to end the life of Holmes, Watson and disrupt the English monarchy. Can Holmes solve the puzzle and finish the chess match? Check or Check-MATE! (WORLD PREMIERE)
Say Goodnight, Gracie
January 30 through February 16, 2014
Book by Rupert Holmes
A tender, funny, life-affirming love story...a personal guided tour in the company of George Burns, a man who laughingly lived and loved each day for all it had to offer until he finally went "gently into that good night" to be with his beloved Gracie Allen. Broadway star, Joel Rooks, brings the legendary George Burns to life in this multi-media winner of the 2004 National Broadway Theatre Award for BEST PLAY.
Forever Plaid
May 1 through May 25, 2014
Book by Stuart Ross
An affectionate homage to the close-harmony guy groups of the 1950's and 60's! A quartet of young men missed their chance at fame they died in car crash when their cherry red '54 Mercury collided with a bus filled with Catholic schoolgirls on their way to see the Beatles' American debut on The Ed Sullivan Show. The boys are are sent back to earth and given one chance to perform the big concert they never made it to. Get ready to tap your toes. You'll leave the theatre smiling and humming one of your old favorites, including "Three Coins in a Fountain," "Moments to Remember," "Perfidia," "Shangrila," "Love is a Many Splendored Thing," and many more.
The Bickford Theatre's 2013-2014 A La Carte Series
Rock Stars of the Romantic Era
March 9, 2014
Back by popular demand, Vladimir Zaitsev, considered the next Victor Borge, returns with his excellent musicianship and dead-pan humor, exploring the music of Chopin and Litzt including some of the crazy anecdotes of their lives.
An Irish Afternoon with Aideen O'Donnell
March 16, 2014
Internationally acclaimed harpist and singer, Aideen O'Donnell will present a repertoire of traditional Irish love songs, folk tales and contemporary originals, demonstrating why the Evening Herald of Dublin calls her the "Queen of Harp."
Too Jewish! Starring Avi Hoffman
March 23, 2014
In the tradition of Vaudeville, Borscht-Belt shtick and Allan Sherman, Avi Hoffman returns and presents his award-winning Musical "Two Jewish?" This one man powerhouse of a revue will take audiences back to the golden days of Yiddish Theatre and Catskill Mountain resorts--special places that nurtured some of the best-known entertainers of the last fifty years.
The Bickford Theatre's 2013-2014 Special Concert Series
Halloween Spooktakular, Phantom of the Opera
November 2, 2013
The Westfield Symphony Orchestra brings to life in glorious symphonic splendor, the original 1927 Lon Chaney movie Phantom of the Opera, and a performance of Beethoven's 2nd Symphony.
A Night of Laughter
November 7, 2013
Shaun Eli and his Ivy League of Comedy will bring down the house with laughs joined by Robin Fox, Clayton Fletcher, and Ross Bennett all who have appeared on Comedy Central, Late Night with David Letterman, Conan O'Brian, and at many regional comedy clubs.
Reflections of The Great Stages
November 17, 2013
Join the acclaimed Hanover Wind Symphony as they relive some of the most exciting musical moments ever to grace the Opera House, Ballet Theatre, Musical Stage and Concert Hall.
My Mother's Italian, My Father's Jewish, and I'm Home For the Holidays
Thursday, November 21 and Friday November 22, 2013
Steve Solomon, the creator My Mother's Italian, My Father's Jewish, and I'm in Therapy, brings us all to dinner at Grandma's with his dysfunctional family members at the holiday season.
Cocktail Hour
November 22 and November 23, 2013
New York City's hot next-generation dance company, Ballets with a Twist, presents an evening-length dance experience that will have you asking for a second round! Cocktail Hour salutes the glamour of American cocktail culture and honors the traditions of classical ballet, launching the Mai Tai, Gimlet, Martini, and more off the menu and onto the stage. You've never seen cocktails like these!
Holiday Spectacular
December 13 and December 15, 2013
The ever inventive Morris Choral Society presents their annual holiday concert. This season's program features holiday songs from Broadway shows and movies of Hollywood and…of course, the very popular Sing-A-Long.
Gypsy Spirit
Sunday, February 23, 2013
Westfield Symphony to perform Kodaly's Dances of Galanta; Rimski Korsakov's Carpicio Espagnol, and Dvorak Symphony #8
An Irish Journey: Bravo Alliance for Performing Artists
Saturday, March 30
Sung by an authentic tenor of Irish American descent you will hear familiar and new songs that reflect the emotions behind the fascinating experience of the Irish.
The British Invasion Tribute
April 5, 2014
Taking their cues from the original artists, this band meticulously recreates the '60s hits we all know and love, complete with authentic costumes, beginning with the British iconic groups, such as The Zombies, Dave Clark Five, Herman's Hermits, moving on to the American "response," The Monkees, The Turtles, Paul Revere & the Raiders, finally to a finale tribute to the Fab Four.
Bravo Alliance of Performing Artists Spring Concert: An Irish Journey
April 6, 2014
Songs and stories of the Irish Irish/American experience featuring singers from the Metropolitan Opera.
"Another Night of Laughter"

April 10, 2014
Shaun Eli and his Ivy League of Comedy will bring down the house with laughs, featuring several NY/NJ area comedians who have appeared on Comedy Central, Late Night with David Letterman, Conan O'Brian, and at many regional comedy clubs.
Bravo Alliance of Performing Artists Spring Concert: Sing of your Country
June 1, 2014
Songs and stories that explore America's music through her people and her Patriotism
---
About The Bickford Theatre
The Bickford Theatre is a professional theater that produces and presents year-round entertainment, including a Main Stage Series, two Children's Theatre series, a Jazz Showcase and Blues at the Bickford. In 2013/ 2014, the season will be expanded to include stand-up comedy nights and classical music concerts. In September of 2013, Eric Hafen will celebrate his 13th season as the Bickford Theatre's Artistic Director.
The theatre is a Senior Member of the New Jersey Theatre Alliance, a not-for-profit organization of 30 professional theatres throughout the state, and works in conjunction with Actors' Equity Association (AEA) and the Stage Directors and Choreographers Society (SDC). From its beginnings in 1994 to the present, tens of thousands of theater-goers from across the tri-state area have enjoyed the Bickford Theatre's many entertaining and diversified offerings in theatre, music and dance.
The Bickford Theatre is conveniently located within the Morris Museum and offers free parking and full accessibility. Box Office hours for phone sales are Monday through Friday, 10 a.m. to 5 p.m. Walk-up hours are Tuesday through Friday, 11 a.m. to 5 p.m.
About the Morris Museum
Celebrating 100 years, Morris Museum is an award-winning, community-based arts and cultural institution which serves the public through the presentation of high caliber permanent and changing exhibitions in the arts, sciences and humanities. The Museum also offers educational programs, family events, and is home to the Bickford Theatre and its wide range of performing arts offerings. Continuously serving the public since 1913, the Morris Museum has been designated a Major Arts Institution and has received the New Jersey State Council on the Arts' Citation of Excellence, among other awards. These programs are made possible, in part, by funds from the New Jersey State Council on the Arts/Department of State, a Partner Agency of the National Endowment for the Arts; the Geraldine R. Dodge Foundation; the F.M. Kirby Foundation, and the New Jersey Cultural Trust. The first museum in New Jersey to be accredited, the Morris Museum was re- accredited in 2013 by the American Alliance of Museums.
The Morris Museum is a Blue Star Museum, offering free admission to active duty military personnel and their families, from Memorial Day to Labor Day.
The Museum is located at 6 Normandy Heights Road (at the corner of Columbia Turnpike) in Morristown, NJ, and is open Tuesday, Wednesday, Friday and Saturday, 11 a.m. to 5 p.m.; Thursday, 11 a.m. to 8 p.m.; and Sunday, 12-5 p.m. Admission to the museum is $10 for adults and $7 for children, students and senior citizens. Admission is always free for museum members and is free to the public every Thursday between 5 and 8 p.m. For more information, call 973-971-3700, or visit www.morrismuseum.org.