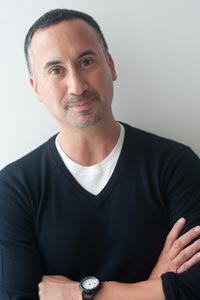 (NEW BRUNSWICK, NJ) -- Doug Elkins, a 2012 John Simon Guggenheim Memorial Foundation Creative Arts Fellow, has been appointed to the faculty of the Dance Department at Mason Gross School of the Arts. Known for his humorous and witty choreography, Elkins, of East Brunswick, N.J, is a two-time winner of a New York Dance and Performance (Bessie) Award and has commissioned works for organizations including the National Endowment for the Arts, Metropolitan Life/American Dance Festival, and the Hartford Foundation, among many others.
Elkins is no stranger to Mason Gross, having worked with students in 2011 on A Signifyin' Monkey/The Right Mistake, which had its world premiere at the Joyce Theater in New York City, part of a 30th anniversary celebration of the Dance Department.
Continuing that creative partnership is important to Elkins, who says he values the "community and range of the artistry at Mason Gross" and sees his new position there as an "opportunity for interdisciplinary research and collaboration."
His innovative style, which blends street dance and martial arts with more traditional ballet and modern dance movements, "parallels the mission and vision of our department," says Julia Ritter, chair of the Dance Department. "Doug is an artist who seamlessly integrates the most current street dance culture with dance-history content from past centuries."
During his early career as a B-boy, Elkins toured internationally with break dance groups New York Dance Express and Magnificent Force, among others. He cofounded the Doug Elkins Dance Company in 1988 and created nearly 40 original dances with the company until its closing in 2003. Elkins has created original work for the Batsheva Dance Company (Tel Aviv, Israel), Flying Karamazov Brothers (New York), MaggioDanza (Firenze, Italy), Pennsylvania Ballet, Union Dance (London), CanDoCo (London), and Mini and Max (Holland), as well as for several university dance companies.
His theater work includes collaborations with Joanne Akalaitis and Philip Glass, Robert Woodruff, and Pavel Dubrusky, among others.
Doug Elkins & Friends' Fräulein Maria, a deconstruction of The Sound of Music, premiered at Joe's Pub at New York City's Public Theater in 2006, and in 2007 the piece earned Elkins his second Bessie Award for "creating a tender, rollicking excursion…which took us from the snow-capped peaks of Hollywood through the worlds of 'downtown' dance, Martha Graham, Willi Ninja, Balanchine, hip-hop, voguing, stepping, stomping, whirling, and flying like wild geese with the moon on their wings," according to the selection committee. The production went on to tour nationally for three years before closing the 80th anniversary of the Jacob's Pillow Dance Festival in 2012. It was named one of the top 10 dance performances of both 2008 (by the Boston Globe) and 2009 (by the New Yorker).
From 2006 to 2012, Elkins worked as a K--12 dance educator at the Beacon School, a public high school in Manhattan. He and his dance class became the subject of Where the Dance Is, a 2009 documentary film.
Now that he's back at Mason Gross, Elkins says he looks forward to blazing new paths.
"I am compelled by the prospect of investigating new ideas and views that will be contributed to by Rutgers' student artists and faculty," Elkins says. "I value their willingness and curiosity to challenge and question the status quo of art."

About the Dance Department
The program in dance is for students who want to be professional dance artists and who wish to pursue their goals within the artistic and intellectual climate of a major university. The faculty's diverse interests and accomplishments as professional artist-educators ensure expert direction in all three areas of the curriculum: technique and performance, choreography, and theoretical studies. The program includes daily modern dance technique throughout the student's four years, and students have opportunities to audition for and perform with University DanceWorks, the department's outreach program.
About Mason Gross School of the Arts
Founded in 1976, Mason Gross School of the Arts is the arts conservatory of Rutgers, The State University of New Jersey, and home to the departments of dance, music, theater and visual arts as well as Brodsky Center for Innovative Editions, Mason Gross Extension Division, Mason Gross Online and the Rutgers Center For Digital Filmmaking. Its faculty and alumni rosters include arts professionals recognized nationally and internationally, including Kristin Davis, Calista Flockhart, Avery Brooks, Cleo Mack, William Pope.L, Alice Aycock, Sean Jones, and Cristina Pato. The school's enrollment of 729 undergraduates across four departments and 322 graduate students across four departments, combined with a faculty of 224, assures students the opportunity to work closely with accomplished artists within their fields.
About Rutgers, The State University of New Jersey
A comprehensive research institution with more than 50,000 students on three main campuses in New Brunswick, Newark and Camden, Rutgers comprises one of the major state university systems in the nation. Chartered in 1766 in New Brunswick as Queen's College, Rutgers is the eighth-oldest institution of higher learning in the nation.