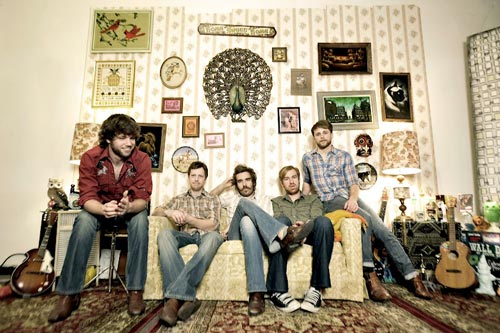 (RED BANK, NJ) -- Brookdale Public Radio is proud to announce the 8th season of Songwriters In The Park. Below you'll see the line-up of shows and a little something about each of the artists performing at Riverside Gardens Park in Red Bank. All of these shows are free and open to the public. Feel free to bring your family, a blanket or lawn chair, and your love of great live music. Each week the shows will start at 7pm.
If mother nature doesn't seem to be co-operating keep updated by tuning to 90.5 The Night for updates and/or check in with our Facebook and Twitter pages.

2012 Songwriters In The Park Line-Up:
Friday July 13 - Headlining Act: The Mastersons (from Steve Earle's Band) with Opening Act: Diego Garcia

Friday July 20 - Headlining Act: Mindy Smith with Opening Act: Emily Grove

Friday July 27 - Headlining Act: Scars on 45 with Opening Act: The Dunwells

Friday August 3 - Headlining Act: Jukebox The Ghost with Opening Act: Lightning Jar

Friday August 10 - Headlining Act: Willie Nile with Opening Act: Bruce Tunkel

Friday August 17 - Headlining Act: River City Extension with Opening Act: Accidental Seabirds

Friday August 24 - Headlining Act: Red Wanting Blue with Opening Act: Rick Barry

Friday August 31 (rain date)
---
About The Artists:

Friday July 13th
THE MASTERSONS
(from Steve Earle's band)
Husband and wife, singing and playing together.
And they're each deft instrumentalists, and they've spent years playing in others' bands before coming together as a unit. They're bound by music and an uncommon depth of companionship, they're good enough to make Steve Earle swoon, and all of that sounds quite nice.
DIEGO GARCIA
Prior to his successful solo career, Diego Garcia made his mark on the indie music scene as front man for the popular indie act Elefant. Drawing from his Argentine roots, he explores his Latin heritage on his new solo album 'Laura' with a sound that conjures the spirit of 1970's troubadours like Sandro and Jobim as well as singer-songwriters like Leonard Cohen and Harry Nilsson.

---
Friday July 20th
MINDY SMITH
Mindy Smith was born and raised in Long Island, N.Y., but moved to Knoxville, Tenn., with her father after the death of her mother in 1991. In the South, she soaked up the sounds of Appalachia and fell in love with acoustic, jazz and blues music. She moved to Nashville in 1998 to pursue a career in music and developed her unique vocal style, writing and acoustic skills while performing and signing at clubs and writers' nights.
Smith won the 2000 Tin Pan South writers contest and signed a publishing deal with Big Yellow Dog Music in 2001. After the famed music conference South by Southwest in 2003, Lee Ann Womack invited her to perform "Come to Jesus," after singing harmonies during Womack's set.
EMILY GROVE
After her second year at Berklee College of Music, Emily Grove decided that it was time to pursue a musical education in the real world. She has performed with just about every local artist, and lent her voice to many of their recordings, as demand for her vocal talents has grown. She sings with Arlan Feiles as a member of his band, "The Broken Hearted," and frequently joins Paul Marino and his popular cover band. She performs regularly with Glen Burtnik, as part of his many exuberant productions, and has sung with Dan Reed and Curt Jones. As a solo act, she's won an award for "Best Female Acoustic Act" at the 2011 Asbury Music Awards, and won two Jersey Acoustic Music Awards (best female singer/female songwriter). Her beautiful, unique voice has stopped people in their tracks on the Asbury Park boardwalk, and is at the heart of everything she does.

---
Friday July 20th
SCARS ON 45
Making music was the furthest thing from Scars on 45 co-founder Danny Bemrose's mind until the professional soccer player for England's Huddersfield Town F.C. broke his foot at 21 and his world came crashing down. "I was in limbo, without knowing what to do with myself," he says. It wasn't the first time that fate would intervene in the band's formation.
Danny put down the soccer ball and picked up for his father's guitar. "I'm quite an obsessive person. I became kind of addicted," he says. "I used to lock myself away to write songs and record on four-track recorder."
Those early years led to creation of Scars on 45, a quintet from Leeds, England, that combines the gentle melodic intensity of Snow Patrol or Keane with the added allure of co-ed vocals. Tension, often propelled by drummer Chris Durling's insistent beat, builds throughout the songs as the emotional ante rises. Hearts are broken and seldom rendered whole again before new wounds pierce through.
THE DUNWELLS
Utterly natural. There's no more fitting description for both the music of The Dunwells as well as the story of their magical rise from the pubs of Leeds, England to an American record deal and a stunning debut album in just two short years.
The group is two brothers, two cousins and totaling five best mates who simply love to sing and play music, and do so together. "We are genuinely best mates," explains singer, songwriter and guitarist Joseph Dunwell. "We sometimes bicker and fight, but then we hug and make up and go out for a drink."

---
Friday July 27th
JUKEBOX THE GHOST
Pianist Ben Thornewill, guitarist Tommy Siegel, and drummer Jesse Kristin first came together in 2003 as undergraduate students at George Washington University. Sporting a quirky, brainy pop sound that took its cues from the likes of Ben Folds and They Might Be Giants, the three logged several years together under a different name, the Sunday Mail, before rebranding themselves Jukebox the Ghost in 2005. Following graduation, they released their debut album, Let Live & Let Ghosts, and relocated to Philadelphia.
LIGHTNING JAR
Fresh off the hiking trails of New Zealand, Jason Pomeroy and Nathan Maier returned home to the U.S. with a handful of songs and a renewed passion for creating music. After reuniting with an old friend Sean Marshall and relocating to the coastal city of Asbury Park, Lightning Jar was formed. They began composing together a series of folk songs that explicated the mystery of the quarter-life crisis, tackling feelings of their unified struggle for identity, self-discovery, alienation, and young adulthood.

---
Friday August 3rd
WILLIE NILE
The New York Times called him "one of the most gifted singer-songwriters to emerge from the New York scene in years." His album "Streets Of New York" was hailed as "a platter for the ages" by UNCUT magazine. He has been called "a one-man Clash" (UNCUT) and his critically acclaimed albums have gotten rave reviews around the world. Bono, Lou Reed, Lucinda Williams, Jim Jarmusch, Adam Duritz and Little Steven are among those who have sung his praises.
Willie Nile is a songwriters' songwriter and his live performances are legendary. He has toured across the U.S. opening for The Who at the personal request of the band and sang with Bruce Springsteen at Giant Stadium. Bruce recently joined Willie on stage in Asbury Park for Willie's song "Heaven Help The Lonely"
BRUCE TUNKEL
Bruce Tunkel is a lifelong NJ artist, with a fascination for all things musical. Starting by banging on a metal potato chip can, then moving on to piano and guitar, he blends life experiences with big noise, or small. He continues to search for that ever elusive perfect song. It's possible that Bob Dylan may have already written it.
Bruce has released 5 solo projects to date and was previously part of the NJ band The Red House.
---
Friday August 10th
RIVER CITY EXTENSION
The lyrically ambitious, stylistically adventurous Don't Let the Sun Go Down On Your Anger confronts thorny issues of personal and spiritual struggle in a manner that's both intimate and illuminating; songwriter and frontman Joe Michelini describes it as an album about resolution and forgiveness. "For the most part, these songs represent a dark period in my life when I really didn't like myself," he explains. "I was still young and still learning, and a lot of people were probably hurt by the person I was at the time. Half of this record is love songs, and half is 'I'm sorry that I fucked up' songs -- I look at them as a stepping stone, a way to put some distance between myself and that part of my life, and to remind myself that I've chosen to do better."
Don't Let the Sun Go Down On Your Anger's title paraphrases a Bible quote, Ephesians 4:26, which Michelini's mother would often cite when he was growing up. "I didn't actually know that it was from the Bible until after I picked it as the album title," he says. "I just knew it as this thing that my mom would always say, like, let the problems of the day be the problems of the day, move on, forgive people, forgive yourself, let it go."
An abiding faith in the music and an unflinching sense of honesty have been constants for River City Extension since the band's humble beginnings in Toms River. Michelini had already established a local reputation as a solo singer/songwriter when he first assembled a small acoustic combo under the River City Extension banner in late 2007. Soon, his musical vision had attracted an assortment of like-minded souls, and the act had expanded into its eight-person form.
ACCIDENTAL SEABIRDS
Accidental Seabirds started out as the solo project of multi-instrumentalist, poet, painter, illusionist Jesse Lee Herdman. He recorded his LP "The Snow and the Full Moon" with the help of engineer friend Duke DeLuca in the railroad apartment they shared in Brooklyn, NY.
Jesse Lee has since moved back to his native New Jersey and has assembled a band of talented multi-instrumentalists. Their voices harmonize well together, allowing them to reproduce the vocal textures Jesse Lee created in the recordings. Accidental Seabirds have taken their live performance to a new level and are steadily expanding their fanbase throughout the Tri-State Area.

---
Friday August 17th
RED WANTING BLUE
Led by singer-songwriter Scott Terry, Red Wanting Blue is proudly based in Columbus, Ohio, but might as well be America's local band. For years, the group had been hiding in plain sight as Terry went about logging thousands of miles on the road throughout the nation's heartland, making fans the hard way - one at a time.
With only the aid of word of mouth, hard work and perseverance, Red Wanting Blue has established an exceedingly loyal following in and around the Midwest where the band regularly fills clubs normally reserved for bigger names.
Terry's passionate and poetic songs, anchored by his powerful baritone, are the kind of tunes that could only have been written by a man who has lived this kind of life on the road. It's these songs and Terry's moving delivery of them that knocks 'em dead, but leaves 'em talking. Most importantly, it keeps 'em coming back for more.
RICK BARRY
Rick Barry's voice is as honest as a drink at a bar with an old friend. His lyrics are raw, unapologetic poetry that reach well beyond his years. Evolving from folk music, into a sound that could only be described as "neo folk," he has truly reinvented himself and has been met with rave reviews in cities across North America.
What sets Barry worlds apart from other songwriters is his complete lack of censorship. Where others use metaphors and pleasantries, he speaks with unadulterated candor. He has no limits, from politics to death, to the ills of society and the human element; he delivers a truth so bare, it's almost innocent.