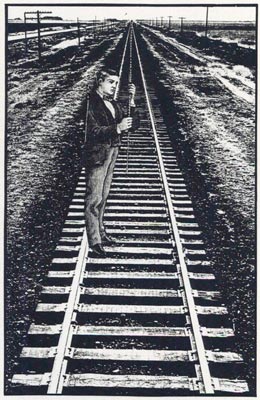 (NEW BRUNSWICK, NJ) -- The Rutgers Film Co-op/New Jersey Media Arts Center, in association with the Rutgers University Program In Cinema Studies, Jungle Software, Johnson & Johnson, Media Services, New Brunswick City Market, Jimmy Johns, and Eastman Kodak, is proud to present the 17th annual New Jersey International Film Festival Summer 2012. Showcasing new international films, American independent features, animation, experimental and short subjects, and cutting-edge documentaries, the New Jersey International Film Festival Summer 2012 will feature 29 film screenings and workshops. The Festival will run from June 1-17, 2012.
All the works selected were screened by a panel of judges including media professionals, journalists, students, and academics. These judges selected the 27 finalists which will be publicly screened at our Festival. These finalists were selected from over 323 works submitted by filmmakers from around the world. In addition, the judges chose the Prize Winners in conjunction with the Festival Director. Prize winners will be announced after the screenings on Sunday, June 17.
Film Premieres:
27 films will have their New Jersey or Area Premiere (Middlesex County) screenings as part of the New Jersey International Film Festival Summer 2012. Some of these include: Blake Blasingame's chilling allegorical short film Civil War; William Dautrick's hysterical commie zombie film Red Scare; Paul-Emilie Boucher's lovely animated short Tuurngait; Chris Temblath's touching silent film Case #13: The Search For Love; Jonathan Kalafer's feel-good documentary Once In A Lullaby about a New York City public school chorus that hits the big time; Craig Scorgie's insightful Vacationland - a short documentary on the plight of Maine's Lobster Fishermen; Rudd Simmons' (Producer of Boardwalk Empire) candid and revealing cinema verite style feature documentary which focuses on a small dairy farm; Connor Byrne's funny short Merry about what Santa Claus does in the off-season; Olivia Newman's excellent short First Match about a fourteen year-old girl who wrestles on the all-boys wrestling team; Josh Hyde's feature film Postales -- a touching multicultural story of innocence set in Peru; Megan Peason's harrowing short Water; Nick Peterson's amazing short animation film Drained; Ryan Halasz's terrific horror film Project Enigma; Mischa Webley's moving feature The Kill Hole starring Chad Boseman and Billy Zane; Howard Libov's intimate portrait of fire artist Paul Choinowski; Cary Kehayan's groundbreaking and graphic documentary on Avery Willard who was a photographer, filmmaker, writer, leatherman, and pornographer; Kevin Breslin's # whilewewatch - a gripping look at the Occupy Wall Street movement; Iara Lee's Cultures of Resistance - a feature documentary on people fighting for change; Rob Heydon's Irvine's Welsh's Ecstasy a twisted tale based on a best-selling book that explores the euphoric highs and the devastating lows of a chemical romance; Max Rissman and Emma Brown's sexy short film Hluboký Tón (Deep Note); George Manatos's romantic short BENNY TO BENNY, Salvo Ficarra's Italian romantic comedy feature Anche se è amore non si vede (It may be love but it doesn't show); and many others. See the attached schedule for more information on these and the other films or visit our website: www.njfilmfest.com.
Special Guest Appearances by Directors, Artists, and Scholars:
This summer we are pleased to announce over twenty confirmed special guest appearances by film directors, artists, actors, and scholars to the 2012 New Jersey International Film Festival! All visiting directors will introduce their work and do a Question and Answer session after the screenings. For more information on these special guest appearances see the attached schedule or go to our online site at www.njfilmfest.com. Note: more filmmakers will be appearing but were not able to confirm their attendance at this time. So check our website for updated information.
Special Promotions and Events:
Free Food at the 2012 New Jersey International Film Festival on all evenings of the Opening and 2nd Weekend courtesy of Maoz Vegetarian and Jimmy John's of New Brunswick and Special Meal Deals for all Festival evenings! Participating New Brunswick restaurants, including Panico's Brick Oven Pizza, Panico's Italian Restaurant, Tula Restaurant, Tumulty's Restaurant, and others will be providing discounted dinner options on festival evenings with proof of a film ticket stub. Check our website: www.njfilmfest.com for a complete list of participating restaurants. Special Thanks to the restaurants listed above and to Fawn Stephens and Pam Stefanek of New Brunswick City Market for making this possible!
New Screening Facility:
We have very exciting news. Our new primary screening location Voorhees Hall #105 features comfortable, cushioned seats, stadium seating, and hi-definition projection and sound systems! Come check out our new screening space and see for yourself how great it is!
Film/Video Workshops:
The New Jersey Media Arts Center will offer two filmmaking workshops this summer including: Screenwriting I and a new class Cinematography: The Creative Use of Reality. For more information on these workshops see the attached schedule or go to: www.njfilmfest.com.

Sponsors:
The New Jersey International Film Festivalsm Summer 2012 is funded and sponsored in part by The Rutgers Film Co-op/New Jersey Media Arts Center; The Rutgers University Program in Cinema Studies/School of Arts and Sciences; Middlesex County Cultural and Heritage Commission/Board of Chosen Freeholders and the New Jersey State Council on the Arts/Department of State, a Partner Agency of the National Endowment for the Arts; Eastman Kodak; Johnson & Johnson; New Jersey Books; WCTC/WMGQ; The Home News Tribune; The Highland Park Mirror; The Rutgers University School of Arts and Sciences; the Rutgers University Office of Academic Engagement and Programming; The Rutgers University American Studies Department; Rutgers University School of Arts and Sciences Honors Program; Rutgers University Alumni Association; Jungle Software; New Brunswick City Market; Showbiz Software; The Rutgers University Office of Community Affairs; Rutgers University Presentation Services; The Rutgers University Enhanced Classroom Support Department; Design Ideas; Advanced Printing; Steven C. Schechter, Esq.; Share and Harris.

Information:
Albert Gabriel Nigrin, Executive Director/Curator,
New Jersey International Film Festival,
Rutgers Film Co-op/New Jersey Media Arts Center,
72 Lipman Drive 018 Loree Hall, Rutgers University New Brunswick, NJ 08901-1414
Phone : (732)932-8482 Fax : (732)932-1935; E-mail: njmac@aol.com; www.njfilmfest.com