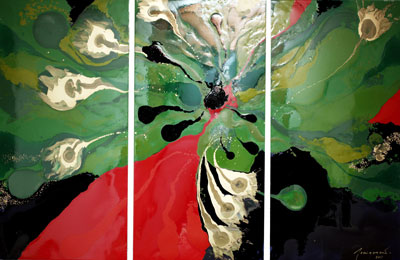 (Asbury Park, NJ)-- The Caring Canvas, a premier traveling art gallery that combines fine art with philanthropy founded by Laura Brunetti, hosted an art unveiling and dedication on Saturday afternoon on November 5, 2011 at the Asbury Park Transportation Center located on Main Street in Asbury Park, NJ. The gathering was free and was open to the public.
Contemporary Cuban Artist Josignacio of Miami created the 8 foot X 9 foot masterpiece 'Tree of Life'. The Caring Canvas and the artist presented this gift and dedicated it to the Children of Asbury Park. Josignacio's original triptych art, 'Tree of Life', consists of three consecutive paintings that represent a powerful convergence of the past, present and future to create one extraordinary image of humanity. The painting is valued at $180,000.
Josignacio was born in Havana, Cuba. He is a contemporary Cuban Artist (painter), neo-figurative, mostly abstract, who has resided in the USA since 1989 and he is notably known for the creation of the plastic paint medium in 1984. The Plastic Paint Medium is a painting technique consisting in the use of epoxy resins as an "agglutinating medium" and "pigments" as colorants, obtaining a real plastic finish with a new visual effect. Some of his artwork is currently available on display at the Laura Brunetti Art Gallery located in Sunny Isles Beach, Florida as well as online at artnet. Josignacio currently resides in Miami Beach, Florida.
The celebration included the honorable Mayor Ed Johnson who conducted the unveiling and speeches were presented by Doug Ferrari of SICA (Shore Institute for the Contemporary Arts), Freeholder Amy Mallet and Mental Health Association's Director of Development Laura Oncea. Singer and songwriter Dave Miller performed live acoustic music throughout the
afternoon and special guest vocalist 'Quint Essence' of Asbury Park sang The National Anthem. Light fare and refreshments were served while Monmouth County families as well as guests from NYC enjoyed this exciting event.

One of the most creative humanitarians in New Jersey, Laura Brunetti, founded The Caring Canvas and has had unstoppable success with her art exhibits and community projects. Right where Josignacio's painting is installed in the transportation center; Laura hosted a free Caring Canvas summer camp for the children of the city this past August every Tuesday and Thursday. It was a very meaningful location to place Josignacio's art where children's art was created at Laura's camp.
Susan Belfer, President of Belfer Communications cheered, "Josignacio's art is a celebration of the growing arts & culture scene that Asbury Park has cultivated throughout history. This is a true gift to the community. As we unveiled his art, it was clear to all of us that the TREE OF LIFE was always meant to be right there. Josignacio's art will be admired by thousands of visitors each year in the legendary city of Asbury Park, NJ."
Stay tuned for the next Caring Canvas project. Organizations that wish to work with The Caring Canvas can contact us at 732.239.1559 or on our Facebook fan page THE CARING CANVAS.