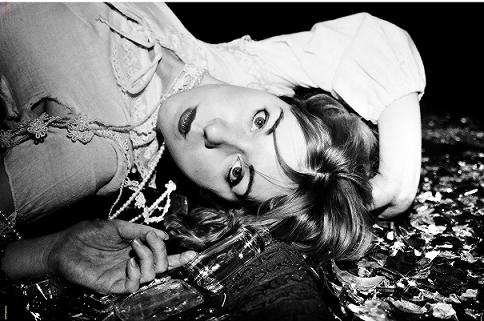 Now in its 23rd year, the United States Super 8mm Film + Digital Video Festival is the largest and longest running juried Super 8mm film and digital video festival in North America. The festival encourages any genre (including animation, documentary, personal, narrative, and experimental) made on Super 8mm/8mm film, Hi 8mm/8mm, or digital video.  We invite you to see, to discover, and to celebrate the cutting-edge works created by passionate film/video makers with these small-gauge media formats. The 23rd annual United States Super 8mm Film + Digital Video Festival will be held on February 18-20, 2011 at Voorhees Hall #105 (beginning each evening at 7 PM) on the College Avenue Campus of Rutgers University, New Brunswick, New Jersey.  The Festival will include a different program each evening.
All of the submitted works were screened by a panel of 15 jurors comprised of media professionals, journalists, students, interns, and academics. The panel included: Ed Brett Scheuermann, Jessica Murphy, Ryan Dembek, Heather Preyer, Vincent Santa Maria, Shamika Speight, Liat Kisos, Robin Morales. Albert Nigrin, Irene Fizer, Victory Furniture, Eileen Tavarez, Anthony Singiser, and Rich Lee.  The 22 finalist works, selected by the judging panel, will be publicly screened at the Festival. The finalists were chosen from over 157 works submitted by film and videomakers from around the world. This represents the fourth highest number of submissions that the Festival has received to date. In addition, the jurors chose the Prize Winners (to whom $3000 in prizes will be distributed) in conjunction with the Festival Director.  During the three days of the festival, audience members will participate in the judging process as well by voting for their favorite works via the "Audience Choice Prize." All of the award winners will be publicly announced after the closing-night screenings on Sunday, February 20, 2011.
Special thanks to all the jurors; Irene Fizer; Susan Martin-Marquez, John Belton, and Alan Williams of the Rutgers University Program In Cinema Studies; Rosalyn Neal and Anna Aschkenes of the Middlesex County Cultural and Heritage Commission; The New Jersey State Council on the Arts/Department of State , a partner agency of the National Endowment for the Arts; Susan Selig, Geoff DeMoss, and Judy Doherty of Eastman Kodak; Michael Bzdak of Johnson & Johnson;  Bob Brodsky and Toni Treadway of the International Center for 8mm Film & Video; Rhonda Vigeant of Pro 8mm; Barbara and Mike Poolin of PAC Lab; Aaton Cohen-Sitt of Jungle Software; The Bagel Dish; Bill Harris of Share and Harris; and The Rutgers Film Co-op/NJMAC friends, sponsors, donors, interns, and staff for making this festival possible.
Albert Gabriel Nigrin
Executive Director/Curator & Founder
Rutgers Film Co-op/New Jersey Media Arts Center + The U.S. Super 8 Film + Digital Video Festival

2011 United States Super 8 Film + Digital Video Festival Schedule
Friday, February 18, 2011
Kodachrome 2010 - Xander Robin (Tallahassee, Florida)
Prophetically, Paul Simon pleaded long ago: "Don't take my Kodachrome away"—as this richly saturated film stock, used by generations of amateur photographers and favored by legions of Super-8 filmmakers, has met its end in the age of the digital camera, and has been phased out forever by Kodak. Xander Robin pays a poignant homage to Kodachrome, by visiting the last lab in the world processing the final rolls of film. 2010; 9 min.
Istvan - even there no kiddin - Mike Yuhasz (Owen Sound, Ontario, Canada)
Based on childhood memories and impressions, this is a tense reflection on one man's painful, dark and lonely inner world. 2010; 5 min.
Four Cubic Feet of Space -- Tony Gault (Glenwood Springs, Colorado)
A moving rumination on the fragile nature of human existence. 2010; 10 min.

Go Ahead -- Joe Gessner (New Brunswick, New Jersey)
A dark comedy about Rick, a recent college grad who has just returned home after a short stay in a psych ward.  Once his moronic friends come over to check him out, he may well be sent over the edge again. 2010; 10 min.
Pick - Benjamin Hayden (Calgary, Alberta, Canada)
It is 1916. In the basement of a haunted hotel, a voyeur stalks a young damsel. Shot on location in the Riverside Hotel in Calgary, where an actual riot involving over 1,500 men took place, the film embodies the violent energy of a dark historical moment in the city's past.  2010; 12 min.
Summer Snapshot - Ian McCluskey (Portland, Oregon)
Shot by sun kissed shot, this short film captures an idyllic day spent by a group of friends in their 20s at a mountain river. 2010; 10 min.
Valentine - David Simonetti  (West Paterson, New Jersey)
A routine night in a New Jersey police station takes an unexpected turn.  After Detective John Valentine questions a teenage girl who has been caught with a drunk driver, her older sister Laura, arrives to pick her up, and an instant attraction develops between Laura and Valentine. Their desire for one another sends the story into yet another direction, one that will indelibly effect the lives of all involved. 2010; 28 min.
Saturday, February 19, 2011
A Visit From Ms. Prancer -- Marvin Harold Cheiten (Princeton, New Jersey)
A short Christmas movie. 2010; 7 min.

Martha and Dee Visit the Fifth Dimension - Noelle Foster (Carmichael, California)
"I feel like a bastard," laments Martha, no longer a child yet not yet a teen, trapped in suburban bliss.  Neglected at home by her egocentric parents, she decides to run away, dressed in punk regalia, accompanied by her spike-haired  friend, Dee.  The twist: Dee is invisible, dressed exactly the same as Martha, and serving as her larger, projected self. This short film about the inner life of a young girl  is superbly scripted and skillfully composed. 2010; 9 min.
Winged - Jennifer Hardacker (Forest Grove, Oregon)
Inspired by a horoscope that quoted from the poet Federico Garcia Lorca:  "His heart was growing full of broken wings and artificial flowers. In his mouth, just one small word was left."  In this experimental short film, the filmmaker ruminates about her ability to protect her two young sons during a time of emotional upheaval. 2010; 3 min.
Susan's Horses - Elizabeth Henry (Glenwood Springs, Colorado)
As a horse moves through space, it reminds us of what we've been missing. As a horse stands in place, it reminds us of what we are. 'Susan's Horses' explores a humble Colorado horse camp for kids, run by a woman whose troubled past helps to inform her unique relationship to her animals.  2010; 6 min.
Buddy: The Amazing Pack Rat - Bonnie Norton (Elgin, Oregon)
Buddy: The Amazing Pack Rat is the almost entirely-true story about a pack rat who is released into the wild by a Lifelong Animal Lover (LAL) -- but Buddy has other plans… After leaving the live-trap, Buddy spots the LAL's car, makes a mad dash to it, looks up the tire, climbs inside and hitches a ride back home. The rest of the story shows rare or never-before-seen footage of wild pack rat activities as Buddy and the LAL develop an unbelievably unique and heartwarming friendship. 2010; 16 min.
BRILLIANT! O the Natural World - Jenny Plante  (Kingston, New Hampshire)
Structured as a series of vignettes that crystallize a poetic vision of nature, this is a tribute to the people who love this earth and see it for all its intended glory. 2010; 12 min.
Beatboxing: The Fifth Element of Hip Hop - Klaus Schneyder (New York, New York/Aachen, Germany)
Hip Hop emerged in New York City in the late 1970s. Apart from graffiti writing, diking, break dancing, and rapping, the musical side of this culture was enhanced by a fifth element known as beatboxing. Driven by the hardship of poverty and the lack of available instruments, beat-boxers were inspired to imitate drum rhythms with their mouths. This fascinating documentary covers the history of a variety of beatbox styles and explores how this modern mouth music continues to enrich the sounds and rhythms of hip-hop. 2010; 53 min.
Sunday, February 20, 2011
Diary of Dreams: May 22, 2010 - Daniel Abad (Madrid, Spain) A solarized dream film.  2010; 4 min
Viola Concerto - Jason Rose (Burbank, California)
As a woman travels through a city on her way to work, her trip triggers an existential quest: where is she going, after all? 2010; 5 min.
Run On -- Daarina Herriott (Bronx, New York)
When balancing religion and addiction only one can come out on top. Choosing isn't the hard part… it's living with your decision. 2010; 5 min.
The Last Dream -- Brian Caraveo (Bronx, New York)
A teenage guy suffers from the consequences of his actions and so does his loved one. 2010; 5 min.
Cookie Crooks - James Barfield (Los Angeles, California)
Two tiny clay characters inhabit a full-sized kitchen. Their mission: to steal cookies at any cost. 2010; 7 min.
I Love Cookies - Peter Van Oosting (San Leandro, California)
After denying a mysterious man candy on Halloween night, a cookie lover receives what appears to be the perfect treat: a never-ending cookie. 2010; 8 min.
The Neighbors  - Christopher Werner (Union, New Jersey)
Patrick and Heather seemingly have it all: money, success, and a large house in a suburb on the outskirts of town. Mathew and Amber are just starting out: eager to advance into the next phase of their lives. The two couples meet for a casual evening, sharing intimate details of their lives with each other, while hiding a secret or two.  As the night draws to close, the cat-and-mouse games between the foursome have only just begun. 2010; 17 min.
Crooked Beauty - Ken Paul Rosenthal (San Francisco, California)
A lyrical documentary chronicling an artist and activist's transformative journey from an abusive childhood to a life as a pioneering mental health advocate. It is an intimate portrait of her quest to live with courage and dignity, and a powerful critique of standard psychiatric treatments. Drawing inspiration from the crookedly beautiful topography and mercurial weather of San Francisco, the film offers a new model for living with mental illness as a tool of creativity and inspiration. 2010; 30 min.

The 2011 United States Super 8 Film and Digital Video Festival, which is part of the New Jersey Film Festival Spring 2011, is funded and sponsored in part by The Rutgers Film Co-op/New Jersey Media Arts Center; The Rutgers University Program in Cinema Studies/School of Arts and Sciences; Middlesex County Cultural and Heritage Commission/Board of Chosen Freeholders and the New Jersey State Council on the Arts/Department of State, a Partner Agency of the National Endowment for the Arts; Eastman Kodak; Johnson & Johnson; New Jersey Books; WCTC/WMGQ; The Home News Tribune;  The Highland Park Mirror; The Rutgers University School of Arts and Sciences; the Rutgers University Office of Academic Engagement and Programming; The Rutgers University American Studies Department; Rutgers University School of Arts and Sciences Honors Program;  Rutgers University Center For Middle Eastern Studies; Writers Boot Camp; Baseline/Film Tracker; Jungle Software; New Brunswick City Market; Showbiz Software; Pro 8mm, PAC Lab; The Rutgers University Office of Community Affairs; Rutgers University  Libraries; Rutgers University Presentation Services; The Rutgers University Enhanced Classroom Support Department; Design Ideas; Advanced Printing; Steven C. Schechter, Esq.; Share and Harris.