By Gary Wien
originally published: 04/15/2017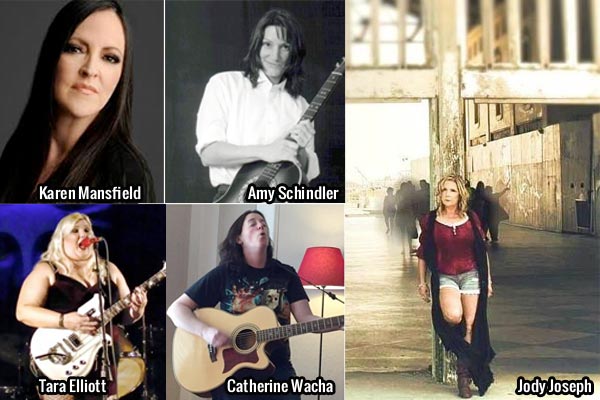 For the third issue of 2017, New Jersey Stage featured an interview with Ann Wilson of Heart as the cover story. Thinking back to the classic rock songs from Heart got us wondering who were the female artists that inspired artists in the area.  We spoke with 11 artists.  In this piece we talk with Karen Mansfield,  Amy Schindler (from ViRAGO), Tara Elliott, Jody Joseph, and Catherine Wacha. This is part one of two features.  Click here for the second part. 
Who was the first female led band or artist you remember?  Did seeing a female artist inspire you to become a musician?
Karen Mansfield: The first female led band I remember was The Carpenters. 
I saw them on my 7th birthday at the Garden State Arts Center in Holmdel and instantly knew what I wanted to do for the rest of my life. It hit my like a bolt of lightning. Wanted a drum set too. I took home a cool Karen Carpenter poster of her sitting behind her drum set and hung it on my bedroom wall. 
Amy Schindler (from ViRAGO):  I can remember being a small child and completely fascinated by Karen Carpenter because I saw her on tv playing the drums and kickin' ass on them too! I would see  footage ofJanis Joplin on  tv and she blew my little kid mind! She had already gone from this world and I was so sad about that. I used to wish it could have been a trick or something and she would show up one day with that cool laugh and blow me away again with that voice- that intensity!
---
The article continues after this ad
---
---
When I was about 14 - my best friend gave me a cassette tape of Hearts Little Queen album.  I had heard of the band on the radio but when I heard that whole record it was magic for me. The when I found out that the band was fronted by two women - I was hooked! I already had a dream of wanting to learn to play the guitar. When I saw Nancy Wilson play with hat intro to "Crazy on You" - it was like the world flipped on its axis for me!
My older brother came back home from being away with the Coast Guard and he had an acoustic that he could play a couple of chords on. He showed me like 3 chords and I sort of stole his guitar - I was obsessed with it- I played all the time. Seeing Nancy Wilson play with such command and confidence totally gave me the idea that I could be a part of that magic in some way as well! 
Tara Elliott: I remember excitedly dancing around and singing along as a tiny tot to Barbra Streisand & Donna Summer's 'No More Tears (Enough Is Enough)' when I lived in Staten Island. I was born in New York and lived there until I was 2.
I didn't see any female artists perform; there wasn't a music scene where I grew up. That's not how I became inspired, I just always knew I wanted to be a singer since I was a baby. I fell under Janis Joplin's spell when my Godfather played her music for me; I was seven years old. I had to create my own world because the one I was living in didn't interest me. I spent a lot of time at Scotti's record shop and other record shops in New York. I was always buying vinyl, tapes and CDs to play in my bedroom.
Jody Joseph: Bette Midler, "Divine Ms. M"- every song…memorized.  All artists inspire me. It really wasn't a female popular artist era that I remember.
Catherine Wacha: Dolly Parton, I didn't have a lot of exposure to music as a kid but I remember always know who Dolly Parton was. The only person who I may remember from around the same time that stands out would be Madonna.
When I was a kid I wanted to be Madonna. She was definitely inspired me to sing when I was a little kid. I was later exposed to artists like Joan Jett and Bonnie Raitt who played guitar which opened up my world a lot more. In 1994 Melissa Etheridge released, "Yes I Am" and my world was never the same musically. She was the main reason I picked up a guitar. I had always wanted to to something with music but being from a small town (before the internet was what it is now) that didn't seem possible. I didn't know other people who played instruments and although she played with a band Melissa Etheridge also did a lot of stuff solo which really inspired me. 
Jo Wymer: First female lead artist was Siouxie and the Banshees...for band, Heart for guitar playing.  Bonnie Raitt and Joan Jett were the first female artists who inspired me...oh so much…I'd have to say Bonnie is always on top of the list of female artists along with Patty Griffin.
Who is your favorite female artist of all-time?
Karen: Not sure who my favorite female artist of all time is. As kid, it was into Karen Carpenter, Dolly Parton, then Linda Rhondstat. As I got older I was into the B52's for sure and the Pretenders big time and of course Patti Smith. Pasty Cline. Now a days it's Lucinda Williams and Emmylou Harris. I am recently getting into Lady Gaga.
Oops - forgot to mention Grace Slick, although she wasn't officially the front person of the band, her beauty, vibe and vocal power were major influencers.  And I forgot to mention Maria McKee. She was my fave for a while.
Amy: There was Joan Jett and Lita Ford; Chrissie Hynde and the Pretenders, the Indigo Girls, Sarah McLachlan.  I also love the great singers of the American song book. I love Ella, and Billie and Peggy and Rosemary… Jo Stafford and Patsy Cline! I would have a hard time naming just one. I would say early Heart hit me the most.
Tara: God that's tough! Can't pick just one. Nina Simone, Janis Joplin, PJ Harvey, Shirley Bassey, Lana Del Rey, Karen O, Tina Turner, Emily Haines... too many to name haha.
Jody: It's changed over the years, my mom and dad's influences early on, became my own. So with that, Shirley Bassey, then Bette Midler, then Joni Mitchell and THEN came Stevie Nicks. I guess these days, Sara Barielles takes the bow. 
Catherine: I have been inspired heavily by both Madonna and Melissa Etheridge. It's hard for me to pick which one would be my favorite. Madonna has been such a huge influence since I was a little kid but I would most likely have to give the title of "favorite" to Melissa Etheridge.
Jo: I'd have to say Bonnie Raitt is always on top of the list of female artists along with Patty Griffin.
Finally, is there any special camaraderie among female artists you see on the road?
Karen:  I find that if I'm in town for a festival, everyone is psyched to be there and to perform. Mostly everyone knows that making friends and networking is part of the fun.  
I feel a ton of love from female artists coming to our area from out of state or out of the country, for example the Light of Day Festival. Mutual respect all around. 
Although a few times I've come across a female musician or two who acted territorial or threatened, which I find just silly. For the most part the gals I meet behave as ladies and are comfortable enough with themselves and their talent, and the progress they've made in their career, that they have only positivity for other female performers.
Amy: I have felt a special camaraderie with other women artists on the road for sure. The road is challenging no matter how you consider it.  I love meeting people and hearing about their trials and tribulations and their triumphs as well!
I get along with most anyone. I enjoy the challenges of the road and all of the adventures out there!
Tara: There definitely is a special camaraderie among the women I have shared the stage with - we are all very supportive of each other's artistry. I have held many female fronted events and enjoy them.
Jody: I think on a whole, women gravitate toward each other musically. I've been the front gal or lead artist all my life, in male dominant bands, so YES, when I have the opportunity to be around another female singer/artist, we definitely gravitate toward one another and stick together.
Catherine: I haven't spent any time on the road. I can say that in the shows I put together in New Jersey, I have had a lot of support from a good number of women. I had run an all women show for a few years and there was a sense of "we're all in this together". I find for the most part, women on the the bill with each other, show up early and hang out for the entire show to show their support.
Jo: There is a huge camaraderie on the road amongst female musicians....when I played with Jane Lee Hooker, we had a great connection of playing, similar material.  In the past I've had men who played similar material and not appreciate it. I've had men kick my amps over. I've had men unplug my microphone and cut my guitar strings; so yes, there absolutely is a camaraderie amongst female musicians on the road for sure.
---
Gary Wien has been covering the arts since 2001 and has had work published with Jersey Arts, Elmore Magazine, Princeton Magazine, Backstreets and other publications. He is a three-time winner of the Asbury Music Award for Top Music Journalist and the author of Beyond the Palace (the first book on the history of rock and roll in Asbury Park) and Are You Listening? The Top 100 Albums of 2001-2010 by New Jersey Artists. In addition, he runs New Jersey Stage and the online radio station The Penguin Rocks. He can be contacted at gary@newjerseystage.com.
---