originally published: 10/16/2020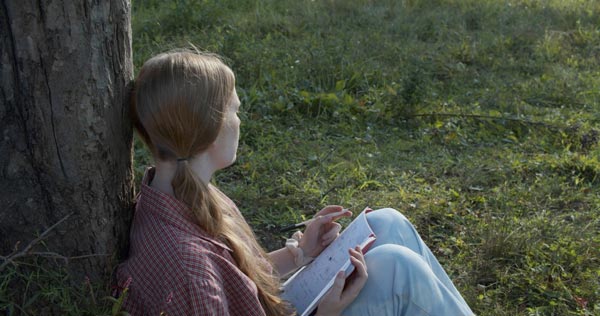 Check out the Turtle Island New Jersey Film Festival Fall 2020 Video Q+A with NJFF Director Al Nigrin, Turtle Island Director Orko Mukerherjee and Turtle Island Lead Cast Hannah Marijon, Curtis Caldwell, and Lani Cerveris-Cataldi.Orko Mukherjee's beautiful coming of age feature Turtle Island has its World Premiere at the New Jersey Film Festival on Saturday, October 17, 2020! Two wonderful short films A Single Mom and Ironrite will be screening with Turtle Island. Here is more info on this screening:
A Single Mom – Farhad Ali and Peyman Soheili (Toronto, Ontario, Canada) A single mom and her teenage daughter communicate with sticky notes. 2020; 8 min.
Ironrite – Clayton Combe (Tappan, New York) A 1950s housewife struggles to accept her place in the world, while hiding herself and her young son from an aggressive door-to-door salesman. 2019; 9 min.
Turtle Island - Orko Mukherjee (Pittsburgh, Pennsylvania) A beautiful coming of age drama which revolves around Irene, an orphaned teen raised by her Native American guardian, who falls in with the wrong crowd and runs away. Irene returns after 10 years, now with her daughter, and follows a better path. Along with a focus on domestic trafficking, the story also makes an attempt to bring up the treatment of indigenous community in this country. The hardship the community had to go through in the past and, which is still relevant. 2020; 58 min.
Co-sponsored by the Rutgers University Cinema Studies Program!
Saturday, October 17, 2020 - $12=General

Films will be available on VOD (Video On Demand) for 24 hours on Saturday, October 17, 2020.

To buy tickets for this screening go here:

https://watch.eventive.org/newjerseyfilmfestival2020/play/5f149b1d4120b100626794fe

Information: (848) 932-8482; www.njfilmfest.com

https://watch.eventive.org/newjerseyfilmfestival2020

https://newjerseyfilmfestival2020.eventive.org/schedule
---
The article continues after this ad
---
---