originally published: 10/14/2020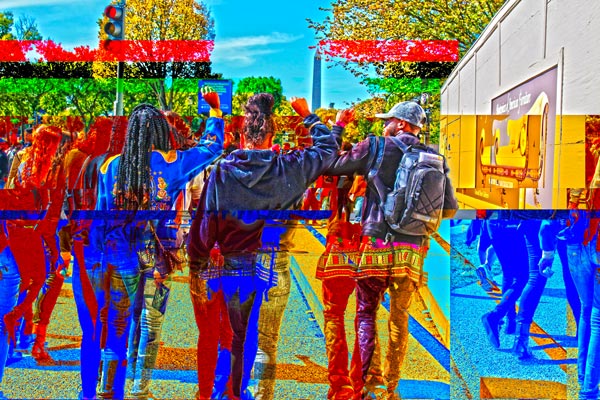 (PRINCETON, NJ) -- Art Against Racism: Memorial.Monument.Movement, the nationwide virtual exhibition created to document the Black Lives Matter art movement, will kick off with a Livestream Launch on Saturday, October 24 at 8:00pm ET. The 90-minute program, moderated by Art Against Racism Founder Rhinold Ponder, will feature live and pre-recorded video of music, poetry, performance, and interviews on the themes of racial and social justice, as well as a virtual video gallery of artwork. The artists behind the artwork will talk about what motivated them and what this moment in time means, and why it is so important to vote.
To tune in to the free virtual event, visit artagainstracism.org.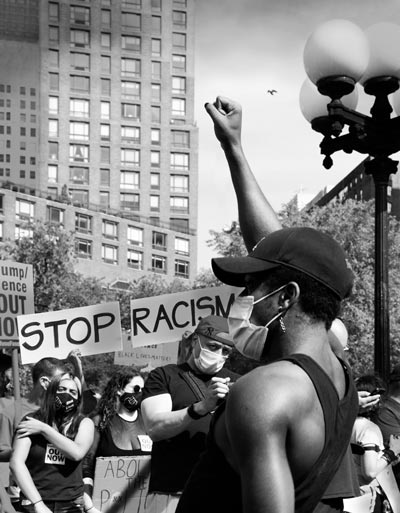 Featured guests will include poet and Newark Mayor Ras Baraka, who will give a spoken word performance; artist, writer, and scholar Nell Painter; Philadelphia Mural Arts founder Jane Golden; emerging rapper Echezona, whose music is a rallying cry for social change and racial justice; poets Michelle Black Smith-Tompkins, Gail Mitchell, and David Herrstrom; folk artist David Brahinsky; Congressman Hank Johnson, of Georgia; and Kansas City mural artist and Black Summer 2020 curator Harold Smith. There will be live video of public art from muralists in Milwaukee, Trenton, Kansas City, San Diego, Bridgeport and Newark.
"This is a national grassroots project, a collection of voices across the country, raised against racism by professional visual and performing artists and community activists," says Art Against Racism founder and organizer Rhinold L. Ponder, who will host the livestream from the Arts Council of Princeton's Taplin Gallery. "These voices brought together will have national impact, impressing upon the American people the importance of voting and the swell of indignation, pride, and change in response to Black Lives Matter."
Since the murder of George Floyd, artworks protesting Black lives lost to police violence have emerged all over the world. Art Against Racism: Memorial.Monument.Movement serves as a living archive for preserving the breadth of art inspired by the Black Lives Matter Movement. The exhibition, searchable by contributor's name and geographic location, will continue to be added to through Inauguration Day.
---
The article continues after this ad
---
---
"Community-created art, inspired by the Black Lives Matter movement, is the powerful voice of history," says artist/author/educator/curator and organizer Judith K. Brodsky. "We must preserve these expressions of protest and support. Memorial.Monument.Movement is how we can prevent erasure and keep these images alive." 
The Livestream Launch is being produced by Cameron Ferrara who has been involved with Emmy award-winning prime time shows like "Cash Cab" (Discovery), BAFTA award winning documentaries like "Rebuilding the World Trade Center" (History Channel) and other regional arts festivals and fundraising events, including Art All Night - Trenton 2020 that featured more than 50 artists, musicians, and presenters.
Art Against Racism's Memorial.Monument.Movement, in partnership with Rutgers University, has invited artists, both individual and in collaborative groups; community organizations; houses of worship; arts organizations, galleries, and museums to participate. The exhibition includes sculpture, projections, street art, fiber art, spoken word, performance, music, posters, murals, animation, digital projects, crafts, replacements for toppled statues, or other creative forms of expression.
Themes include racism, police violence, mass incarceration, African American historical figures or moments, murdered and martyred victims of racism and white supremacy, civil rights, and community needs that have been affected by systemic racism.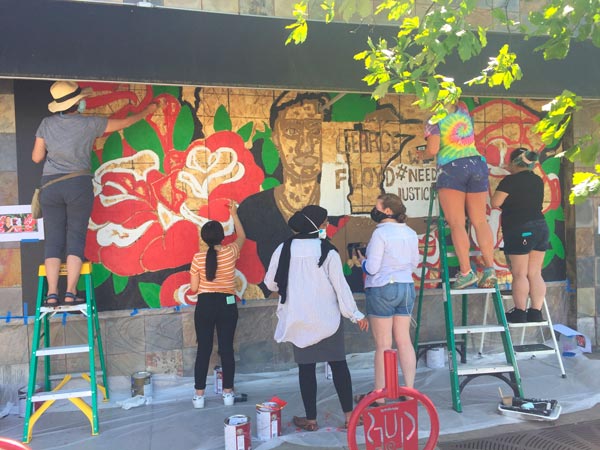 The concept for Art Against Racism Memorial.Monument.Movement originated in a conversation between Rhinold Ponder and Judith Brodsky about building on the success of his project, Art Against Racism, created in 2019 as a series of exhibitions. Ponder has had a long career as a lawyer and educator as well as being an artist. Brodsky is a professor emerita at Rutgers University, and also an artist who, beginning with the Feminist Art movement of the 1970s, has worked for social justice. 
Enthusiasm for the project spread and a New Jersey-based coalition of Black, brown, and white artists, educators, writers, curators, attorneys, journalists, and activists came together including Kimberly Camp, one of the first African American women to hold the directorship of an important visual arts institution (she was director of the Barnes Foundation); Nancy Shell, a well-known Philadelphia artist; and Isabel Nazario, who first came to Rutgers as founding director of the Rutgers Latino Center for Arts and Culture and is now Associate Vice President of Strategic Initiatives at Rutgers University. 
Cynthia Groya, a major contributor to the arts community in the Princeton/Trenton area, through artwork/films focusing on social justice themes and through volunteer work at the Princeton University Art Museum and regional social service institutions, joins Ilene Dube, arts journalist/curator/documentary filmmaker whose focus is on the artists of central New Jersey—she writes for national art media such as Hyperallergic; Andre Veloux, a Princeton-based artist whose work with Legos focuses on gender equality and women's rights and has been exhibited throughout the country; and Mary Oestereicher Hamill, a socially engaged artist/educator and curator at Princeton University's Bernstein Gallery, in developing this Art Against Racism living national archive. NJN and State of the Arts videographer and fine art photographer Aubrey Kauffman, also a curator, lecturer and journalist, is editing video for the project.
Tune in to the Livestream Launch and virtual exhibition for Art Against Racism's Memorial.Monument.Movement on October 24 at 8:00pm, by visiting artagainstracism.org.  
IMAGES: (TOP) Phillip McConnell - New Day Same Message (MIDDLE) Julia Justo - Truth (BOTTOM) by Sara Fohrenkamm